19 juin 2009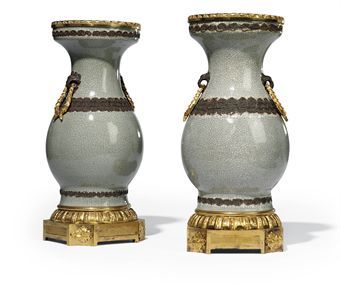 A pair of late Louis XV ormolu-mounted Chinese crackle-glaze celadon porcelain vases. The ormolu circa 1770, the porcelain Qianlong, circa 1750-60
Each of baluster shape with bands of ju-i lappets and brown biscuit handle loops hung with later berried foliate handles, on a gadrooned base and square-shaped plinth with re-entrant corners with rosettes, one inscribed 'Truth Room' (?) and 'no. 1', the other 'no. 2', probably originally with ring handles. 18 in. (46 cm.) high; 7½ in. (19 cm.) diam. (2). Estimate £30 000- £50 000 - Price Realized £32,450
Provenance : Auguste-Charles-Joseph, comte de Flahaut de la Billarderie (1785-1870) and his wife Margaret Mercer Elphinstone, Baroness Keith and Nairne (1788-1867), probably acquired in the 1820s or early 1830s;
Moved to Coventry House circa 1855 until 1863, when listed in the Back Drawing Room at Coventry House '2 fine crackly vases, oriental, mounted in ormoulu';
Their eldest daughter Emily, Baroness Nairne (1819-1895), wife of the 4th Marquess of Lansdowne (1816-1866); By descent in the Lansdowne family at Meikleour, Perthshire;
Sold by the Meikleour Estate Trust, Christie's London, 11 June 1992, lot 51.
Acquired from Galerie Perrin, Paris, circa 1999.
Notes : These elegant vases have bodies of Chinese celadon porcelain with a pronounced crackled glaze intended to imitate the famous Southern Ko craquelure. This type of porcelain was generally not made for export, but was nonetheless highly prized in the 18th Century by Paris dealers or marchand-merciers, who clearly admired the unusual and 'ancient' looking crackled surface. Known as 'porcelaine truitée' from a supposed resemblance to the markings on the body of that fish, or 'porcelaine craquelée' when the craquelure was larger and coarser, these wares rarely appear in the Livre-Journal of the marchand-mercier Lazare Duvaux, which survives for the period 1748-1758. However, on 17 December 1750, the marquise de Pompadour bought from Duvaux: Deux vases de porcelaine truitée en forme de pot pourri, garnis en bronze doré d'or moulu, 1200l whilst seven years later, on 22 April 1757 the duc d'Orleans purchased from Duvaux a group of mounted vases of this same rare porcelain, including a large vase, two large pot-pourris, and two bottles, for the considerable sum of 2960 livres (F. Watson, Mounted Oriental Porcelain, Wisbech, 1986, no. 20, p. 68).

The rarity and considerable cost of this type of porcalain meant that they were almost exclusively set in very precious and exuberant ormolu mounts, often after an innovative design, a pairing entirely masterminded by a marchand-mercier. A particularly rich and accomplished example of ormolu-mounted porcelaine craquelé are the ewers with dragon handles and spouts cast as shells, such as those listed in inventory of Gaillard de Gagny in 1759 (The Collection of Edmond and Lily Safra, sold Sotheby's New York, 3-4 November 2005), while the ewers sold from the collection of André Meyer, Christie's, New York, 26 October 2001, lot 6, of beautiful light grey/green porcelain, demonstrate a harmonious arrangement of spout, handle and base around the porcelain body, thus creating a new and superbly beautiful objet.
Christie's. Le Grand Goût- A Private European Collection. 17 June 2009. London, King Street www.christies.com
Commentaires sur A pair of late Louis XV ormolu-mounted Chinese crackle-glaze celadon porcelain vases