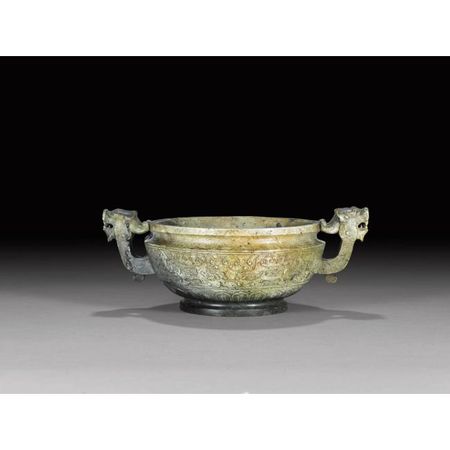 Coupe archaïsante Gui en jade calcifié sculpté. Chine, dynasties Song ou Ming, XIIIe-XVIIe siècles
circulaire sur un pied legèrement évasé avec deux anses en forme de têtes de dragons, le pourtour finement sculpté de masques de taotie, un bande de pétales de lotus au-dessus du pied, le jade calcifié d'une belle teinte gris-vert foncé avec des nuances beige et jaune. 8,5 x 23 cm, 3 3/8 x 9 1/16 in. Est. 15,000—25,000 EUR. Lot Sold 36,750 EUR
PROVENANCE: Etude Couturier-Nicolay, vente Drouot 20 avril 1977, lot 192 (expert Michel Beurdeley)
NOTE: Jade vessels in the form of ancient bronzes belong to a special group of wares designed specifically to bear both shape and decoration of much prized ancient ceremonial wares. The present gui is a fine example from this group and represents the renewal of interest in archaic wares from the Song dynasty (960 – 1279 A.D.) onwards. Although the form is a recognizable version of Shang and Zhou period gui, the carved decoration seen on this vessel is a contemporary adaptation of the well known taotie mask motif.
Examples of early archaistic bronze form wares carved in jade were included in the exhibition Chinese Jade Throughout the Ages, Victoria and Albert Museum, London, 1975, pl. 328, a gui attributed to the 13-15th centuries, from the Museum of Far Eastern Antiquities, Stockholm; and pl. 332, a dou also attributed to the 13-15th centuries, from the Asian Art Museum of San Francisco. See also a Song jade gui carved with the dragon motif, in the Palace Museum, Beijing, illustrated in Zhongguo meishu quanji, vol. 9, Beijing, 1991, pl. 259.
For the origins of the form of this vessel see the bronze Ya Chou gui illustrated in Jessica Rawson, Western Zhou Ritual Bronzes from the Arthur M. Sackler Collections, Washington D.C., 1990, fig. 38.1, p. 362; and another gui, also of the Western Zhou period, excavated at Wangjiazui, Qishan, Shaanxi province and now in the Shaanxi Provincial Museum, Xi'an, published in Zhongguo wenwu jinghua daquan. Qingtong juan, Hong Kong, 1994, pl. 346.
Sotheby's. Asian Art. 11 Jun 09. Paris www.sothebys.com