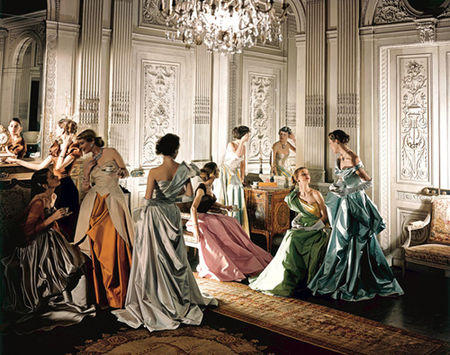 Cecil Beaton (British, 1904–1980), Dorian Leigh (fourth from left) and unidentified models in Charles James, Vogue, June 1948. Courtesy of the Cecil Beaton Studio Archive at Sotheby's © Condé Nast Publications Inc.
Exploring the reciprocal relationship between high fashion and evolving ideals of beauty, The Model as Muse: Embodying Fashion focuses on iconic models of the twentieth century and their roles in projecting, and sometimes inspiring, the fashion of their respective eras. The exhibition, organized by historical period from 1947 to 1997, will feature haute couture and ready-to-wear masterworks accompanied by fashion photography and video footage of models who epitomized their epochs.
The exhibition is made possible by Marc Jacobs.
Additional support is provided by Condé Nast.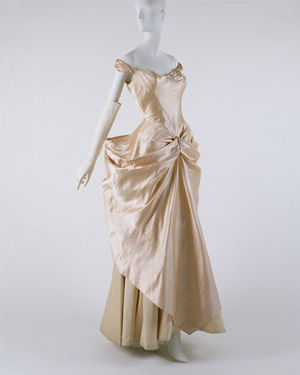 Charles James (American, b. Great Britain, 1906–1978) Wedding Gown, 1948–49. Pink silk satin and ivory taffeta. The Metropolitan Museum of Art, New York, Gift of Jane Love Lee, 1993 (1993.427)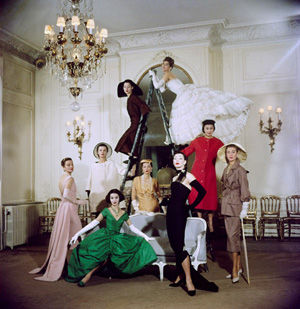 Loomis Dean (American, 1917–2005) Cabine of Christian Dior, 1957. Courtesy of Time Life Pictures / Getty Images
House of Dior (French, founded 1947) by John Galliano (British, b. Gibraltar, 1960) "Lucky" Evening Gown, haute couture fall/winter 2005–2006. (a) silk, synthetic, cotton, wool, plastic, metal; (b, c) leather; (d) metal, synthetic, pearl, silk; Length at CB (a): 98 in. (248.9 cm) Heel to Toe (b, c): 10 in. (25.4 cm) Diameter (d): 2 1/4 in. (5.7 cm) Height (d): 7 in. (17.8 cm). The Metropolitan Museum of Art, New York, Purchase, The Dorothy Strelsin Foundation Inc. Gift, 2006 (2006.22a–d)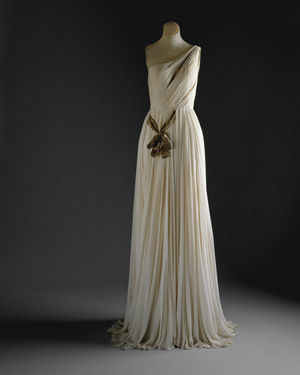 Madame Grès (French, 1903–1993) Evening gown, 1954. White silk jersey with gold lame; L. at center front (a) 55 in. (139.7 cm), (b) 39 in. (99.1 cm). The Metropolitan Museum of Art, New York, Gift of Mrs. Byron C. Foy, 1956 (C.I.56.60.6a,b)
Cristobal Balenciaga (French, b. Spain, 1895–1972) Day dress, 1955–56. Dark brown wool jersey; L. shoulder to hem: 39 in. (99.1 cm) The Metropolitan Museum of Art, New York, Gift of Muriel Rand, 1964 (C.I.64.4.3)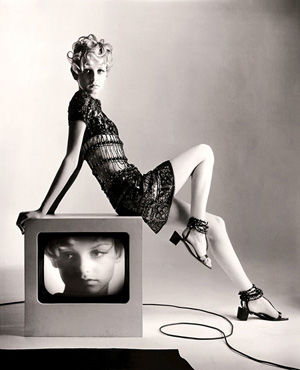 Bert Stern (American, b. 1929) Twiggy in Yves Saint Laurent, Vogue, March 15, 1967. Courtesy of Staley-Wise Gallery, New York
Yves Saint Laurent, Paris (French, founded 1962) . Yves Saint Laurent (French, b. Algeria, 1936–2008). Dress, fall/winter 1965–1966. Wool. The Metropolitan Museum of Art, New York, Gift of Mrs. William Rand, 1969 (C.I.69.23)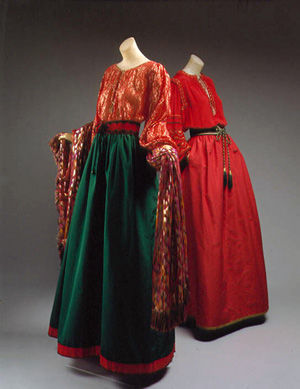 Yves Saint Laurent, Paris (French, founded 1962). Yves Saint Laurent (French, b. Algeria, 1936–2008) Two Ensembles, fall/winter 1976–1977. Left: Red silk chiffon; green silk faille; green silk velvet; multicolored, printed silk chiffon; Length at CB (a): 23 1/2 in. (59.7 cm) Length at CB (b): 43 in. (109.2 cm) Overall (d): 99 1/2 x 45 in. (252.7 x 114.3 cm); Right: Red silk faille crepe with bead embroidery; red faille and gold braid; red twill with soutache trim; Length at CB (a): 27 in. (68.6 cm) Length at CB (b): 44 1/2 in. (113 cm) The Metropolitan Museum of Art, New York, Gifts of Bernice Chrysler Garbisch, 1979 (1979.329.6a–d) and (1979.329.7a–c)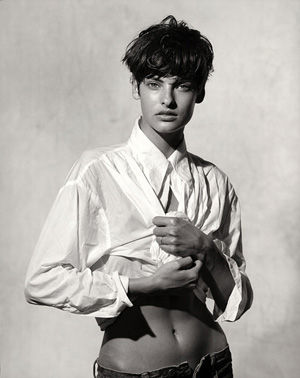 Peter Lindbergh (German, b. 1944) Linda Evangelista in Guess (American, founded 1981) and Virginia, Vogue Italia, December 1988
Courtesy of Peter Lindbergh
Craig McDean (British, b. 1964) Kate Moss in Helmut Lang, Harper's Bazaar, November 1996 © Craig McDean / Art + Commerce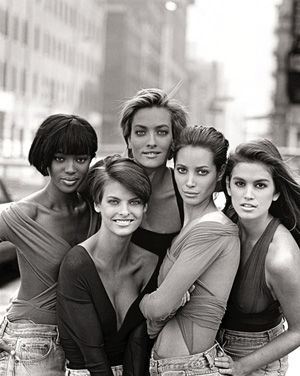 Peter Lindbergh (German, b. 1944) Naomi Campbell, Linda Evangelista, Tatjana Patitz, Christy Turlington, and Cindy Crawford in Giorgio di Sant'Angelo, Vogue British, January 1990. Courtesy of Peter Lindbergh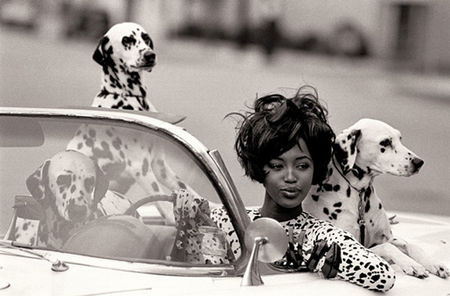 Peter Lindbergh (German, b. 1944) Naomi Campbell in Geoffrey Beene, Vogue, June 1990. Courtesy of Peter Lindbergh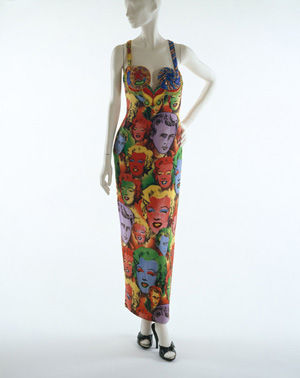 Gianni Versace (Italian, 1946–1997) Evening Dress, spring/summer 1991. Multicolored silk crepe with bead embroidery; Length at CB: 39 1/4 in. (99.7 cm) The Metropolitan Museum of Art, New York, Gift of Gianni Versace, 1993 (1993.52.4)
House of Chanel (French, founded 1913) Karl Lagerfeld (French, b. Germany, 1938) Ensemble, spring/summer 1992. White cotton knit and black silk tulle. The Metropolitan Museum of Art, New York, Gift of Chanel, 1993 (1993.104.2a–j)