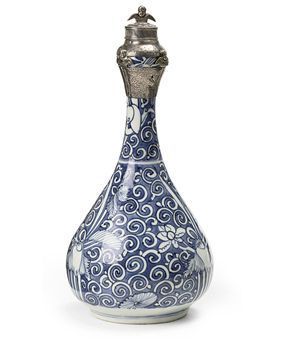 A Chinese late Ming blue and white silver-mounted bottle vase . Wanli (1573-1619), the silver 17th Century

Of pear shape painted with three standing cranes among lotus scrolls, all reserved on a washed-blue ground, the bulbous neck with silver mounting and cover. 29 cm. high. Est. €4,000 - €6,000
Provenance: Formerly in the collection of Drs A.M. Sengers.
Exhibited: Exhibited at The Hague Municipal Museum, May 1983, no. 33 in the exhibition of VOC silver.
Exhibited in 'Schatten uit de Oost' or 'De Kunst van het Verzamelen', loan Exhibition at the 42nd Delft Antique Fair, October 1990, Eighty Years of Chinese Ceramic History in a Dutch Private Porcelain Collection, no. 1, pl. XLIII.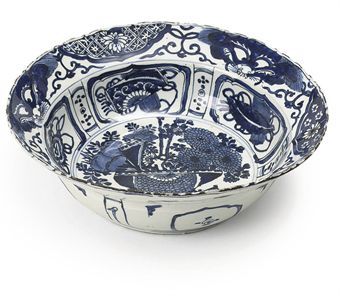 A large Chinese blue and white 'kraak porselein klapmuts' bowl . Wanli (1573-1619)
The central roundel decorated with a bowl of peach, bamboo and chrysanthemum, below shaped panels in the deep well containing buddhistic symbols, the everted shaped rim with taotie masks divided by trellis ground lappets reserved with flower-heads, fritted rim. 36.7 cm. diam. Est. €2,000 - €3,000
Provenance: Fa.A.C. Beeling & Zn., Leeuwarden, The Netherlands
Two Chinese blue and white 'kraak porselein' bowls and a bottle vase. Wanli (1573-1619)
The deep bowls modelled with slightly everted foliate rim, one painted to the exterior with horses, birds and bamboo, the other with birds, lotus and bamboo, 13 cm. diam. max; and a pear-shaped bottle vase decorated with vertical panels of horses jumping over waves alternated with floral panels, neck reduced, 25 cm. high, frits (3) Est. €1,500 - €2,000
Two Chinese blue and white 'kraak porselein' dishes. Wanli (1573-1619)

Comprising one dish painted to the star-shaped central panel with a peacock on a riverbank, the sides with alternating panels of symbols and peach, rim chip, 31.2 cm. diam.; the other decorated with a central star-shaped panel of symbols, surrounded by radiating panels of symbols and peach, rim chip and crack, 28 cm. diam. (2) Est. €1,200 - €1,800
A Chinese blue and white 'kraak porselein' dish. Wanli (1573-1619)

Decorated to the central star-shaped panel with ducks among lotus on a riverbank, the deep well and rim with panels enclosing peach and symbols, alternating with narrow panels of ribbons, rim frits. 37 cm. diam. Est. €1,000 - €1,500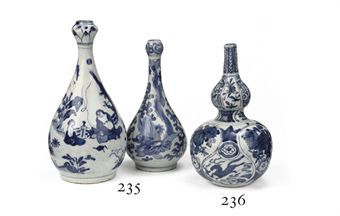 Two Chinese blue and white bottle vases. Wanli (1573-1619)

Both pear-shaped vases terminating in a bulb mouth, one decorated with a continuous garden scene with two seated figures, the other with two dragons writhing among cloud scrolls. 30.6 and 26.2 cm. high (2) Est. €1,200 - €1,800
A Chinese blue and white 'kraak porselein' double gourd vase. Wanli (1573-1619)

The lower bulb moulded with pomegranate-shaped lappets of flowering plants between galopping horses, the upper section with alternate floral panels below vertical trellis motifs, glaze chip. 27.6 cm. high. Est. €1,000 - €1,500
Provenance: Fa. A.C. Beeling & Zn., Leeuwarden, The Netherlands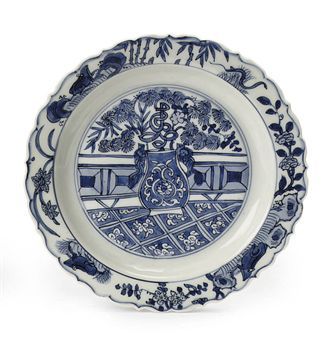 A Chinese blue and white 'kraak porselein' plate. Wanli (1573-1619)

Painted to the centre with a vase containing the 'Three Friends', prunus, bamboo and pine and centred by a Longevity character, the shaped rim with a snake and two frogs croached on rockwork among further branches of bamboo and flower stems. 19.8 cm. diam. Est. €1,000 - €1,500
Christie's. The Decorative Arts Sale Includingg The J.V.N. Van Achterbergh Collection And Fine Paintings. 30 June - 1 July 2009. Amsterdam www.christies.com