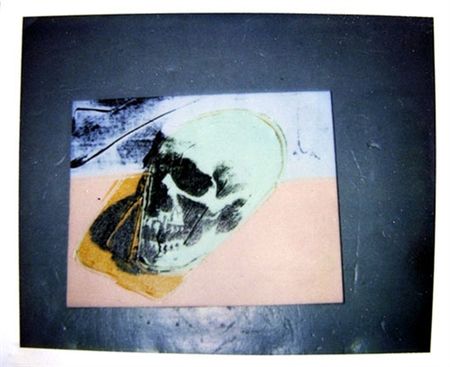 Andy Warhol, "Skull Polaroid", circa 1976
Original Polaroid of a skull painting. 4 x 4 in. (10 x 10 cm.) stamped on verso with the first and original estate stamp. Estimate: from $1,000 to $1,500
Provenance: From the Fred Hughes collection
Note: Andrew Warhola (1928 – 1987), known as Andy Warhol, was an American painter, printmaker, and filmmaker, was a leading figure in the Pop Art movement. Born in Pittsburgh, Pennsylvania, Warhol showed early artistic talent and studied at the Carnegie Institute of Technology. In 1949, he moved to New York City and began a successful career in magazine illustration and advertising. During the 1950s, he gained fame for his whimsical ink drawings of shoe advertisements. In 1952, the artist had his first individual show. His first group show at The Museum of Modern Art in 1956.

Appropriating images from popular culture, the 1960s was an extremely prolific decade. Warhol created many paintings that remain icons of 20th Century art, such as the Campbell's Soup Cans and Marilyns. Warhol also made several 16mm films which have become underground classics. In 1968, Valerie Solanis, founder and sole member of SCUM (Society for Cutting up Men) walked into Warhol's studio and shot him. The attack was nearly fatal. At the start of the 1970s, Warhol began publishing Interview magazine and renewed his focus on painting, he also published The Philosophy of Andy Warhol (from A to B and Back Again). Firmly established as a major 20th Century artist and international celebrity, Warhol exhibited his work extensively in museums and galleries around the world.

Warhol began the 1980s with the publication of POPism: The Warhol '60s. His paintings from the 1980s return to his first great theme of Pop. Warhol also engaged in a series of collaborations with younger artists, including Jean-Michel Basquiat, Francesco Clemente and Keith Haring. Following routine gall bladder surgery, Andy Warhol died February 22, 1987.
Artnet Auctions. Thursday, July 09, 2009, 2:00 PM EST www.artnet.com