Maureen Connor; Thinner than You, 1990, Steel and nylon mesh; 60 x 16 x 8 inches; Collection of the artist
KATONAH, NY.- The Katonah Museum of Art debuted Dress Codes: Clothing as Metaphor, celebrating a synergy of artistic creations that began to take shape toward the end of the 20th century. It was at this time that many artists seized upon the idea of clothing as the medium for their work. The 36 artists in this sculpture exhibition explore a variety of issues ranging from gender, race, and ethnicity to immigration, globalization, and the violence of war. Remarkably, they employ everything from Power Ranger cards to pennies to coffee filters to alter viewers' assumptions and perceptions of clothing. Curated by Barbara J. Bloemink, Dress Codes will run through October 4.

Though clothing evolved as a means for warmth and protection, people everywhere now choose to design and define themselves through clothing more than through any other device. This is particularly true in the contemporary world of customization, mass production, and globalization, with information disseminated at a rate never before experienced. Since the 1990s, a growing number of international artists are using apparel as a metaphor for shared, as well as personal, concerns.

Moods and memories, both individual and shared, are reflected in the works of several artists here. Louise Bourgeois's Pink Days and Blue Days, for instance, reflects her view that art's main purpose is to explore and come to terms with one's emotions. As she observes, "There are pink days and blue days. There are days when you feel good about yourself, and nothing can go wrong. Those are the pink days. The blue days are when you are down in the dumps, and you're depressed. In the aftermath, you gain control, you find your equilibrium, and you begin again."
Nick Cave; Soundsuit. Mixed Media; Life-size; Jack Shainman Gallery
Rashid Johnson's sculptures reference prominent African Americans to make humorous, political statements. His Signed Clarence Thomas "Uncle Tom All-Stars" Judicial Robe Jersey is an ironic and biting commentary on the history behind the induction of Supreme Court Justice Clarence Thomas. The term "Uncle Tom" in the title is a colloquium used by African Americans to indicate a black man who will do anything to stay in good standing with "the white man." In addition, the work juxtaposes the judicial profession with a sport dominated by African-American players. In "Uncle Tom's All-Stars," a headless figure wears a judicial robe embroidered like a National Basketball Association team member's jersey, with the player's last name and number on the back. In this case it states "Thomas 91." During the 1991 Supreme Court confirmation hearings, attorney Anita Hill accused Thomas of sexual harassment. The televised proceedings galvanized the country, and many people were furious over his eventual ascension to the Court.

"Today, globally, there is a shared anxiety about many issues in contemporary life," says curator Bloemink. "As a result, just as we are individually coming to terms with how these affect our lives, so too we see many of these issues appearing in the work of international artists. In Dress Codes, artists from London to Iran use clothing to explore global issues and how they unite us all in an increasingly personal way."

With the evolution of the feminist movement in the 1960s and 70s, many artists rejected common art practices like painting and sculpture, which they associated with the male gender, and turned instead to alternative forms of expression. Continuing today, artists use clothing as their preferred medium for expressing female-specific experiences. Maureen Connor's Thinner than You accentuates the dangerously oppressive effects of culturally imposed ideals of beauty. The steel and mesh evening gown, whose waist measures less than ten inches, hangs vertically on a hanger. While being extremely thin may be considered elegant in popular women's magazines, no human would fit into Connor's gown. The artist uses this severe size to comment on the social standards of beauty promoted by the media and the fact that many young girls become anorexic trying to attain this goal.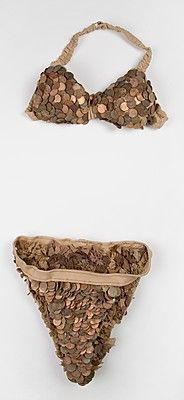 Sonya Clark; Coppertone Covet, 1994. Copper pennies, panty hose, and lycra; 20 x 12 x 8 inches; Courtesy of the artist
With the international reach and free access of the internet today, there is a resurgence of interest in considering the idea of communities. Several artists in Dress Codes explore this concept through assembling used clothing to create de facto group "portraits." Clothesline (White Oxford) by Jean Shin is made from used men's white shirts. Everything is stripped away but the collars and seams, leaving only the "bones" of their original states. Shin sees these as a staple of the white-collar professional; she intends that the skeletal, empty, limply hanging forms "suggest a kind of endless and perhaps replaceable workforce."

Other artists use apparel to consider international social and political topics. One of the most pressing global issues today is commerce and how it shapes our lives. In Trayne, Susan Stockwell creates an eighteenth-century gown made entirely of stained coffee-filters and paper cups. For centuries, coffee has been a widely traded and highly politicized commodity. While most coffee growers earn a minimal living, in the West customized coffee beverages are sold for highly inflated prices. Reinforcing this dichotomy, Stockwell's dress, when seen from a distance, appears beautifully patterned. But on close viewing it becomes apparent that the surface designs are stains remaining after coffee's consumption.

Operating on many levels, Ray Beldner's work initially replicates the artist Joseph Beuys's iconic Felt Suit dating from 1970. Beldner, however, replaces felt with US paper currency, which he sews together. He reiterates his choice of material by titling the work Gelt Suit ("gelt" translates to "money" in German). In Beldner's view, the recent over-inflated art market has overshadowed consideration of art's aesthetic value and cultural significance. That being the case, why not make art directly out of money?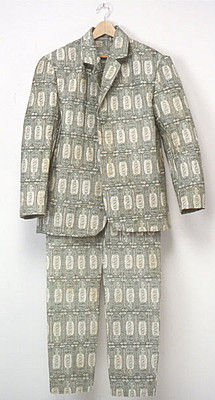 Ray Beldner; Gelt Suit (after Joseph Beuys's Felt Suit, 1970), 2002. Sewn U.S. currency; 58 x 34 inches; Courtesy of the artist and Catherine Clark Gallery
Farhad Moshiri is well known for his ironic juxtapositions of traditional Iranian customs with issues reflecting his country's increasingly global culture. For thousands of years, Islamic dress codes required women to wear chadors to conceal their individuality and symbolize religious piety. In 1936, the Shah banned the chador as a symbol of his modernizing efforts. In 1980 the conservative, religious-based government again required women to wear the concealing cloaks. Moshiri's chador is comes in a contemporary plastic packet with directions. It is easily transported and available to be worn at a minute's notice based on the wearer's choice or the rules of the country in which she is traveling. Through his work, the artist questions what makes something traditional, ethnic, or contemporary in a global economy.

Do Ho Suh's Uni-Form/s: Self-Portrait/s: My 39 Years consists of ten jackets that replicate the military-style school uniforms he was required to wear during the first thirty-nine years of his life. The artist was born during a particularly unstable militaristic period in Korea, soon after a military coup. In 1981, when he began attending college, the Gwangiu massacre took place, resulting in the death of at least 165 people, with 65 more missing and presumed dead. Do Ho Suh's Uni-Form/s represents the suppression of the individual—the "one" ("uni" is Latin for "one")—in favor of the "uniform" collective. It refers to the artist's personal memories of his formative years, as well as to many people's perception of Korean national identity during this period.

With the myriad styles and types of clothing available today, we are able to choose how we want to be perceived through what we wear. As the artists in Dress Codes demonstrate, increasingly this goes beyond statements of our individuality and identities to coded messages asserting our beliefs, and concerns about the world in which we live.

Independent curator Barbara Bloemink is well known in the field of modern and contemporary art. Her former positions include Managing Director of the Guggenheim Hermitage and Guggenheim Las Vegas Museums; Curatorial Director of Cooper-Hewitt, National Design Museum, Smithsonian Institution; Director of the Contemporary Art Center of Virginia; Director of The Kemper Museum of Contemporary Art and Design; and Director of the Hudson River Museum. Among her contributions to international art scholarship are a number of books, articles, and essays.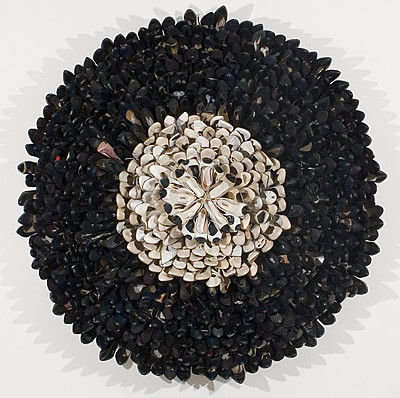 Willie Cole; The Difference between Black and White, 2005-2006. Shoes, wood, metal, screws, staples; Diameter 85 inches, depth 16 inches; Courtesy of Alexander and Bonin; Photo credit: Jason Mandella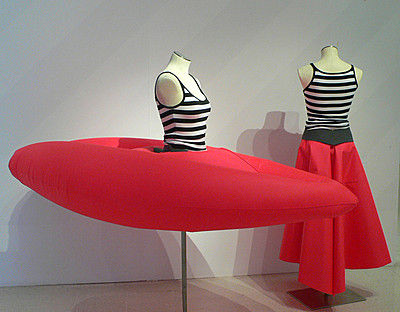 Yael Mer; 2 Evacuation Dresses, 2006. Welded polyurethane; Life-size; Courtesy of the artist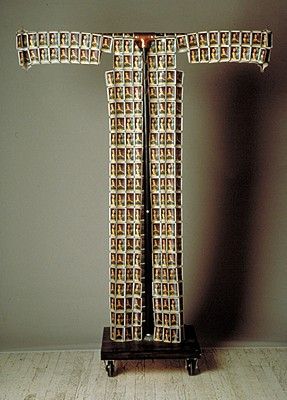 Cat Chow; Power Ranger Kimono, 1998. Power Ranger trading cards, brass jump rings; base 84 x 72 x 24 inches; Courtesy of the artist