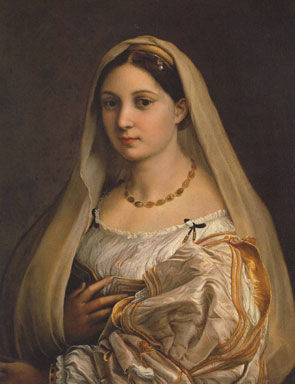 Raphael. La Donna Velata. c. 1514-1516. Oil on canvas. Palazzo Pitti, Galleria Palatina, Florence, Italy.
MILWAUKEE, WI.- The Milwaukee Art Museum will present Raphael's La Donna Velata in a one-work masterpiece exhibition March 26–June 6, 2010. The oil on canvas painting, completed ca. 1516, will be on loan from the Medici collection of the Palatine Gallery, Palazzo Pitti, Florence, Italy and is the result of more than a year of negotiations. The work will leave the United States indefinitely after the exhibition closes on June 6.

"This is a major highlight in the Museum's more than 120-year history," said Dan Keegan, director. "It is a coup for our institution and an incredible chance for the public, students, and scholars to experience first-hand an extraordinary and priceless painting that captures the ideals of the High Renaissance. Our involvement in the project illustrates the incredible opportunities we have thanks to our proven success with international collaborations."

A contemporary of Michelangelo and Leonardo da Vinci, Raphael was famed as a painter of portraits and altarpieces. He was commissioned to paint several rooms of the Vatican's Papal apartments. Raphael's work as a painter and architect was a major influence of the Renaissance and continues today.

In the painting, Raphael represents his brilliance at depicting sfumato, an Italian term for a painting technique—often associated with Leonardo da Vinci's Mona Lisa—whereby lightly applied layers of color are used to capture light, and articulate volume and form. Raphael developed in the work his own ideal of female beauty and deportment, responding to Mona Lisa. The sitter's veil indicates that she is married, while the sleeve conveys both opulence and, in abstract terms, the sitter's hidden but complex psychology. Art historians have variously identified this beautiful woman, Margherita Luti, both as a patron's bride and as the artist's mistress. She appears as a model in many of Raphael's most important works.

Raphael's La Donna Velata is organized by the Portland Museum of Art and the Foundation for Italian Art & Culture, New York. The exhibition is coordinated at the Milwaukee Art Museum by Director of Exhibitions Laurie Winters.

Raphael (1483–1520), also known as Raffaello Sanzio, was born in Urbino, Italy. His father, Giovanni Santi, was a painter and poet. Raphael trained in his father's workshop and later in the workshop of the artist Pietro Perugino. In 1504 he began spending time and perhaps even resided in Florence, where he was influenced by the work of Leonardo da Vinci. Eventually, he moved to Rome where, under the patronage of Pope Julius II, he entered his most productive phase as an artist. He managed a large workshop of pupils and assistants, many of whom became well-known artists in their own right. Raphael's art reached wide-spread influence through collaboration with the engraver Marcantonio Raimondi, who produced prints of Raphael's paintings.

Raphael's personal life was complex. He never married but was reputed to have had many relationships. In 1514 he became engaged to Maria Bibbiena, the niece of an influential Cardinal and Raphael's friend. The marriage never took place, and she died in 1520. Raphael lived a grand lifestyle in Rome and attained some status at court. It is believed that he died on his 37th birthday in 1520. He left a significant portion of his estate to Margherita Luti—La Donna Velata—and he was buried in the Pantheon.