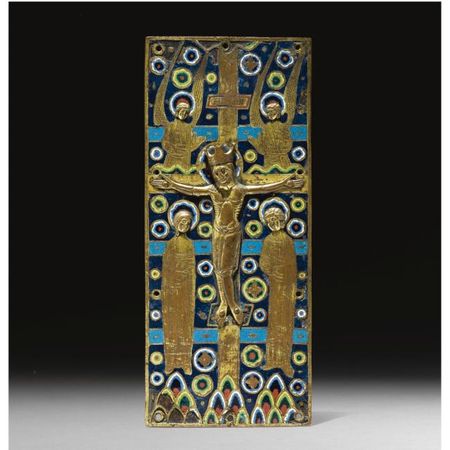 French, Limoges, circa 1220-1240. Bookcover
champlevé enamelled copper. 22 by 11cm., 8 5/8 by 4¼in. Est. 50,000—70,000 GBP. Sold 118,850 GBP
PROVENANCE: Jacqueline Boccador, Paris
NOTE: Thirteenth century Limoges enamel bookcovers of the crucifixion were simplified to relate the story clearly and powerfully. The present plaque, like a similar bookcover sold in the Dormeuil collection, Sotheby's, Paris, 2007, no 18, succeeds with marked elegance. The composition is centered by a figure of the crowned Christ as an applique on the cross and flanked in the lower two thirds of the panel by the Virgin on his right and Saint John the Evangelist on his left. The colourful, stylised terrain upon which they stand represents the Calvary. Floating in the top third of the panel are two angels divided by the hand of God. Few extant book covers illustrating the crucifixion display the figure of Christ as an applique. Notable are those formerly in the Thomas Flannery Collection, sold Sotheby's London 1 December 1983, lot 36 and that formerly in the Giannalisa Feltrinelli collection, Geneva.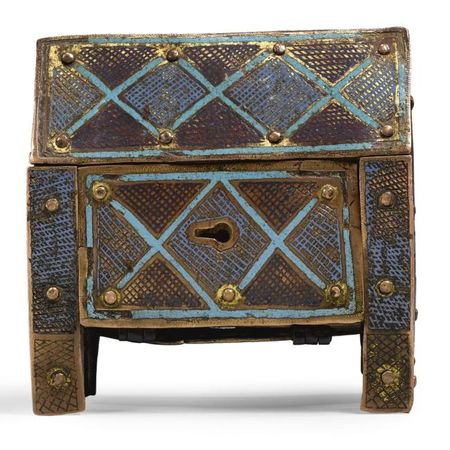 French, Limoges, early 13th century. Châsse
champlevé enamelled and partially-gilt copper; wood and iron interior. 14.5 by 14.5 by 5.5cm., 5 5/8 by 5 5/8 by 2¼in. Est. 50,000—70,000. GBP. Sold 56,450 GBP
NOTE: The present small reliquary casket displays features which are typical of Limoges production between 1200 and 1225: lapis blue ground enclosing applied gilt half-length figures of angels with engraved wings. A narrative element has been replaced in favour of a decorative motif of six angels on the front, two saints on the sides and a decorative geometric design on the reverse. As such, it is impossible to identify the saint whose relics the châsse would have originally contained. The design on the front of the châsse can be compared with the casket with saints formerly in the Keir collection (see Gauthier no. 17). The decorative motif on the reverse, however, is akin to the reverse of the St. Valerie casket formerly in the Dormeuil collection and sold at Sotheby's Paris, 12 November 2007, lot 12.

RELATED LITERATURE: M. M. Gauthier, Emaux limousins champlevés des XIIe, XIIe et XIVe siècles, Paris, 1950, no. 7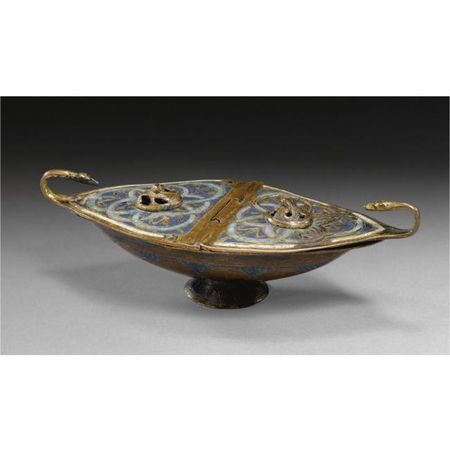 French, Limoges, 13th century. Incense burner
champlevé enamelled and partially-gilt copper, numbered on the underside of the lid: 310 in white paint and No 422 in black ink; numbered on the underside: 81454 in red ink. 6 by 20.5cm., 2 3/8 by 8in. Est. 12,000—18,000 GBP. Sold 20,000 GBP
PROVENANCE: Alfred Rütschi Collection, sold Galerie Fischer, 5 September 1931, lot 15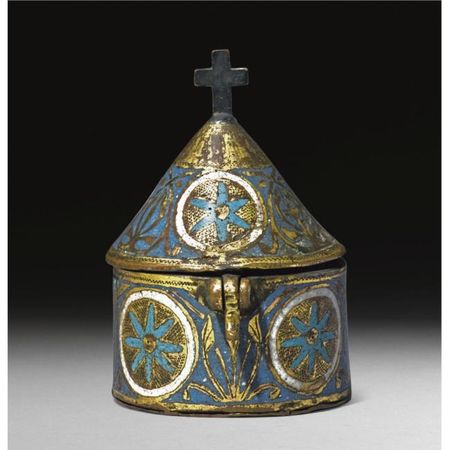 French, Limoges, 13th century. Pyx
champlevé enamelled gilt copper. 10.5cm., 4¼in. Est. 8,000—12,000 GBP. Sold 13,750 GBP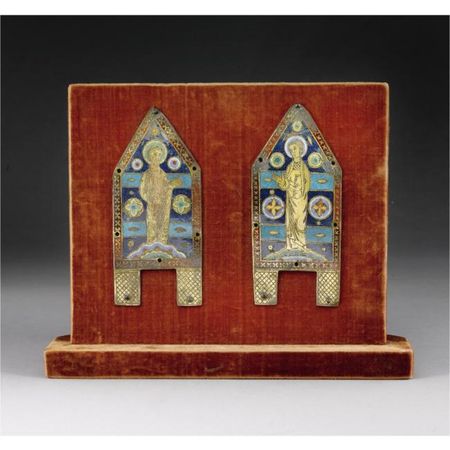 French, Limoges, probably first half 13th century. Pair of panels from a châsse
champlevé enamelled copper, on a velvet covered wood stand. each panel: 14cm., 5½in.; stand: 19 by 25.5cm., 7½ by 10in. Est. 12,000—18,000 GBP. Sold 12,500 GBP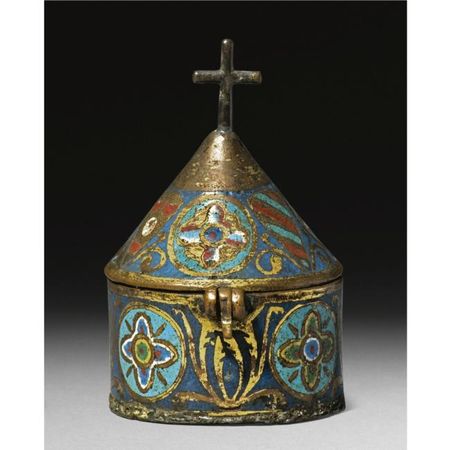 French, Limoges, 13th century. Pyx
champlevé enamelled gilt copper. 10.5 cm., 4¼ in. Est. 8,000—12,000 GBP. Sold 10,000 GBP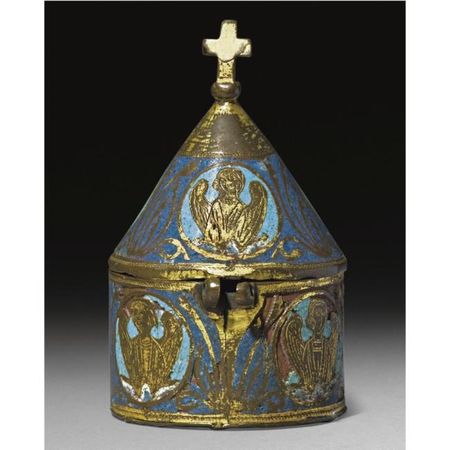 French, Limoges, 13th century. Pyx
champlevé enamelled gilt copper. 11.5cm., 4½in. Est. 7,000—10,000 GBP. Sold 8,750 GBP
PROVENANCE: Brimo de Laroussilhe, Paris
French, Limoges, circa 1200. Gemellion
champlevé enamelled copper. diameter: 22.5cm., 8 7/8 in. Est. 10,000—15,000 GBP. Sold 8,750 GBP
Sotheby's. Old Master Sculpture and Works of Art. 09 Jul 09. London www.sothebys.com
Between 1100-1250 specialist metalworkers flourished in the areas around Cologne (the Rhineland), Liège (the Meuse Valley) and Limoges (France). They supplied monasteries and churches with vessels essential for the rituals of the church, objects such as chalices, crosses, candlesticks, altarpieces and shrines. The large shrines and altarpieces were complex structures. They had a wooden core overlaid with metal, engraved and embellished with brilliantly coloured gems or enamel plaques.
The technique of enamelling used intense heat to fuse glass onto a prepared metal surface. It allowed the metalworker to create brightly coloured images. Medieval enamellers used several different techniques but champlevé enamelling was one of the most common. The word champlevé means literally 'raised fields' and refers to the way that beds were dug out of a copper plate to receive the powdered enamel. 'Metalworkers and Enamellers, Champlevé Enamelling 1100-1250) www.vam.ac.uk
Click here to watch a video on champlevé enamelling
L'émail de Limoges (en latin opus lemovincense) est une technique d'émail champlevé qui apparaît au milieu du XIIe siècle dans la ville française de Limoges. Après avoir connu un vif succès en Europe occidentale, elle disparaît au milieu du XIVe siècle.
Technique: L'émail de Limoges repose sur l'usage de trois techniques : le champlevé, le pseudo-champlevé et le cloisonné. D'abord, l'orfèvre martèle des feuilles ou plaques de cuivre jusqu'à obtenir une épaisseur de quelques millimètres. Il creuse ensuite au burin et à l'échoppe — selon la technique du champlevé — des alvéoles d'environ un millimètre d'épaisseur. Alternativement, l'artiste peut utiliser deux plaques soudées l'une à l'autre : la plaque supérieure est découpée alors que celle du dessous sert de support — c'est le pseudo-champlevé. Il est possible d'ajouter dans ces alvéoles des rubans de cuivre qui forment le dessin — c'est le cloisonné.
Les alvéoles sont ensuite remplies de poudre de verre, obtenu en pilant au mortier des morceaux de verre coloré. Le verre lui-même est obtenu à partir de sable ou de quartz additionné de fondants alcalins (cendres végétales ou natron) destinés à abaisser la température de fusion. Dans la très grande majorité des œuvres, l'artiste a utilisé du verre au sodium, comme le faisaient les verriers romains : il présente la particularité d'être plus stable que le verre au potassium, utilisé abondamment dans les vitraux de l'époque.
La plaque est ensuite mise au four : une fois le verre fondu, la température est abaissée graduellement. Le cuivre possédant un coefficient de dilatation proche du verre, la pièce refroidit harmonieusement. La surface est ensuite polie, nettoyée puis dorée avec un mélange d'or et de mercure.
Histoire: La première mention de la technique se trouve dans un texte rédigé vers 1167-1169 par un clerc proche de Thomas Becket, qui emploie l'expression « œuvre de Limoges » au sujet de la plaque de reliure d'un livre conservé à l'abbaye Saint-Victor, à Paris. Les témoignages se multiplient ensuite, évoquant des couvertures de livres et surtout des objets de piété : châsses-reliquaires, crucifix, vases sacrés (ciboires, calices et pyxides) ou encore encensoirs.
Les premiers objets pouvant être rattachés à Limoges sont précisément des châsses commandées par le comte de la Marche. L'une, dite « châsse de Bellac », date de 1120-1140 et est actuellement conservée à l'église Notre-Dame de Bellac ; elle représente le Christ en majesté entouré des évangélistes et d'anges. L'autre, actuellement au Metropolitan Museum of Art de New York, date de 1150 environ ; elle accorde une large place à saint Martial, premier évêque de Limoges.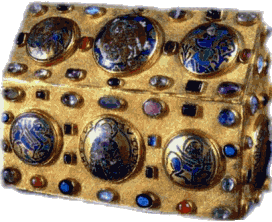 « Châsse de Bellac », 1120-1140, Notre-Dame de Bellac
Chasse of Champagnat, ca. 1150. French; Made in Limoges, France. Copper: engraved and gilt; champlevé enamel: blue-black, medium blue, turquoise, green, red, and white; Overall (Chasse): 4 7/8 x 7 7/16 x 3 3/8 in. (12.4 x 18.9 x 8.5 cm) Overall (Plaque): 2 3/4 x 7 7/16 x 1/16 in. (7 x 18.9 x 0.2 cm) Gift of J. Pierpont Morgan, 1917 (17.190.685) Metropolitan Museum of Art New York
Progressivement, le répertoire des orfèvres-émailleurs s'élargit à des thèmes inconographiques moins locaux, comme la mort de Thomas Becket : les châsses en émail de Limoges sont les plus anciennes connues sur ce thème. Les artistes s'intéressent également à de nouveaux styles : ainsi du fond vermiculé, c'est-à-dire gravé de rinceaux enroulés. De même, un certain nombre d'artistes choisissent de réserver les figures, dont les détails sont gravés, l'émail étant appliqué au fond orné de rosettes. Enfin, certains éléments sont désormais fabriqués à part, puis fixés sur les plaques de cuivre à l'aide de rivets : c'est par exemple le cas des têtes des saints représentés sur les châsses.
C'est alors l'âge d'or des ateliers limousins : leurs œuvres sont exportées jusqu'en Suède, en Espagne et en Italie. Ce succès s'explique d'abord par le faible coût du cuivre émaillé par rapport à l'or ou l'argent : les églises et monastères peuvent ainsi acquérir à peu de frais leurs objets liturgiques. En outre, l'œuvre de Limoges se prête bien à la représentation de scènes narratives, particulièrement importantes sur les objets liturgiques.
Au milieu du XIIIe siècle, l'œuvre de Limoges continue d'évoluer : tombeaux et objets en ronde-bosse sont désormais prépondérants et le décor héraldique fait son apparition. Les orfèvres adaptent leur style aux évolutions de l'art gothique. Néanmoins, malgré des chefs-d'œuvre comme la plaque funéraire de Guy de Mejos, la production est de moins en moins abondante. Quand le Prince Noir met Limoges à sac en 1370, les ateliers ont déjà disparu. (Wikipedia)