28 juillet 2009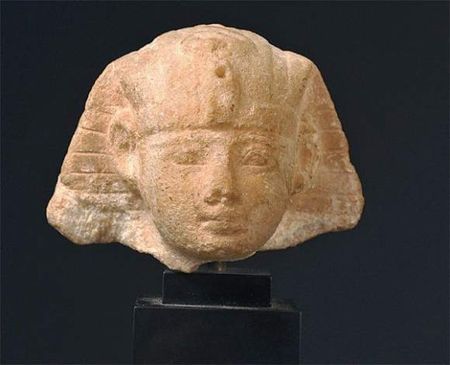 Aménophis II. Egypte. Nouvel Empire. XVIIIè dynastie.
Tête en albâtre représentant Le pharaon Aménophis II, coiffée du némès strié dégageant les oreilles, flanqué de l'uræus. Visage juvénile aux traits finement sculptés, yeux en amande, lèvres ourlées. Dim. 9 x 11 cm. Estimation : 30 000 / 40 000 €
Pièce similaire marquée au nom du Pharaon au Metropolitan Museum, New York.
A rapprocher également de la tête de sphinx d'Aménophis II en granodiorite, Musée égyptien, Munich.

Vente du Mardi 4 août 2009. Archéologie, Haute Epoque, Mobilier XVIIe et XIXe siècles. Kohn - Cannes. M. Chakib Slitine. Pour tous renseignements, veuillez contacter la maison de ventes au +33 (0) 1 44 18 73 00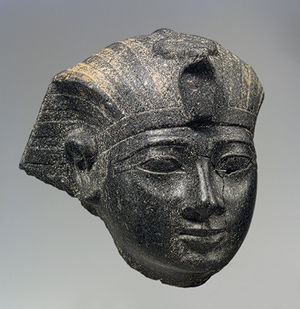 Head of Amenhotep II, New Kingdom, Dynasty 18, reign of Amenhotep II, ca. 1427–1400 b.c.Egyptian. Black granite. H. 7 1/2 in. (19 cm). Purchase, Fletcher Fund and The Guide Foundation Inc. Gift, 1966 (66.99.20) Metropolitan Museum of Art, New York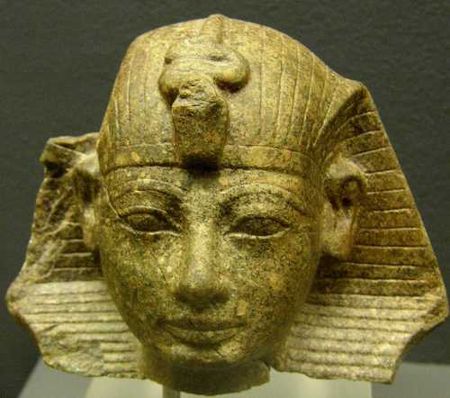 Tête d'Amenhotep II, granodiorite. Musée égyptien, Munich
Amenhotep II (grec : Aménophis II) est le septième roi de la XVIIIe dynastie. Fils de la grande épouse royale Mérytrê-Hatchepsout et de Thoutmôsis III, il succéda à son père après une probable corégence de deux ou de trois ans. Manéthon l'appelle Misphragmuthôsis. On situe son règne aux alentours de -1428 / -1427 à -1401 / -1400. Monté sur « le trône d'Horus des vivants » à l'âge de dix-huit ans, il sut maintenir l'intégrité de l'empire par une politique d'une extrême brutalité.
Si l'on en croit la stèle du Sphinx à Gizeh, il était doué d'une force physique extraordinaire. Ainsi, sur son attelage, « pareil à Montou dans sa puissance », il aurait transpercé de ses flèches quatre cibles en cuivre d'un palme d'épaisseur, « ce qui fut certes une prouesse qu'on n'avait jamais faite depuis que le monde existe, ni qu'on n'avait jamais entendu raconter, que de tirer une flèche contre une cible en cuivre, qu'elle en sortît et tombât par terre. »
À sa mort, la couronne échut à son fils Thoutmôsis IV, né de la dame Tiâa. (Wikipedia)
Commentaires sur Aménophis II. Egypte. Nouvel Empire. XVIIIè dynastie.