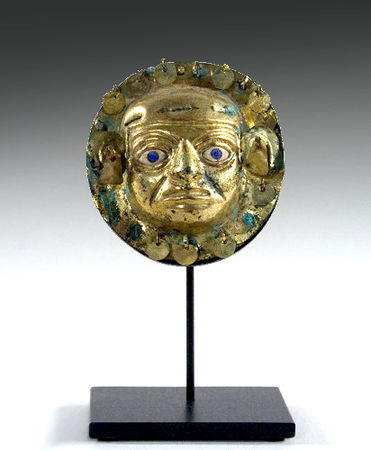 Gilded Masquette with Inlaid Eyes North coast of Peru, Mochica / Moche culture, ca. 200 B.C. - 100 A.D.
Gold / gilded Masquette with inlaid eyes and danglers on ears and around mask edges. Expressive facial features. Custom museum-quality mount. Intact/generally excellent condition, save a few missing danglers. Diameter : 4.00 cm/1.57 in. Price: 8 000 €

Provenance: Ex-Sotheby's, ex-private NY Collection.
Artemis Gallery PO Box 71480516 Erie - USA - Tel : 720-890-7700 - Tel : 720-936-4282 - Email address : artemisgallery@gmail.com - Website : http://www.artemisgallery.com