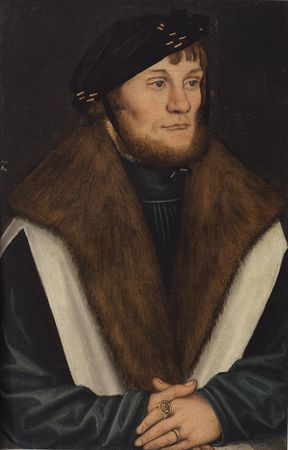 Portrait of a Bearded Young Man, by Lucas Cranach the Elder (Kronach 1472–1553 Weimar).
Oil on linden panel. Signed upper left with the artist's device of a dragon with spread wings; dated 1518. Height : 42.00 cm; Width : 28.00 cm. Price on application.
Notes: The Portrait of a Bearded Young Man is dated 1518, a year after Luther posted his Ninety-five Theses, setting in motion the Protestant Reformation. During the following years much of Cranach's and his patron's energy were taken up with this religious battle, and the artist produced prints and paintings of Luther. For the most part they follow the same typology as this portrait of an unidentified sitter. The artist depicts the young man in half length, against a plain, neutral background. He is turned to the right, a relatively common pose, but one that also suggests that this was possibly intended as part of a portrait diptych, such as The Portraits of Maurice Buchner and Anna Buchner (F.-R. 127 and 128) in the Minneapolis Museum of Art, also from 1518. The poses of the two men are comparable and the sizes of the panels roughly the same as the present work. In fact, as is typical of his portraits from this period, the two male sitters seem somewhat confined by the narrow dimensions of the panels.

Although Cranach's portraits of women betray a certain generic similarly, his depictions of men are much more individualized. Here he has lavished his full attention on this striking young sitter, with his penetrating blue eyes and prominent cheek bones, and carefully delineates the delicate hairs in his fair, curly beard. In contrast to Maurice Buchner, who stares rather fiercely at the audience, the unknown sitter here appears more inwardly contemplative, gazing off to the right as he stands calmly with his hands folded in front of him. While we do not know the name of the sitter in The Portrait of a Bearded Young Man, Cranach has created a distinct and clearly recognizable personality.

Provenance: Count Dohna, Germany;
R. Zahn, Munich;
His sale, Munich, Galerie Hugo Helb...
ADAM WILLIAMS FINE ART. 24 East 80th Street, NY. 10075 New York - USA - Tel : +1 (212) 249 4987 - Fax number : +1 (212) 755 0792 - Email address : contact@adam-williams.com - Website : http://www.adam-williams.com
Cf. my post of january 2009 : http://alaintruong.canalblog.com/archives/2009/01/09/12030572.html
The Portraits of Maurice Buchner in the Minneapolis Institude of Arts :
Lucas Cranach, Portrait of Mortiz Buchner, c.15é0. Oil on panel, The William Hood Dunwoody Fund. 57.11. The Minneapolis Institue of Arts