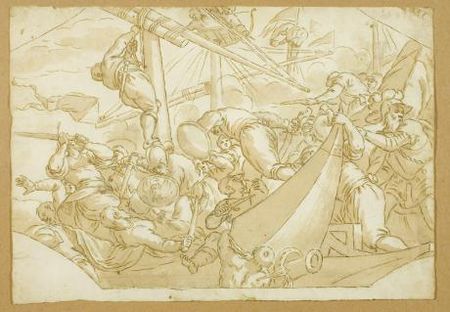 Marcantonio Bassetti, Francesco Bembo. Italie, XVIIème siècle
Encre Brune - Lavis Brun - Pierre Noire sur papier. Annotations : Paraphe et numéro "3" au dos. Height : 23.30 cm - Width : 32.50 cm. Prix sur demande
Notes: Marcantonio Bassetti. Peintre. Né à Vérone en 1588 et mort dans la même ville en 1630. Elève de Felice Brusasorci et de Palma Il Giovane. Actif à Rome et à Vérone. Membre de l'Académie de Saint-Luc en 1618. Ecole vénitienne du XVIIème siècle.
Francesco Bembo, amiral des vénitiens vainquit la flotte du Duché de Milan sur le Pô en 1427.
Marcantonio Bassetti reprend une toile de Jacopo Palma il Giovane réalisée pour la Salle du Grand Conseil du Palais Ducal à Venise.

ARTESEPIA 40, rue de Verneuil 75007 Paris - France. Tel : +33 (0)1 42 96 29 21 - Tel : +33 (0)6 82 83 60 88 - Fax number : +33 (0)6 82 85 89 81 - Email address : artfinding@artesepia.com - Website : http://www.artesepia.com
original text :
Automatic translation !

Marcantonio Bassetti. Painter. Born in Verona in 1588 and died in the same city in 1630. Student of Felice Brusasorci and Palma il Giovane. Active in Rome and Verona. Member of the Academy of Saint Luke in 1618. Venetian school of the seventeenth century. Francesco Bembo, Venetian admiral of the fleet defeated the Duchy of Milan in the Po in 1427. Brown Ink - Wash Brown - Black Stone on paper. Marcantonio Bassetti incorporates a painting by Jacopo Palma il Giovane carried out for the Grand Council Chamber of the Ducal Palace in Venice. Annotations: Initialed and number "3" on the back.