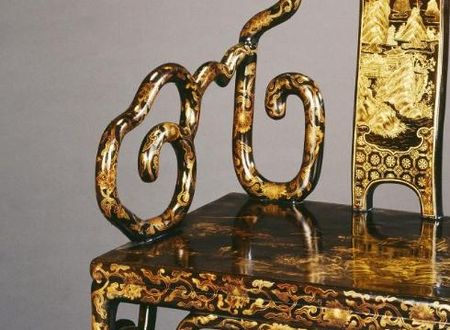 Qianlong throne chairs, 1775
Lacquer. Height : 100.00 cm. Width : 62.00 cm. Seat height: 18 in (47 cm). Price on application.
Note: A pair of particularly elegant Chinese Qianlong period lacquer throne chairs. The shaped back splat decorated with a mountain scene is flanked by serpentine back rails. The sinuous curved arms, all decorated with chrythanseum and peony flowers entwined with foliage form stylised cloud patterns. The motif is continued on the legs and seat rails, which support the seat which is again decorated with a gilt landscape depicting lakes, palaces and mountains.
Mallett Antiques 929 Madison Avenue at 74th Street NY 10021 New York - USA - Tel : +1 212 249 8783 - Fax number : +1 212 249 8784 - Email address : info@mallettantiques.com - Website : http://www.mallettantiques.com