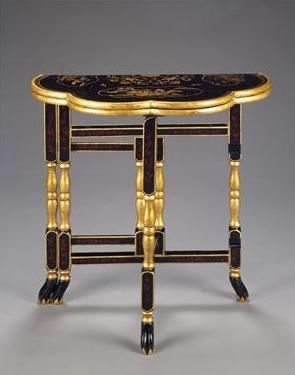 Chinese lacquer traveling table. China, circa 1800.
China Lacquer. Height : 73.00 cm - Width : 76.00 cm - Depth : 38.00 cm. Price on appllication
A most unusual Chinese export lacquer traveling table with a scalloped folding top decorated with a lake view with pavilions, rocks and trees, raised on a gate-leg base of 'X' frame form with six supports, all partly turned and gilded and partly lacquered. When closed, the top is decorated with landscape vignettes and stylised flower motifs.
Mallett Antiques 929 Madison Avenue at 74th Street NY 10021 New York - USA - Tel : +1 212 249 8783 - Fax number : +1 212 249 8784 - Email address : info@mallettantiques.com - Website : http://www.mallettantiques.com