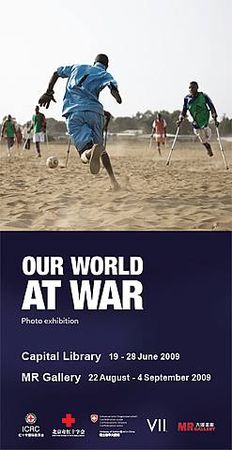 MR Gallery is in cooperation with the ICRC, Red Cross Society of China Beijing Branch and Embassy of Switzerland in China, together holding the photography exhibition of "Our World at War".
The year 2009 has great significance for the International Red Cross and Red Crescent Movement, including the International Committee of the Red Cross (ICRC). The Red Cross idea was born 150 years ago and it was 60 years ago that the nations of the world agreed to the four Geneva Conventions we have today. In observance of these anniversaries, the Movement has launched a campaign – Our world. Your move. – to remind everyone of his or her individual responsibility to lessen human suffering.
The ICRC and five award-winning war photographers from the VII photoagency – James Nachtwey, Franco Pagetti, Antonin Kratochvil, Ron Haviv and Christopher Morris – unite in this exhibition to bring individual stories of loss and suffering in war to the forefront of the world's attention: women struggling to recover from sexual violence, families coping with displacement, and people victimized by gang warfare.
The exhibition also draws attention to the inspirational attempts that continue to be made, by ordinary men and women, to limit human suffering in some of the most violent corners of the world.
MR Gallery
Address: D06 Mid 2nd Street, 798 Art District, 2 Jiuxianqiao Road, Chaoyang District, Beijing
Duration: 22nd August – 4th September, 2009 Opening hours: 10:30 – 18:00
James Nachtwey, Afghanistan: Indiscriminate weapons
Landmines have been used indiscriminately in Afghanistan for the last three decades. Hundreds of thousands lie unmapped and undiscovered. Landmines have left an estimated 100,000 or more Afghan people disabled.
Franco Pagetti, Lebanon: War in the city
The conflict in Tripoli pits militias, sects and neighbourhoods against one another. It is a complex affair whose origins go back to the civil war in Lebanon. The latest round of fighting began in early May 2008 and peaked in July and August. The conflicted erupted in Beirut where members of what was then the opposition party confronted the ruling loyalists on the streets of the city. The fighting soon reached Tripoli, endangering approximately 150,000 inhabitants.