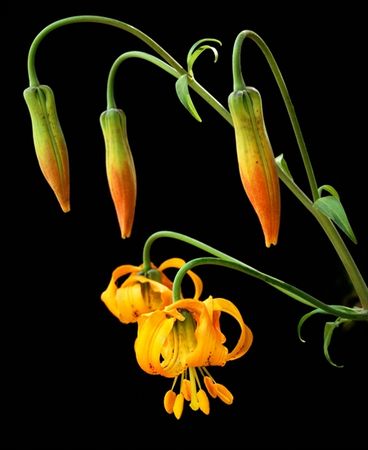 Robert Turner, Deep Forest Lily, 2003, Del Norte County, California
Fuji Crystal Archive - 30 x 40 in. (40 x 49 in. matted) 76.2 x 101.6 cm. (101.6 x 124.5 cm. matted) - Edition: 100 - Signed in pencil on the recto face overmat; signed, titled, dated and editioned in pencil on verso - Estimate: from $3,000 to $4,000

Robert Turner brings his background in filmmaking to his career as a professional photographer. Turner's photography is a product of extensive travel, approximately 30,000 miles a year, "in pursuit of the light on the land." The former president of Spectrum Films, Inc., Turner is accustomed to working in and drawing inspiration from a vast array of scenic natural landscapes. Turner's formative years, spent in northern New Jersey and the Adirondack Mountains of upstate New York, resulted in the cultivation of a close relationship between artist and nature, as well as a deep commitment to environmental conservation. This motivation, in conjunction with a cinematic sensibility, results in striking and dramatic images of our natural world.

Robert Turner's work will be featured in a number of museum, art fair, and gallery shows in the upcoming year, and hangs in private collections across the United States, Europe, and Asia. His prints also reside in numerous corporate collections, including those of Sprint, A G Edwards, Goldman Sachs, and Deloitte & Touche. His images are sold in galleries in New York, Denver, Santa Fe, and Newport Beach, California, as well as Jakarta, Indonesia.
Artnet Auctions. Wednesday, September 09, 2009, 1:00 PM EST www.artnet.com