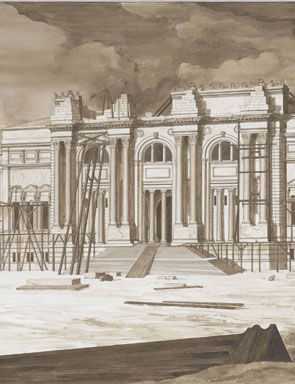 Pablo Bronstein (British, b. Argentina, 1977), The Museum Nearing Completion as Seen from Fourth Avenue, 2009 (detail). Ink on paper, 44 7/8 x 137 13/16 in. (114 x 350 cm) © 2009 Pablo Bronstein. Courtesy: Herald St, London and Franco Noero, Turin.
NEW YORK, NY.- Pablo Bronstein at the Met is a presentation of new work by the London-based artist, addressing the history and future of The Metropolitan Museum of Art, and will be shown at the Museum from October 6, 2009, through February 21, 2010. Several large ink drawings by the artist will suggest a mythical history of the Metropolitan Museum, imagining the building under construction. A series of computer drawings will focus on hypothetical futures of the Museum. This will be the artist's first solo exhibition in New York.

Through drawings, installations, performances, and books, Pablo Bronstein has investigated a variety of historical periods and tastes. His palette encompasses a myriad of styles: from the mannered baroque of Turin to the classical architecture of 18th-century France, from early 20th-century Modernism to Postmodernism in its various manifestations. Adopting the guise of the architect, architectural historian, and the user of buildings, Bronstein reveals what might be described as the veneer of architecture. In doing so he highlights the complicit power structures that are required to accomplish great works, in turn inviting viewers to consider the mechanisms that delineate private and public space.

Pablo Bronstein was born in Argentina in 1977 and now lives and works in London. His work has been included in the Tate Triennale, London, 2006; Performa 07, New York; and Characters, Figures and Signs, Tate Modern, London, 2009. His work has been featured in solo exhibitions at Galleria Franco Noero, Turin; Herald St, London; and Lenbachhaus, Munich, 2007. Upcoming projects include Manifesta 8 in Murcia, Spain, and the Sculpture Court Commission, Tate Britain, London, both in 2010. Bronstein has an M.A. in Visual Arts from Goldsmiths, University of London, and a B.A. from the Slade School of Fine Art, University College, London. He is represented by Herald St, London, and Galleria Franco Noero, Turin. Among the books of his work that have been published are: Description of Casa Scaccabarozzi, 2008 (Galleria Franco Noero, 2008); Ornamental Designs (Walther Konig, 2008); and Postmodern Architecture in London (Walther Konig, 2007).

Pablo Bronstein at the Met is organized by Gary Tinterow, Engelhard Chairman of the Department of Nineteenth-Century, Modern, and Contemporary Art. It is the sixth in the Metropolitan's series of solo exhibitions of young artists, which has featured Tony Oursler (2005), Kara Walker (2006), Neo Rauch (2007), Tara Donovan (2008), and Raqib Shaw (2008–2009).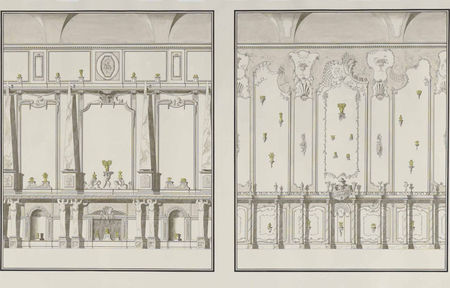 Pablo Bronstein (British, b. Argentina, 1977), First and Second Installations of Pre-Columbian Objects at the Metropolitan Museum, 2009. Ink and gouache on paper, 61.4 x 98.8 in. (156 x 251 cm). © 2009 Pablo Bronstein. Courtesy: Herald St, London and Franco Noero, Turin.