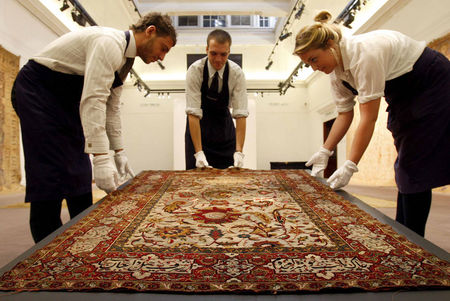 A Safavid silk, wool and metal thread prayer rug is displayed at Sotheby's auction rooms in London. (AP Photo/Kirsty Wigglesworth)
LONDON.- A stunning Safavid rug from late 16th or early 17th century Persia sold for £2,729,250 ($4.34M US) this afternoon at Sotheby's in London . The rug was purchased by an anonymous buyer after a prolonged contest in which at least five bidders vied for the piece. The price of the silk and metal-thread prayer rug was over 20 times the pre-sale estimate of £80,000 - £120,000.

The inscriptions on this fabulous prayer rug of remarkable quality and condition suggest that it may have been a diplomatic gift from the Safavid Persian court to the Ottoman Turks, indeed possibly even on the occasion of the Peace Treaty between the two empires in 1590, from the court of Shah 'Abbas to the Ottoman Sultan Murad III (r.1574-95).

Globally recognized rug expert Jan David Winitz of Claremont Rug Company said, "The sale of the Safavid for $4.34MM (US$) is indicative of the astonishing interest in the most rare, one-in-the-world Near Eastern rugs that art connoisseurs and collectors are avidly seeking out. Its price demonstrates that the previously established value levels of these nearly impossible to find rugs have significant room for growth. (The Safavid had a pre-auction estimate of £80,000 - £120,000. ($130-190,000 (US$).

The rug was part of Sotheby's sale of Arts of the Islamic World that totalled £7.9 million, well in excess of pre-sale expectations. Discussing the rug Edward Gibbs, Head of the Middle East & India Department at Sotheby's said "The price of £2.7 million – many multiples of the top estimate – is a testament to the quality and rarity of this stunning piece which was the highlight of our Arts of the Islamic World sale today in London."
A Safavid silk, wool and metal-thread prayer rug, late 16th or early 17th century, Isphahan, Central Persia, sold for £2,729,250. Photo courtesy Sotheby"s
approximately 163 by 110cm., 5ft. 4in. by 3ft. 7in. With Persian verses in nast'aliq reading:
"As long as there is trace of this earth and sky,
Let the Ottoman house be the supreme lords
On the throne of justice and good fortune
May it be perpetually joyful and successful
Let the name of Sultan Murad
Be the beautifying ornament of sermons and coinage
In Iran, as well as in Anatolia and the Arab lands
Let your might be that of a hero
May your new Spring never ripen to Autumn,
Be young as long as the World is in existence
Let the dust of your carpet, like Mirza Makhdum,
Be the most noble caller to prayer"
The poem commences in the cartouche in the bottom right hand corner and reads anti-clockwise: the name of Sultan Murad appears in dark red brown in the upper left hand corner cartouche.
TECHNICAL ANALYSIS: This rug has been radiocarbon dated and a copy of the report from the Swiss Federal Institute of Technology, Zurich is available on request and accompanies this lot. The calibrated C14 age of the rug given as 1450 AD to 1640 AD with 95.4% probability, (i.e. the probability of an age outside these dates is no more than 2.3% before or after). Within the probable age range of 1450 AD to 1640 AD, the age range with greatest probability given is 1550 AD to 1630 AD (39.6%).
Technical Analysis: Warp: Silk, bright blue, 2(?) S-plied, medium depression
Weft: Silk, madder, 2 shoots
Knotting: Silk, asymmetric, ivory, yellow, peach, olive green, apple green, emerald green, spinach green, light blue green, indigo, midnight blue, dark walnut (partially oxidised), deep pink, crimson, deep madder, reddish brown (the words 'Sultan Mourad' only) (15)
Wool, (central cartouche in mihrab), camel coloured (natural camel wool?), Z-spun
Coloured brocading: Silk, ivory, bright blue, teal blue, rose pink, deep orange madder, light brownish madder (6)
Metal thread brocading: Silk, loosely Z-spun, wrapped silver metal thread, S-plied: yellow silk core for ground of mihrab and inscription cartouches; ivory silk core for small border medallions, highlights in field and decoration in palmettes
Sidecords: Partially extant, silk, crimson, one cord
Density: 8 V/9 H per cm.
PROVENANCE: Collection of Rudolf Martin (1864-1925)
thence by family descent
NOTE: Rudolf Martin was a renowned Anthropology professor, who taught at the University of Zurich and the University of Munich, and wrote the handbook, Lehrbuch der Anthropologie in Systematischer Darstellung, Mit besonderer Berücksichtigung der anthropologischen Methoden fur Studierende, Ärzte und Forschungsreisende, first published in 1914 and re-printed in 1928 and 1956.
The inscriptions on this rug suggest that it may have been a diplomatic gift from the Safavid Persian court to that of the Ottoman Turks. Perhaps it was even given on the occasion of the Peace Treaty signed between the two empires in 1590. Were this the case, 'Sultan Murad' referred to in the inscriptions would be the Ottoman Sultan Murad III (r. 1574-1595) and the rug would have been sent by the court of Shah Abbas I (r. 1587-1629.). The reference to Mirza Makhdum, would therefore probably refer to Mirza Makhdum Sharifi (1544/5-1587) who was a preacher in Qazvin. He fled to the Ottoman Empire from the hostility of a Qizilbash faction in c.1576 and was subsequently appointed the chief qadi of Mecca.
This unusual prayer rug appears to be an addition to the corpus of Safavid Persian niche rugs previously regarded as part of the 'Salting' or 'Topkapi' group of rugs. Named for a carpet bequeathed to the Victoria and Albert Museum by George Salting upon his death in 1909, the attribution and dating of this group of rugs fell into question in the mid-20th century with some scholars suggesting they were copies of Safavid work manufactured in late 19th century Turkey. Revered by early scholars such as A. U. Pope, F.R. Martin, F. Sarre, E. Kühnel, W. von Bode and G. Migeon they were considered superb examples of Safavid weaving. When these rugs appeared on the market they were purchased by renowned collectors such as Charles Yerkes, Dikran Kelekian, Albert Goupil, Stefano Bardini and E. Paravicini; with several of them now in institutions such as the Metropolitan Museum of Art, New York, the Carpet Museum in Tehran, and the Walters Art Gallery, Baltimore. In 1999 Michael Franses studied and documented the 89 then known niche rugs of Persian design that were considered part of the 'Salting' or 'Topkapi' group, see Eiland, M.L., Jr. and Robert Pinner, eds., Oriental Carpet and Textile Studies, vol. V, part 2: The Salting Carpets, ICOC, 1999, pp. 42-67. These rugs all feature a Persian design and, as in the example here, the majority (70) includes calligraphic inscriptions, with 41 examples having metal thread brocading, ibid, p. 53. Thirty-five of these prayer rugs remain in the collection of the Topkapi Palace Museum in Istanbul, with at least 20 now in Western museums and collections believed to have once also been in the Topkapi collection, ibid, p. 42. These rugs were most probably sold by the Topkapi palace during the throws of the Russo-Turkish war of 1877-78, see Mills, John, ibid, p. 10. The authors further present evidence that the 'Salting' or 'Topkapi' rugs are the product of Safavid Persia with the confirming support of C-14 dating results. Scholarship has since come around to accepting that these rugs were produced during the Safavid period with more recent discussions of the group being Jon Thompson, Milestones in the History of Carpets, Milan, 2006, pp. 220-223; "Auction Price Guide," Hali, issue 144, p. 115 and Sheila R. Canby, Shah 'Abbas; the Remaking of Iran, London, 2009, pp. 80-81.
The present rug shares it unusual asymmetric design with one of these rugs, that known as the "Dancing Dervishes Persian Niche Rug" now in the Mevlana Museum, Konya, see Eiland and Pinner, op.cit., no. 55, p. 101. Like the rug offered here, the "Dancing Dervishes rug" is believed to be woven with silk and metal threads, however, this information came from F.R. Martin's The History of Oriental Carpets before 1800, Vienna, 1908 and the rug was not examined by the authors in 1999. Martin ascribed the Dancing Dervishes rug to Yezd, circa 1590, see Martin, ibid, fig. 147. Both of these rugs feature poetic inscriptions in their borders, with the Dancing Dervishes rug also bearing a Ka'aba symbol within the arch. According to the Mevlana Museum directory of 1930, this rug "was presented to the Tomb of Mevlana by an Ottoman sultan on his return from a journey to Iran," Eiland and Pinner, op.cit.,, p. 101. In addition to sharing an asymmetric design of very elegant swirling vines, the present and Dancing Dervishes rugs also employ an unusually shallow arch that is confined to the top quarter of the field. Many of the Safavid niche rugs have a more prominent arch, which occupies almost half of the design.
Here, the metallic ground offers a superb neutral foil to the vividly colored and exquisitely drawn palmettes, vines and curling leaves of the design. This is a characteristic of the Safavid 'Polonaise' silk and metal thread rugs, although here the varied and fresh coloring is much more like that found on the silk foundation, wool pile carpets woven at Isphahan in the 16th and 17th centuries, for one example: the Rothschild/Cittone carpet, lot 221, Sotheby's New York, September 20, 2001.
The border of this rug where calligraphic cartouches encircle the entire rug is found more often in larger Safavid carpets such as those illustrated as plates 1156 through 1162 in A.U. Pope, A Survey of Persian Art, Oxford, 1936-9, than in the prayer rugs, with only two similar examples, the d'Allemagne niche rug and one of the Topkapi Saray niche rugs, no. 33, see Eiland and Pinner, op.cit., nos. 76 and 77, pp. 108-109.
Safavid prayer rugs such as this rarely appear on the market, with the most recent example being the 'Perez "Topkapi" wool and metal thread prayer rug,' sold Christie's London, 13 October 2005, lot 50 subsequently published in Thompson, op.cit., pl. 22 and most recently included in the British Museum exhibition, "Shah 'Abbas; the Remaking of Iran," 19 February to 14 June 2009, and accompanying catalogue, see Sheila R. Canby, op.cit., pl. 45, pp. 80-81.