An Urbino Maiolica istoriato piatto, circa 1540, possibly from the workshop of Francesco Duranto. Estimate: £12,000-18,000. Photo: Christie's Images Ltd 2009
LONDON.- Christie's announces the second Centuries of Style: Silver, European Ceramics, Portrait Miniatures and Gold Boxes sale on November 17, 2009, presenting collectors and connoisseurs with an incredible opportunity to add to their collections with a wide-range of important, rare, and unique treasures with exceptional provenance. This follows the inaugural sale in June, which presented works of art from multiple genres and demonstrated the continued strength and international demand for top quality lots across all of these categories.

The sale includes over 190 lots of silver dating from over five hundred years, comprising examples from the 16th to the 21st century. Among the highlights of the silver section of the sale is a highly important pair of George III silver-gilt candlesticks, made by Charles Aldridge in 1787, after a Roman 1st century AD lamp-stand (estimate: £60,000-80,000). Recent research by Christie's has identified these candlesticks as being from the collection of William Beckford, and designed after the bronze lamp-stand from Herculaneum sold by his cousin Sir William Hamilton to the newly created British Museum in 1772 . These exceptional candlesticks throw new light on the collecting tastes of these two extensively studied English collectors. Part of Hamilton's mission to Naples was to acquire classical works of art that could be used as prototypes by the aspiring artists and artisans of his day, and the success of this mission surely finds its ultimate expression in these candlesticks. Until the appearance of these candlesticks Beckford was assumed to be buying regular domestic silver at this date rather than his purchases of more exotic pieces in the early 19th century for which he is well known, and they pre-date by a generation similar objects that were to be inspired by the architect Thomas Hope and others.

Probably the most important single group of silver by Georg Jensen to be sold in London in recent years is also on offer in the sale, from a Private European Collection. Almost forty lots will be presented, including a Danish wine-cooler, cover and liner designed by Georg Jensen (estimate: £25,000-35,000). In pristine condition, measuring fourteen inches high, and weighing 130 ounces, the wine-cooler is among the largest and most spectacular pieces of Jensen in the collection and indeed one of the tour de forces of Jensen's oeuvre.

Not only does the silver section of the sale exemplify pieces of extraordinary quality from over five centuries, there are also works from a variety of regions around the world with a wide range of estimates including: a George III Irish silver tea-urn, mark of John Laughlin, Dublin, 1773 (estimate: £3,000-5,000); a rare Dutch silver cake-basket in the English taste made in Rotterdam in 1764 by Arthur Annesley, a London silversmith who fled to Holland following his bankruptcy two years earlier (estimate: £5,000-7,000) and a German silver-gilt cup formed as a rearing horse, mark of Erhard Ellers, Torgau, circa 1670 (estimate: £20,000-30,000).

European Ceramics
As the exhibition French Porcelain for English Palaces: Sèvres from the Royal Collection draws to a close at Buckingham Palace, it is extremely fitting that the European ceramics section of the sale will showcase a sophisticated selection of beautiful Sèvres porcelain, offering collectors the chance to purchase their very own museum quality pieces. The unsurpassed European porcelain factory in the second half of the 18th century used unrivalled techniques and complex methods of production to create finely painted and gilded works which have been greatly appreciated by royalty, aristocrats, connoisseurs and collectors, and consequently many of the rare objects included in the sale boast a rich history.

One of many spectacular examples offered from the Collection of the Late Dr. Knight is a Sèvres beau bleu two-handled oviform vase, circa 1770 (estimate: £20,000-30,000), the central scene of which is probably after a painting in The Royal Collection. This highly decorative piece has not been on the market for over fifty years, having been sold at Christie's in the collection of The Earl of Harewood in 1965 for £480. A variety of characteristics of Sèvres porcelain make it incredibly popular for collectors, including the well-documented painters and gilders, the extensive range of forms, and the rainbow of colors available. Further Sèvres highlights on offer include a dainty Vincennes bleu lapis milk-jug painted with birds in flight, circa 1755-56 (estimate: £2,000-3,000); a striking Sèvres bleu nouveau cabaret decorated with hunting scenes, 1786-1788 (estimate: £5,000-8,000); and the Sèvres 'Grand Service', a yellow-ground ornithological part dessert service, 1791, which is a bird-watchers dream, detailed with named paintings of numerous different bird species (estimate: £70,000-100,000).

Further examples of the highest quality European ceramics will also be on offer, from Renaissance Italian maiolica, 18th century Meissen porcelain and early 19th century porcelain. A particularly eye-catching example from the early pieces is an Urbino maiolica plate painted with a mythological scene showing the legend of the Trojan Horse (estimate: £12,000-18,000). The vivid Renaissance colors are still as bright as they were the day they were painted, which was circa 1540, possibly by the workshop of Francesco Duranto.

Portrait Miniatures and Gold Boxes
Christie's is the international market leader for Gold Box and Object of Vertu sales, recently selling sixteen gold-boxes from Yves Saint Laurent's highly-prized collection in Paris for a staggering €1,233,000. This is demonstrated once more by the incredible selection on offer on November. One lot in particular which is sure to enthuse collectors is a very fine and rare Prussian enameled gold snuff-box, marked, by Frederick the Great's acclaimed Hofjuwelier (court jeweler), Daniel Baudesson (1716-1785), marked, Berlin, 1758 (estimate: £150,000-200,000). Boxes that can be unquestionably attributed to Baudesson because of the presence of his maker's mark are exceedingly rare. Fresh to the market, and in excellent condition, this gold box is of museum quality and provides a completely unique opportunity for collectors to purchase a work by the most highly-regarded master.

Another highly-sought after name in the world of gold boxes is the Dresden goldsmith Johann Christian Neuber (1736-1808). Within the important private collection of gold boxes featured lies an unusually shaped gold-mounted specimen hardstone snuff-box, made by him (estimate: £120,000-180,000) and top centre. The work is an interesting example of Neuber's 'cell-mosaic' technique which creates a stunning translucent effect using a variety of agates and other hardstone specimens mounted in a geometric gold cagework. Each of the fifty-eight specimens set in the lid, base and side of this rare, octagonal snuff-box has an engraved number on the corresponding mount, which would have originally related to a number in a small notebook identifying each distinct stone. A wide array of snuff-boxes are contained in the sale by a variety of makers including many of German origin, such as a German masonic gold-mounted porcelain snuff-box by Meissen, formed as a pug, recumbent on a rectangular molded base, circa 1745 (estimate: £7,000-9,000); and a German three-color gold-mounted hardstone snuff-box, workshop of Friedrich Ludwig Hof(f)mann, probably Berlin, circa 1760/1765, made of cloudy quartz applied with flowers and insects sculpted out of a variety of hardstones (estimate: £15,000-20,000).

Further charming objects of vertu on offer include an exquisitely detailed miniature by John Smart (British, 1742/43-1811), A girl, thought to be of the Wilcocks, Milner or Lodge family, in blue satin gown (estimate: £15,000-20,000), and a beautifully intricate miniature on ivory by Michail Ivanovich Terebenev (Russian, 1795-1866), very similar to an example of the same sitter which is in the collection of the State Tretyakov Gallery, of a lady-in-waiting to Tsarinas Elizabeth Alexeievna (1779-1826) and Maria Feodorovna (1759-1828) of Russia, in white chemise dress (estimate: £2,000-3,000). Elsewhere are a number of elegant seals – desk seals, fob seals and hand seals – associated with the French aristocratic Choiseul-Praslin and Mercy-Argenteau families and dating from the 19th century. Estimates range from £800 to £1,500.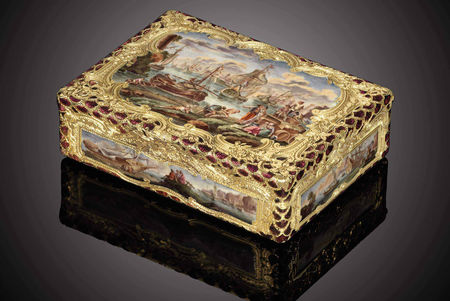 A very fine and rare Prussian enameled gold box by Daniel Baudesson (1716-1785), marked, Berlin, 1758. Estimate: £150,000-200,000. Photo: Christie's Images Ltd 2009