18 octobre 2009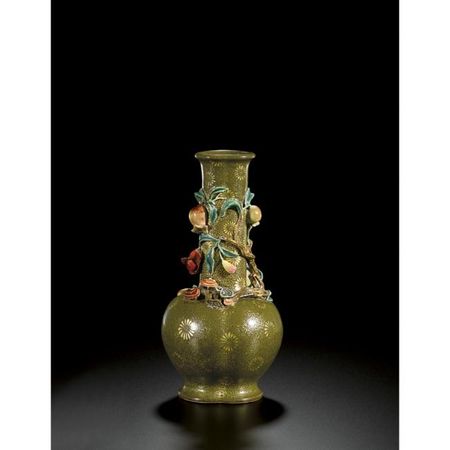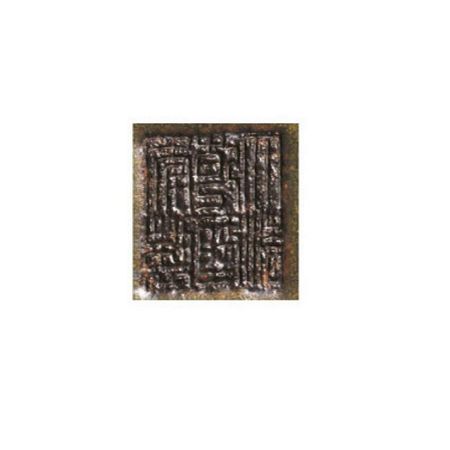 A rare gilt-decorated teadust ' pomegranate' vase. Seal mark and period of Qianlong. photo courtesy Sotheby's
the tri-lobed globular body rising to a tall neck with an everted lip, supported on a splayed foot, covered overall in an olive-green teadust glaze gilded with chrysanthemum scrolls throughout, the shoulders surmounted by a high-relief modeled branch of pomegrante wrapping itself around the neck in various stages of development, with a fully ripe fruit bursting through the skin revealing the seeded red flesh, another with the petals of the red flower withering as the fruit begins to form, the shoulders further set with a bough of lingzhi fungus, the base incised with a six-character seal mark dressed in brown. 20.5 cm., 8 1/8 in. Est. 1,500,000—1,800,000 HKD - Sold 2,900,000 HKD
PROVENANCE: Sotheby's Hong Kong, 5th December 1979, lot 661.
NOTE: The present piece is a good example of the innovative and unconventional designs achieved in ceramic production in the Qianlong period. In order to satisfy his own flamboyant taste, the Qianlong Emperor is known to have commissioned artists working in the Imperial kilns at Jingdezhen to make pieces that were highly challenging and original, often placing more emphasis on the showier aspects of production and the virtuosity of craftsmanship. The refinement of the materials and techniques provided the means for artists to be ambitious in their repertoire, as seen in the expertly moulded and carved porcelain fruiting branch that contrasts effectively with the delicate gilded floral design covering the vase.
A vase of closely related form and design, but on a brown ground and with a turquoise-glazed interior, in the Palace Museum, Beijing, is illustrated in Kangxi, Yongzheng, Qianlong. Qing Porcelain from the Palace Museum Collection, Hong Kong, 1989, p. 363, pl. 44. Compare also related vases with teadust glaze and fruiting branch decoration, but without the gilded design; one in the British Museum, London, included in Soame Jenyns, Later Chinese Porcelain, London, 1971, pl. XCIX, no. 1; one in the W.T. Walters Collection, published in S.W. Bushell, Oriental Ceramic Art, London, 1980, p. 217, fig. 283; and a pair of vases, offered at Christie's Hong Kong, 31st October 2000, lot 913.
Pomegranates represent the wish for many sons while the lingzhi fungus is symbolic of longevity.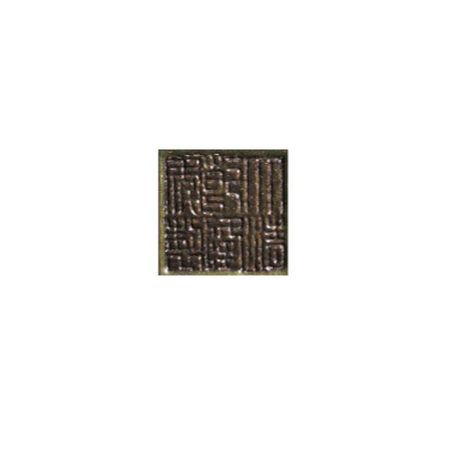 A teadust-glazed compressed pear-shaped vase. Seal mark and period of Qianlong. photo courtesy Sotheby's
the body of compressed globular form rising from a short splayed foot to a tall cylindrical neck, covered overall in a thick olive-green glaze with golden speckles, the glaze stopping just before the footring, the base with six-character seal mark. 33.9 cm., 13 3/8 in. Est. 400,000—600,000 HKD - Sold 500,000 HKD
PROVENANCE: A Japanese Collection.
NOTE: This vase is a fine and rare example of the particularly stunning effects of employing teadust glaze on a large vase inspired by an archaic bronze form; see a closely related example, formerly from the Edward T. Chow Collection, included in the exhibition One Man's Taste. Treasures from the Lakeside Pavilion, Galleries of the Baur Collection, Geneva, 1988, cat. no. C17; and another sold in these rooms, 23rd October 2005, lot 306. Compare a much smaller vase of similar form, with a Yongzheng reign mark and of the period, included in the Illustrated Catalogue of Ch'ing Dynasty Porcelain in the National Palace Museum, Taipei, 1980, pl. 152. See also another smaller Qianlong vase of related hu shape with a celadon glaze illustrated in Qingbai ciqi shangjian, Shanghai, 1994, pl. 195.
It is rare to find a hu of this large size in any monochrome glaze, or with moulded horizontal bands, although a number of large Qianlong blue and white hu without the concentric bands and decorated with flower scroll designs are known; see the vase illustrated ibid., pl. 163; and another included in Chinese Porcelain. The S.C. Ko Tianminlou Collection, Part 1, Hong Kong, 1987, pl. 58. This type of large vase can also be found decorated in doucai enamels, such as the piece in the Chang Foundation, published in James Spencer, Selected Chinese Ceramics from Han to Qing Dynasties, Taipei, 1990, pl. 161.
For the archaic bronze prototype compare the hu excavated from a Western Han tomb dated before 179BC at Qianping, Yichang, Hubei province, illustrated in Kaogu xuebao, 1976, no. 2, p. 124, fig. 12.
Sotheby's. Fine Chinese Ceramics & Works of Art. 08 Oct 09. Hong Kong www.sothebys.com
Commentaires sur A gilt-decorated teadust ' pomegranate' vase & a teadust-glazed compressed pear-shaped vase. Seal marks and period of Qianlong