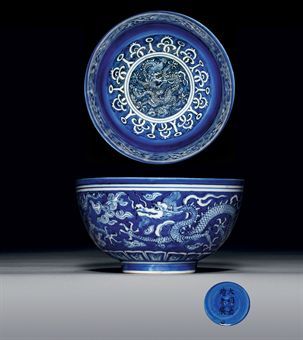 A very rare blue and white reverse-decorated 'dragon' bowl . Jiajing six-character mark and of the period (1522-66). photo Image 2009 Christie's Ltd
The well potted bowl with deep upright sides, boldly decorated on the interior with a central dragon medallion encircled by double-line borders and interlocking scrolls and fruit-like sprigs, a wide band of continuously scrolling lingzhi at the rim beneath further double- line borders, all reserved against an inky-blue ground, the exterior with a frieze of two scaly dragons in pursuit of 'flaming pearls' amidst cloud and flame scrolls above a lappet collar encircling the footring washed in blue - 6½ in. (16.7 cm.) diam. Est. £10,000 - £15,000 ($16,420 - $24,630) - Sold £163,250 ($266,261)
Notes : This unusual type of reverse decoration is a very distinctive technique of the Jiajing period. With the exception of only one other Jiajing-marked bowl of this size and decoration, sold at Sotheby's Hong Kong, 19 November 1986, lot 212, no other bowl-form examples are known. Compare three dishes similarly decorated with cranes in flight below a shou (longevity) character: the first is in the Idemitsu Museum collection illustrated in Chinese Ceramics in the Idemitsu Collection, vol. II, Tokyo, 1987, no. 706; a dish formerly in the Avery Brundage collection, now in the Asian Art Museum of San Francisco, illustrated by He Li, Chinese Ceramics, A New Comprehensive Survey, 1996, no. 421, p. 244; and another dish sold at Christie's Hong Kong, 27 October 2003, lot 618. A related Jiajing period bowl with an anhua decorated dragon against a blue-ground is in the Idemitsu Museum, illustrated op. cit., 1987, col. pl. 194.
A fine ming-style blue and white garlic-head pear-shaped vase. Qianlong seal mark and of the period (1736-95). photo Image 2009 Christie's Ltd
The bulbous body painted in rich blue tones with the 'three abundances', peach, pomegranate and persimmon, alternating with their corresponding flowers on leafy branches issuing from lingzhi fungus above a band of lotus panels and cresting waves at the splayed foot, the shoulder with six lotus panels enclosing double-tiered flame motifs above a raised rib, key pattern and pendent ruyi-head bands, the bulbous head with a continuous camellia scroll below a key-pattern border - 11 in. (28 cm.) high - Est. £30,000 - £50,000 ($49,260 - $82,100) - Sold £103,250 ($168,401)
Provenance: A private Scottish collection
Notes: A very similar vase of the same period in the National Palace Museum, Taipei, is illustrated in Blue and White Wares of the Ch'ing Dynasty, Book II, pl.5; for another see Chinese Porcelain, The S.C. Ko Tianminlou Collection, no. 61; a further example is illustrated in the Exhibition of Ming and Ch'ing Porcelain from the Collection of the T.Y. Chao Family Foundation, Hong Kong Museum of Art, 1978, catalogue no. 91.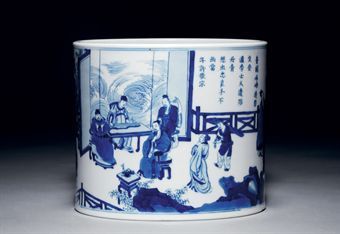 A blue and white 'four accomplishments' brush pot, bitong. Kangxi period (1662-1722). photo Image 2009 Christie's Ltd
Painted all around the exterior in a vibrant cobalt blue and in lighter tones with scholars and attendants gathered in four groups on a pavilion terrace, one group listening to a scholar playing a qin, another admiring a painted scroll, the third crouched around a table whilst a scholar inscribes calligraphy on a scroll, and the fourth group seated around a table playing 'go' - 7¼ in. (18.5 cm.) diam. Est. £15,000 - £20,000 ($24,630 - $32,840) - Sold £67,250 ($109,685)
Notes: The exceptionally well painted brush pot is decorated with a theme particularly appropriate for an object which would be placed on a scholar's table. The theme is that of the Four Accomplishments of a gentleman-scholar - playing the qin (an unfretted zither with seven strings), playing weiqi chess, painting and calligraphy. It is also interesting to note the physical context in which the activities are set. They appear to take place outside on a balustraded terrace with ornamental rocks, bamboo, plantains, and trees, however there are also two large folding screens - one decorated with a landscape and the other with a seascape. While these screens provide a visually convenient back-drop for two of the groups of figures on the brush-pot, they may also reflect a desire to give the impression of a rural setting. In the first paragraph of his treatise entitled Zhangwu zhi, Superfluous Things, published in 1637, the Ming dynasty literatus and self-appointed arbiter of good taste Wen Zhenheng (1585-1645) noted that it was most preferable to live deep in the countryside, next best being a rural area, third best was the suburbs. If there was no choice but to live in the city, then Wen advised not only that every aspect of the residence should be clean and smart, but that its pavilions should suggest the resident was a man devoid of worldly cares, and its studies should have an ambience suggesting he was a refined recluse. The screens depicted on the current brush-pot may therefore have been intended to suggest the hiding of aspects which might otherwise have revealed a city environment.

While the inclusion of painting and calligraphy as two of the Four Accomplishments is self-explanatory, perhaps the inclusion of qin and chess playing require further elucidation. One of the most popular images of the Chinese literatus is of him playing the qin, which was thought to 'harmonise the soul and purify the mind'. The popularity of the instrument dates back to the time of Confucius (551-479 BC), although the instrument itself may date as far back as the Shang dynasty. Depictions of figures playing the qin had been known on bricks or stone carvings dating to the Eastern Han dynasty, but the excavation of a 7-stringed half box shaped qin from tomb number 3 at Mawangdui, Changsha, Hunan province, dated to 168 BC, provided physical evidence of its use in the Western Han dynasty.

The literatus Xi Kang (AD 223-262), who was one of the famous 'Seven Sages of the Bamboo Grove, is not only credited with being one of the great qin players, he also wrote a poetical essay on the instrument. In the late Ming, although the most prized antique qin were those made by the Lei family of the Tang dynasty, a number of the literati made their own instruments. Thus both the instrument and the music played upon it were expressions of their own personalities.

Weiqi chess, usually called 'Go' in English, was a very popular game amongst the Chinese literati, appreciated for its complexity and subtlety. Traditionally the game is supposed to have been invented by the mythical Emperor Yao (23rs century BC) who devised the game in order to instruct his son Dan Zhu, although Emperor Shun (23rd-22nd century BC) has also been credited with devising the game in order to instruct his son Shang Jun. Weiqi (although apparently under another name, yi) was certainly being played in the time of Confucius, who appears to have disapproved of it, regarding playing the game as only a little better than doing nothing (Analects, Book XVII,22). However, by the Han dynasty weiqi was a subject that interested philosophers and strategic theorists, one of the earliest texts on weiqi strategy being that in Xin lun, New Treatise by Huan Tan (43 BC-AD 28). The game had undoubtedly become very popular by the time the scholar Zhang Hua discussed it in his Bowu zhi (Record of the Investigation of Things) c. AD 270-90. Weiqi is a game of subtle strategies and one of the greatest masters of the game in the Tang dynasty was Wang Jixin, who devised ten strategies for playing, which became the principles by which later players developed their tactics in the game. One of the fascinations for the 17th century literati was undoubtedly the intellectual challenge presented by playing weiqi. It is claimed that, unlike western chess, to date no computer or computer programme has been developed that can best a proficient human weiqi player; a fact that would no doubt have pleased the scholars of the late Ming dynasty.
Compare the Kangxi blue and white baluster vase with very similar scenes which is in the Rijksmuseum, illustrated by Christiaan J. A. Jörg, Chinese Ceramics in the Collection of the Rijksmuseum, Amsterdam, London, 1997, no. 87, pp. 96-7.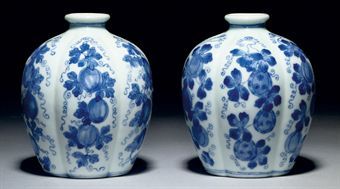 A pair of rare six-lobed blue and white 'melon' jars. Yongzheng six-character marks and of the period (1723-35). photo Image 2009 Christie's Ltd
Of lobed ovoid form with short everted lipped rims, each lobe decorated with melons growing on leafy stalks and tendrils, between double lines to the neck and foot rim, the short recessed foot conforming to the shape of the vase - 4¼ in. (10.8 cm.) high (2) - Est. £25,000 - £35,000 ($41,050 - $57,470) - Sold £42,050 ($68,584)
Notes: Compare a similar but slightly smaller example from The Wang Xing Lou Collection, illustrated in Imperial Perfection, The Palace Porcelain of Three Chinese Emperors, Selection From The Wang Xing Lou Collection, p. 44 & 45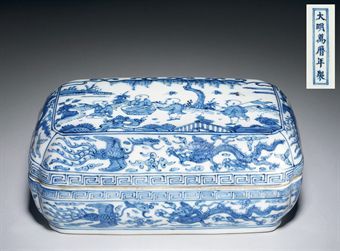 A blue and white 'boys' rectangular box and cover. Wanli six-character mark in a vertical line and of the period (1573-1619). photo Image 2009 Christie's Ltd
With canted corners, the cover finely painted with a garden scene with four boys at play, the sides with a long-bodied five-clawed dragon and phoenix amidst stylised clouds - 9 in. (23 cm.) wide. Est. £10,000 - £15,000 ($16,420 - $24,630) - Sold £39,650 ($64,669)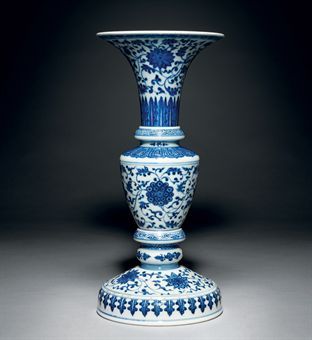 A rare blue and white two-section altar vase. Qianlong period (1736-95). photo Image 2009 Christie's Ltd
The central bulbous section finely painted with stylised blooms borne on leafy meandering tendrils below a lappet band at the shoulder, the wide spreading base painted with lotus blooms on leafy tendrils and ending on a gently tapering foot painted with pendent leaves, the detachable trumpet-form neck painted with further stylised blooms above a band of stiff leaves and below a band of classic scrolls at the mouth rim - 14¾ in. (37.4 cm.) high - Est. £10,000 - £15,000 ($16,420 - $24,630) - Sold £27,500 ($44,853)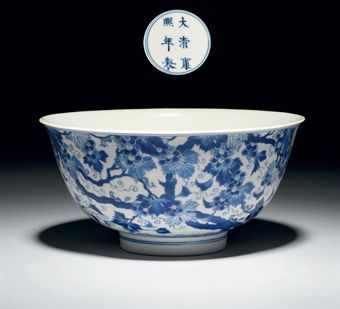 A fine blue and white bowl. Kangxi six-character mark and of the period (1662-1722). photo Image 2009 Christie's Ltd
The deep rounded sides rising from a short foot to a gently everted rim, the exterior delicately painted with a continuous scene depicting several squirrels clambering on meandering leafy grapevine - 8¾ in. (22 cm.) diam. Est. £5,000 - £7,000 ($8,210 - $11,494) - Sold £22,500 ($36,698)
A very rare ming-style blue and white faceted vase. Yongzheng six-character mark within a double circle and of the period (1723-35). photo Image 2009 Christie's Ltd
Finely painted in the fifteenth century style, simulating the 'heaping and piling' effect on the central faceted body, with flowering morning glories borne on a continuous leafy scroll, raised on a splayed foot decorated with a band of trefoil leaves and surmounted by a tall neck painted with further trefoil panels infilled with floral sprigs around the base, the neck flanked by a pair of monster-mask and loop handles - 6¾ in. (17.1 cm.) high - Est. £5,000 - £8,000 ($8,210 - $13,136) - Sold £20,000 ($32,620)
Notes: The form of this rare blue and white vase is one which would have been difficult for the potter to make. It is most likely that the form first entered China from the West and that the prototype was either glass or metal. While the form is rare, it is nevertheless one which seems first to appear in Chinese porcelain in the early 15th century and to have been copied during the Qing dynasty. The fascination that this form had for the Qing emperors is demonstrated by the fact that one of Giuseppe Castiglione's still-life paintings, of flowers in a vase, depicts a blue and white faceted vase of this form.

Similar vases with Yongzheng marks and the same decoration but on a yellow enamel ground are published, one in the Baur Collection, illustrated in the Catalogue, vol. IV, no. A577, and another sold in the Imperial Sale in our Hong Kong Rooms, 27 April 1997, lot 67. See also a vase of the same shape but with a ge-type glaze, included in the National Palace Museum, Taibei, Special Exhibition of Ch'ing Dynasty Monochrome Porcelain, 1981, catalogue no. 83.
A rare blue and white dish, 18th century. photo Image 2009 Christie's Ltd
Finely painted to the interior in pencilled outlines and detailed with shades of light blue wash, depicting blossoming peony branches issuing from rockwork, the exterior with further peony branches and chrysanthemum blooms, the base with an eight-character mark within double circles reading ze zi hao ba nian qing hua yang - 8¼ in. (21 cm.) diam. Est. £4,000 - £6,000 ($6,568 - $9,852) - Sold £20,000 ($32,620)
A large ming-style blue and white vase. Qianlong period (1736-95). photo Image 2009 Christie's Ltd
Of slender ovoid shape with a short waisted neck, with a bold design of stylised lotus blooms borne on scrolling vines with curly leaves, between bands of lappets and florets to the neck - 17¼ in. (43.8 cm.) high - Est. £10,000 - £15,000 ($16,420 - $24,630) - Sold £18,750 ($30,581)
Notes: A vase of very similar design and shape dating to the 18th Century in the Ming-style was sold in Sotheby's Hong Kong, 26 November 1980, lot 279.
Christie's. Fine Chinese Ceramics and Works of Art. 3 November 2009. London, King Street www.christies.com