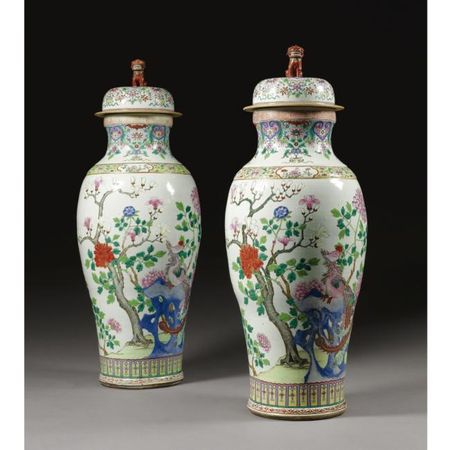 A pair of 'famille rose' 'soldier' vases and covers. Qing dynasty, Qianlong period. photo courtesy Sotheby's
each body of baluster form with waisted neck, brightly enamelled around the exterior with a pair of phoenix in a garden enclosing peony blooms issuing from rockwork, all within diaper bands, the domed cover with an elaborate floral band and surmounted by a lion dog finial, with two black and gilt lacquer hexagonal stands, painted with figure panels. 134.7cm., 53in.. Est. 80,000—120,000 GBP - Sold 97,250 GBP
PROVENANCE: Sir John Hussey-Delaval, Lord Delaval (1728-1808), thence by descent.
NOTE: Magnificent soldier vases of this elegant form and finely enamelled decoration display the technical virtuosity of potters and painters of the Qianlong period. The present pair of vases is an impressive example of the expensive, extravagant garnitures that were fashionable and in high demand at the time.
The ruyi-shaped collar surrounding the rims of the present pieces is unusual, however a pair of vases similarly decorated with a phoenix amongst trees of blossoming peonies and band of vertical panels at the foot, but with an elaborate scroll on the shoulders and shaped landscape panels to the neck, in the Rijksmuseum, Amsterdam, is illustrated in Christian J.A. Jorg, Chinese Ceramics in the Collection of the Rijksmuseum, Amsterdam, Amsterdam, 1997, pl. 255; and a single vase from the Greville Collection, is published in George C. Williamson, The Book of Famille-Rose, London, 1927, pl. LV11 (left).
Compare vases of this form and size enamelled with a more stylised variation of the phoenix and peony motif between diaper bands, such as a pair from the Keck Collection, sold in our Monte Carlo rooms, 13th February 1983, lot 329, and again in our New York rooms, 5-6th December 1991, lot 29; and two pairs sold at Christie's London, 27th June 1977, lot 85, and 14th May 1977, lot 55.
The popularity of traditional Chinese motifs in Europe is evident on these vases, which depict the highly auspicious motif of a phoenix and peonies to represent the wish for wealth, rank and good fortune.
Lord Delaval's house in Hanover Square, which was remodelled for him by the Scottish Neo-Classical architect Robert Adam (1728-92) between 1781 and 1783, contained a number of pieces of Chinese porcelain. These exceptional vases appear to have been the centrepieces in the ante-chamber which led from the hall to the large drawing room, where further Chinese jars were displayed. Additionally, an arrangement of Chinese blue and white vases adorned the adjacent breakfast room, along with a bookcase of Chinese form. This pair may represent the vases bought by Lord Delaval from the collection of a Mr Lever through the auspices of Thomas Waring on 2nd May 1778, those referred to as 'remarkable for their size and beauty', at the considerable cost of 30 guineas (The Seaton Delaval Papers, Northumberland Collection Services DE.31-2).
A fine pair of 'famille-rose' 'one hundred boys' bowls. Jiaqing seal marks and probably of the period. photo courtesy Sotheby's
each rounded body rising from a short straight foot to an everted rim, finely and brightly enamelled around the exterior with boys at play in a garden. 11.7cm., 4 5/8 in., diam. Est. 10,000—15,000 GBP - Sold 79,250 GBP
A pair of 'famille-rose' black-ground vases and covers. Qing dynasty, 18th century. photo courtesy Sotheby's
each broad round-shouldered body brightly enamelled with panels alternately enclosing pairs of cockerel and flowers, all reserved on a dense leafy chrysanthemum-scroll ground and within pink cash-diaper bands, the domed covers similarly decorated and surmounted by a biscuit lion finial. 61cm., 24in. Est. 20,000—30,000 GBP - Sold 25,000 GBP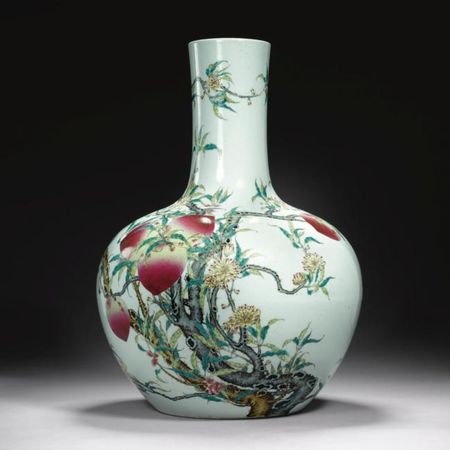 A large 'famille-rose' 'nine peach' vase. Qing dynasty. photo courtesy Sotheby's
the robustly-potted rounded body rising from a recessed base to a tall slightly flaring cylindrical neck, brightly enamelled around the exterior with a large fruiting peach boughs, the base with an apocryphal Qianlong mark. 54cm., 21 1/4 in. Est. 4,000—6,000 GBP - Sold 25,000 GBP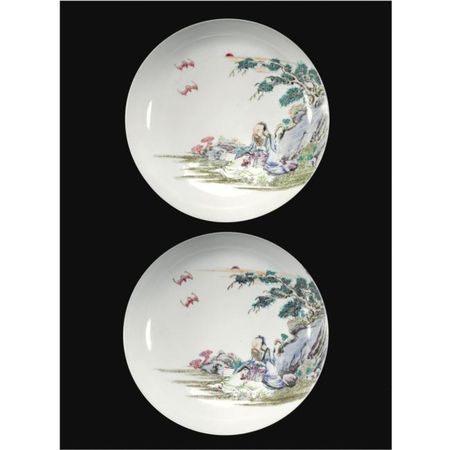 A pair of 'famille-rose' dishes. Qing dynasty, Yongzheng period. photo courtesy Sotheby's
each painted with an Immortal seated beside a rocky outcrop beneath a pine tree, wearing a loose-fitting blue, pale green and aubergine robe and holding a lingzhi fungus, two bats fly overhead. 20.7cm., 8 1/8 in. Est. 4,000—6,000 GBP - Sold 15,000 GBP
PROVENANCE: From a Private Collection, Belgium.
Sotheby's. Fine Chinese Ceramics and Works of Art. 04 Nov 09. London www.sothebys.com