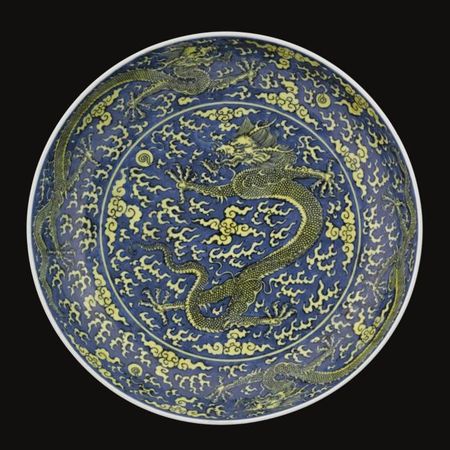 An underglaze blue and yellow enamel dragon dish. Kangxi mark and period. photo courtesy Sotheby's
the central medallion painted with a lively five-claw dragon chasing a flaming pearl amongst cloud scrolls and flames, with two further dragons striding around the cavetto, the exterior with two further similarly painted dragons - 32cm., 12 5/8 in. Est. 30,000—50,000 GBP - Sold 68,450 GBP
PROVENANCE: Collection of F.C. Harrison, 1907 (according to label).
Collection of Dr. Emil Hultmark, Stockholm (c. 1930). Emil Hultmark was a renowned Swedish collector and member of the small and exclusive group 'Kina Klubben', which was formed in Stockholm in the late 1920s. It was made up of dozens of serious collectors of Chinese porcelain, including the Crown Prince Gustav Adolf, later King Gustav VI Adolf of Sweden, and Carl Kempe.
EXHIBITED: Ashmolean Museum, Oxford, 1907, cat. no. 127.
NOTE: The present dish is rare for its impressive size; see a closely related example, from the Lieutenant-General Sir John Thomas Brownrigg-Bookey Collection, sold at Christie's London, 15th December 1980, lot 100; and another sold at Christie's London, 12th December 1988. For a dish of this size and design, but with yellow dragons amongst cloud and fire scrolls on a bluish-green ground, see one in the Nanjing Museum, illustrated in The Official Kiln Porcelain of the Chinese Qing Dynasty, Shanghai, 2003, p. 75; and another enamelled with green dragons outlined in black enamel on an underglaze blue ground, in the Baur Collection, published in John Ayers, Chinese Ceramics in the Baur Collection, vol. 2, Geneva, 1999, pl. 161.
Dishes similarly decorated with this design in underglaze blue and yellow are more commonly found in smaller sizes; for example see a pair included in the Illustrated Catalogue of Tokyo National Museum. Chinese Ceramics, vol. II, Tokyo, 1990, pl. 579; another, in the Palace Museum, Beijing, included in Qingdai yuyao ciqi, vol. 1, bk. 1, Beijing, 2005, pl. 36; and a third example sold in our Hong Kong rooms, 30th October 2000, lot 237.
A large underglaze blue and green enamel dragon dish. Kangxi mark and period. photo courtesy Sotheby's
painted to the central roundel with two writhing five-claw dragons chasing flaming pearls amongst flames and cloud scrolls, the well and exterior similarly decorated - 36.4cm., 14 3/8 in. Est. 30,000—40,000 GBP - Sold 37,250 GBP
PROVENANCE: Christie's London, 21st January 1999, lot 402 (illustrated on the front cover of the catalogue).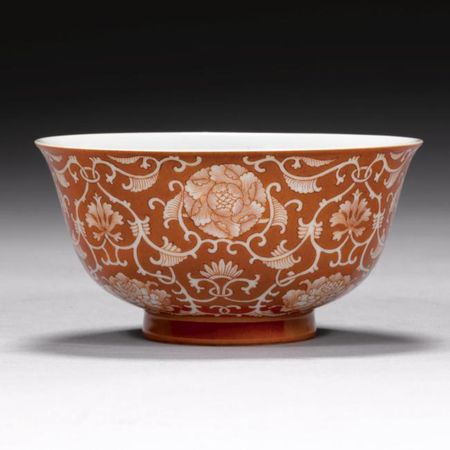 A coral-ground 'lotus' bowl. Qianlong seal mark and period. photo courtesy Sotheby's
the deep rounded sides rising from a short slightly spreading foot to an everted rim, finely reverse decorated around the exterior with leafy lotus strapwork reserved on a rich coral ground, the interior glazed white - 12.8cm., 5in. Est. 6,000—8,000 GBP - Sold 31,250 GBP
NOTE: A closely related example in the Percival David Foundation is illustrated in Oriental Ceramics. The World's Great Collections, vol. 6, Tokyo, 1982, col pl. 92; another is published in Geng Baochang, Ming qing ciqi jianding, Hong Kong, 1993, pl. 483; and a third in the Baerwald collection was included in the exhibition Ausstellung Chinesischer Kunst, Gesellschaft fur Ostasiatische Kunst, Berlin, 1929, cat. no. 1034. See also three bowls in the Ohlmer collection in the Roemer Museum, Hildesheim, illustrated in Ulrich Wiesner, Chinesisches Porzellan, Cologne, 1981, pls 30-32; two bowls sold in our Hong Kong rooms, 5th November 1996, lot 787, and 31st October 1995, lot 479; and a pair sold at Christie's London, 18th June 2002, lot 245.
An iron-red archaistic dragon saucer dish. Yongzheng mark and period. photo courtesy Sotheby's
delicately potted with the rounded sides of the exterior finely painted with a pair of iron-red archaistic dragons with undulating bodies transforming into lingzhi, separated by further lingzhi sprigs, above a short foot encircled by an underglaze-blue key-fret band, the interior similarly painted with a pair of zoomorphic dragons with stylized lingzhi bodies framed by a double-circle medallion, the base with a six-character reign mark enclosed within double-circles - 11.3cm., 4 1/2 in. Est. 3,000—5,000 GBP - Sold 8,750 GBP
Sotheby's. Fine Chinese Ceramics and Works of Art. 04 Nov 09. London www.sothebys.com