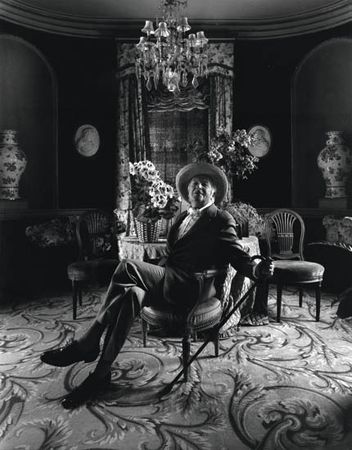 Arnold Newman (1918-2006) Portrait of Cecil Beaton. courtesy of Swann Auction Galleries.
Silver print, 18 1/2x14 1/2 inches (47x36.8 cm.), with Newman's signature, title, dates and inscription, in pencil, on recto. 1978; printed 1980 - Estimate $3,000-4,500

The inscription reads "For Arthur, with awe and friendship, Arnold."
From the photogapher; to the present owner.
Arnold Newman: Five Decades, 89.
Arnold Newman: The Great British, cover and 50.
Sitters and Signatures: Autographed Portraits by Arnold Newman, 45.
SWANN GALLERIES, INC. PHOTOGRAPHIC LITERATURE & FINE PHOTOGRAPHS. December 8, 2009 - Swann Auction Galleries