Rembrandt Harmensz. van Rijn (Leiden 1606-1669 Amsterdam) Portrait of a man with arms akimbo, signed and dated 'Rembrandt 1658' (lower left), oil on canvas, 42¼ x 34¼ in. (107.4 x 87 cm.). Est. £18,000,000 - £25,000,000 ($29,862,000 - $41,475,000). Image 2009 Christie's Ltd
LONDON (REUTERS).- Christie's is confident the recession is well and truly over in the world of fine art, with a record old masters sale in London next week that includes important works by Rembrandt, Raphael and Il Domenichino.

The world's largest auctioneer is calling its December 8 old masters and 19th century auction a "landmark," and pre-sale estimates range from 45-63 million pounds ($75-105 million), its highest ever for such a sale.

"This auction promises to be a landmark sale for the art market," said Richard Knight, international co-head of old masters at Christie's.

"The (old masters) market has shown great stability over the last year and ... collectors continue to seize opportunities to acquire works which rarely appear on the market."

Unlike other sectors of the art market, notably contemporary and Russian, values of old master works have held up relatively well during the financial downturn.

The star lot on Tuesday is expected to be Rembrandt painting "Portrait of a man, half-length, with his arms akimbo," painted in 1658 and unseen in public for nearly 40 years.

The last time it was sold at auction was in 1930 when it fetched 18,500 pounds at the time.

Its pre-sale estimate is 18-25 million pounds, meaning it could set a new auction record for the artist. The record currently stands at 19.8 million pounds (then $29 million).

The top price at auction for any old master picture is 49.5 million pounds ($77 million) for "The Massacre of the Innocents" by Peter Paul Rubens set at Sotheby's in London in 2002.
Raffaello Sanzio, called Raphael (Urbino 1483-1520 Rome) Head of a muse, black chalk over pounce marks, traces of stylus, watermark encircled Saint Anthony's cross, 12 x 8¾ in. (30.5 x 22.2 cm.). Est. £12,000,000 - £16,000,000 ($19,908,000 - $26,544,000). Image 2009 Christie's Ltd
Also on offer on December 8 is a drawing by Renaissance master Raphael used as a study for a figure in a Vatican fresco.

"Head of a Muse" is expected to fetch 12-16 million pounds ($20-26 million), well above the existing record for an old master drawing at auction which stands at 8.1 million pounds.

The third highlight of the December sale, which comprises 43 works, is "Saint John the Evangelist" by Italian artist Domenico Zampieri, also known as Il Domenichino.

The Baroque work has been valued at 7-10 million pounds. By: Mike Collett-White (Editing by Paul Casciato)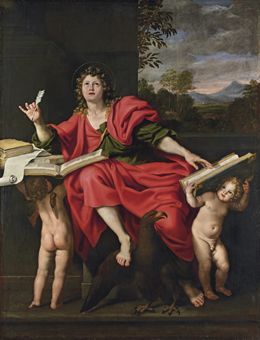 Domenico Zampieri, Il Domenichino (Bologna 1581-1641 Naples) Saint John the Evangelist, oil on canvas, 102 x 78½ in. (259 x 199.4 cm.). Est. £7,000,000 - £10,000,000 ($11,613,000 - $16,590,000). Image 2009 Christie's Ltd