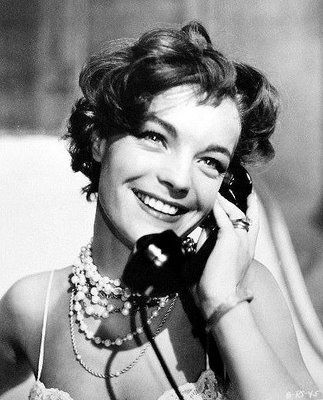 Boccace 70 (Boccaccio '70) de Luchino Visconti : Pupé (Il Lavoro)
BERLIN.- The exhibition "Romy Schneider. Wien – Berlin – Paris," which the Museum für Film und Fernsehen will present beginning on December 5th, documents the varied and wideranging career of Romy Schneider, who no longer wanted to be "Sissi" at the end of the 1950s and was celebrated as a star of French cinema in the 1970s.

Romy Schneider publicly bemoaned her roles in Germany and went to Paris to play women who did justice to her acting abilities and her expectations. She settled in France at the beginning of the 1970s, where she advanced to one of the biggest stars of French cinema. She won several awards and made films with nearly all the great directors and actors of that period. The paparazzi followed the actress at every turn, documenting her strokes of fate for the international popular press, and throughout her life Romy Schneider considered herself to be their victim. Romy Schneider died in Paris in May 1982. To this day, she is admired by millions of fans around the world as one of cinema's international stars.

This homage, which can be seen in 450 sq. m. of exhibition space at the Filmhaus, treats both the diverse roles and changing image of the actress, as well as her representation in the media.

Pictures from films, the press and her private life are grouped according to recurring motifs and combined with film clips. Media installations show the interplay between projection and active self-promotion. Posters, costumes, correspondence and fan souvenirs will augment the presentation.

Numerous photographs from the 1950s and 1960s of Romy Schneider, her film partners and her family, largely unknown until now, originate from the collections of Deutsche Kinemathek. Loans from other institutions and private individuals will also be on view, for instance from the photographers F. C. Gundlach and Robert Lebeck, as well as from the personal archives of the film director Claude Sautet.
Daugther. Romy Schneider, who was born on September 23, 1938 as the daughter of Magda Schneider and Wolf Albach-Retty, actors who were popular in the 1930s and 1940s, seemed predestined to her own acting career. Before turning 15, in 1953, she played the daughter of a dressmaker who was a single parent (performed by her mother), in her first film WENN DER WEISSE FLIEDER WIEDER BLÜHT, directed by Hans Deppe. She was so fresh and authentic in this small role that she immediately received further offers. Magda Schneider and her second husband Hans Herbert Blatzheim, a restaurateur from Cologne, controlled the professional development of the young Romy Schneider, because many producers wanted to sign a contract with the unselfconscious, spirited actress. Romy Schneider became a cult figure in the Federal Republic of Germany and in large segments of Europe as the Empress Elisabeth of Austria in the SISSI trilogy (1955, 1956 and 1957) by the Viennese director Ernst Marischka. Nevertheless, she soon attempted to free herself from this stereotypic definition of her in the role of a monarch. She finally succeeded in the summer of 1958 after she became acquainted with Alain Delon while filming CHRISTINE. Soon afterward she turned her back on the German film industry and moved to Paris.
WENN DER WEISSE FLIEDER WIEDER BLÜHT, 1953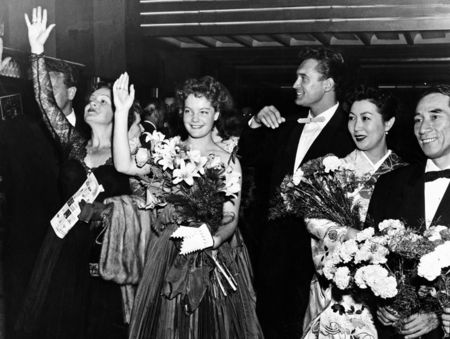 Opening of the Berlinale, 1955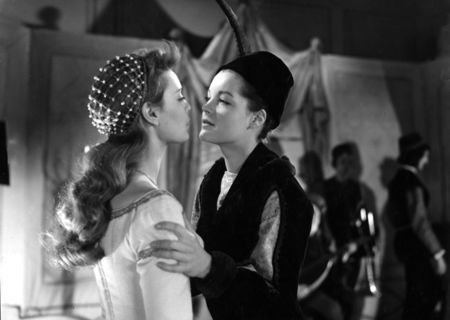 MÄDCHEN IN UNIFORM, 1958
New Beginnings. In Paris, Alain Delon was well on his way to stardom, while Romy Schneider had to start over from the beginning. Acting together with her lover (entspr. Dt.) at the Théâtre de Paris, Luchino Visconti gave her the female lead in the stage play Dommage qu'elle soit une putain / 'Tis Pity She's a Whore. Shortly thereafter, Romy Schneider began to appear in French, British and American films. The films of the early 1960s that she made with directors like Luchino Visconti, Orson Welles and Otto Preminger confirm that this period was a very fertile phase for the young actress. She was equally convincing as a dramatic actress and as a comedienne in two American productions, GOOD NEIGHBOR SAM (1964) and WHAT'S NEW PUSSYCAT? (1965). Romy Schneider was portrayed at this time by several well-known photographers – F. C. Gundlach, Franz Xaver Lederle and Roger Fritz – who managed to detect in her face and capture in their photographs both her sense of excitement about the future and the uncertainty of what it meant for her to leave Germany. When Romy Schneider met Harry Meyen in 1965, she moved to Berlin again, where she pursued joint theater plans with him, before a call from Alain Delon (from whom she had been separated since 1964) could lure her back to film work in France.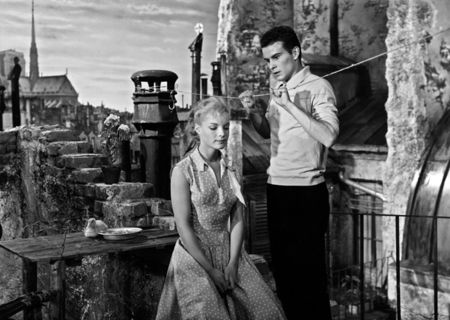 MONPTI, 1957
LE PROCÈS, 1962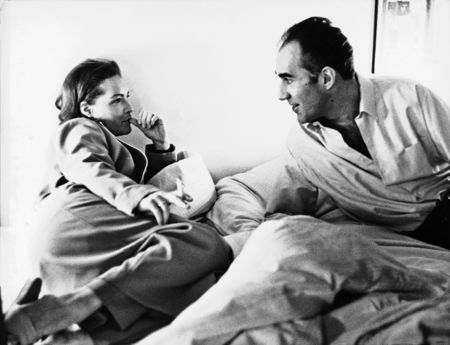 LA VOLEUSE, 1966
International star. LA PISCINE / THE SWIMMING POOL by Jacques Deray, which premiered in 1969, occurred at the beginning of Romy Schneider's French career. In the same year the actress filmed LES CHOSES DE LA VIE / THE THINGS OF LIFE with Claude Sautet, who would become her most important director alongside Luchino Visconti. Romy Schneider moved back to Paris in 1970, where she worked with directors such as Claude Chabrol, Andrzej Zulawski, Robert Enrico and Pierre Granier-Deferre, becoming a paragon of a desirable, seductive woman. She separated from her husband Harry Meyen and brought their son David to Paris. By the middle of the 1970s, Romy Schneider was regarded as a French star. During the very first "César" awards presentation in 1976, she received the best actress award for her role in L'IMPORTANT C'EST D'AIMER / THAT MOST IMPORTANT THING: LOVE. In 1979, she received this coveted film prize a second time for her role in UNE HISTOIRE SIMPLE / A SIMPLE STORY. In addition to contemporary seductresses, Romy Schneider also played victims of the National Socialist regime in films of the 1970s. She repeatedly pointed out that this was meant to be her coming to terms with the German past. She married Daniel Biasini in 1975 and gave birth to their daughter Sarah in 1977.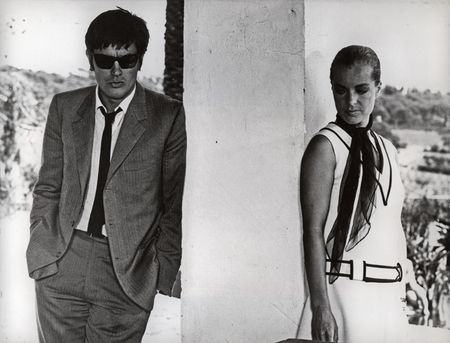 LA PISCINE, 1968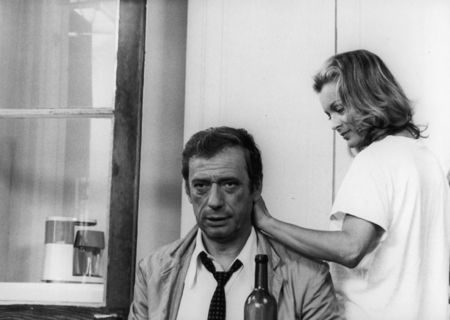 CÉSAR ET ROSALIE, 1972
L'IMPORTANT C'EST D'AIMER, 1975
Devastation. During the second half of the 1970s, Romy Schneider played diverse exploited, abused and humiliated women, who were faced with death either directly or indirectly. In 1975, she was both perpetrator and victim of a murder conspiracy in Claude Chabrol's psychological thriller LES INNOCENTS AUX MAINS SALES / DIRTY HANDS. In her fourth collaboration with Claude Sautet, MADO in 1976, she embodied a figure that was disillusioned with life and addicted to pills and alcohol, while experiencing similar problems in real life. In 1979, Romy Schneider appeared in Costa-Gavras' film CLAIR DE FEMME / WOMANLIGHT – as the mourning mother of a daughter who had died in an accident. The role seemed to anticipate the death of her son David in 1980. She also filmed Bertrand Tavernier's critically received DEATH WATCH in 1979, in which she, terminally ill, became the victim of a sensation-seeking TV channel. In real life, Romy Schneider was constantly pursued by paparazzi. All of her biographers have succumbed to the temptation to draw parallels between reality and fiction in Romy Schneider's life; in part they forgot the high degree of artistic engagement with which she interpreted her roles, because as her directors have attested, Romy Schneider was first and foremost a professional actress.
LES INNOCENTS AUX MAINS SALES, 1975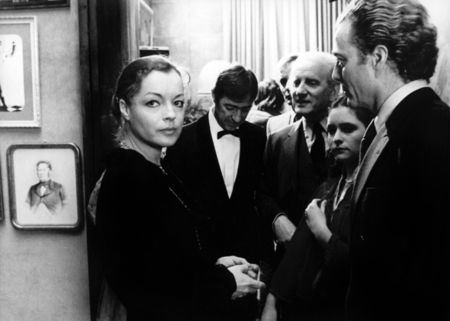 CLAIR DE FEMME, 1979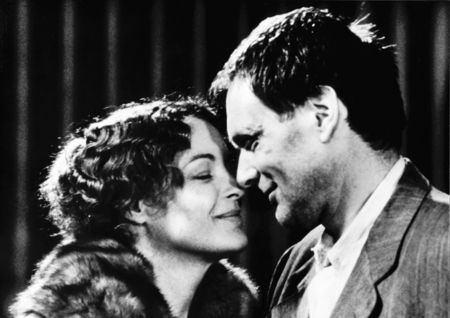 LA PASSANTE DU SANS-SOUCI, 1982
Legend: The biography of the Bavarian princess Elisabeth, born in 1837, who later became empress of Austria-Hungary, shows astonishing parallels to that of Romy Schneider. Neither woman could accept the roles that they had to play in public during their lifetimes. Both lives were marked by strokes of fate: Elisabeth's son, Crown Prince Rudolf, committed suicide in 1889 at the age of 30. Elisabeth, who had always suffered quite severely from the representational constraints connected to her position, hardly appeared at public occasions afterward, but instead retired to remote palaces and traveled throughout Europe. Contemporaries rhapsodized about Elisabeth's beauty, but were equally attracted to her grace, charisma and the mysterious aura that surrounded the empress. Elisabeth was regarded as one of the most beautiful women of her time and as a trendsetter in fashion. The empress had already become a mythical figure during her lifetime; all the more so after an assassination attempt led to her death in Geneva in 1898. When the SISSI films came to the screen in 1955, 1956 and 1957, the kitschy, sweet film figure merged with the real empress and both in turn with Romy Schneider. The overlapping of the legends surrounding the two women and their common destinies of adoring trivialization and appropriation by fans seeking solace is reflected in the media's marketing of them to this day.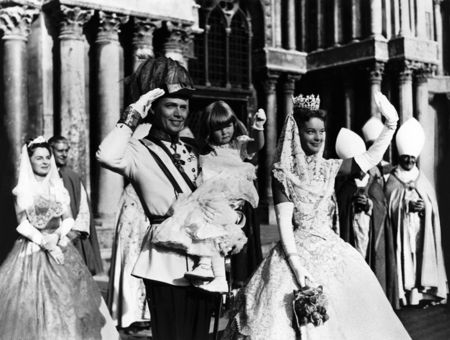 SISSI – SCHICKSALSJAHRE EINER KAISERIN, 1957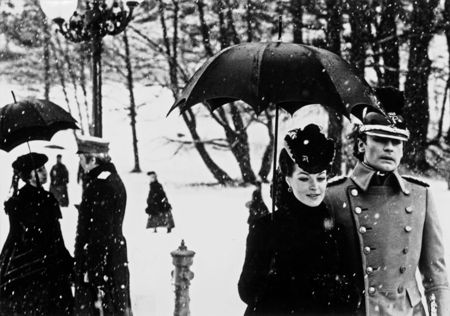 LUDWIG, 1972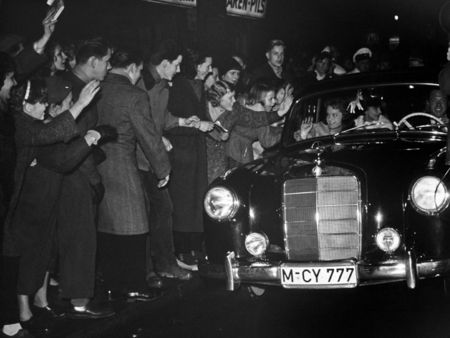 Romy Schneider with fans, 1955