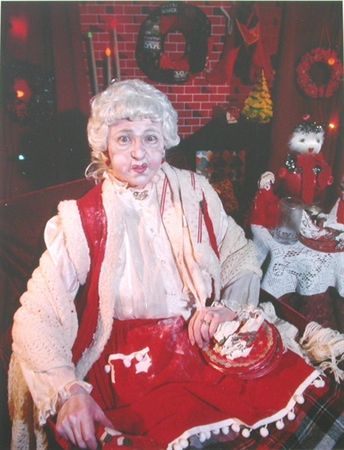 Cindy Sherman, Mrs. Santa Claus, 1990.
Chromogenic print, 14 x 11 in. (35.6 x 27.9 cm). Signed. Estimate: from $2,000 to $3,000
"I am trying to make other people recognize something of themselves rather than me." Cindy Sherman
Through her unique exploration of the countless constructions of the female identity in our culture, Cindy Sherman has become one of the most prolific and influential photographers of her generation. After receiving a degree in photography in 1976, Sherman moved to New York City and gained notoriety through the series of black and white photographs, Untitled Films Stills (1977-1980). In these works, Sherman uses makeup, wigs, costumes, props and settings to turn the camera on herself and seamlessly transform her features into a wide variety of recognizable female archetypes from films of the 1950s and 1960s, such as the Hitchcock blonde. From photo to photo, the artist becomes virtually unrecognizable causing these works to become voyeuristic performance art, rather than traditional self-portraits. As a result, an entire language of how women see and think about themselves through their pervasive representations in popular culture is exposed. During the 1980s, Sherman continued to examine how women's sense of self often lies in appearance rather than reality through other vehicles of gender stereotype including the magazine, the centerfold, the fashion spread, formal portraiture, and mannequins. In Sex Pictures (1992) and Horror and Surrealist Pictures (1994-1996), Sherman began to use disturbing, anatomically correct medical mannequins and doll parts to create figural sculptures and still lifes for social commentary. In 1997, she directed the film, Office Killers, bringing viewers into the mind of the rarely discussed female serial killer who devastates a Manhattan publishing film. Recently, Sherman has returned to self-portraiture in a series of large color photographs that portray the artist as different women posed before generic studio backdrops as if for a cheap commercial portraitist. These photographs use each character's physical attributes to confront issues such as femininity and middle age. For more than three decades, Sherman's work has simultaneously imitated and confronted various representational stereotypes in advertising, cinema, and art history, causing her to become an icon for contemporary concerns regarding feminism and postmodernism.
Artnet auctions. Thursday, December 31, 2009, 2:00 PM EST www.artnet.com