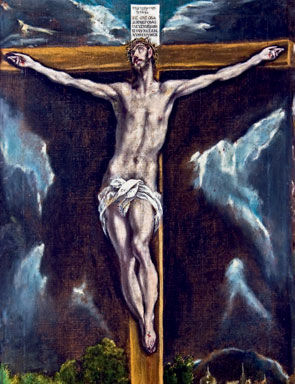 El Greco, Christ en croix - "The Crucifixion", 1610-1614. Oil on canvas. Toledo, Museo de Santa Cruz, Depósito de la Parroquia de San Nicolas de Bari, Toledo.
BRUXELLES.- Considéré comme l'un des peintres fondateurs de l'École espagnole, El Greco n'a pourtant pas toujours joui de ce statut souverain. Lorsqu'il meurt à Tolède en 1614, l'Europe se prend de passion pour le caravagisme, style naturaliste et en vogue aux antipodes de son génie maniériste. Très vite, son oeuvre passe de mode, traversant les siècles dans un relatif oubli. Jusqu'à ce qu'en 1908, l'historien de l'art Manuel Bartolomé Cossío lui consacre une monographie fondamentale. L'engouement pour El Greco est immédiat. Collectionneur d'art averti, le marquis de la Vega-Inclán érige même à Tolède en 1910 un musée à sa gloire. De sorte que la renommée du peintre s'enfle aussi vite qu'elle ne s'était éteinte. En plus de retracer le rôle essentiel joué par les acteurs de cette redécouverte spectaculaire, l'exposition livre un aperçu captivant de l'évolution artistique du peintre, à travers une sélection unique de tableaux marquants, dont l'étourdissant Le Christ dépouillé de ses vêtements ou les remarquables Les larmes de saint Pierre. Point d'orgue du parcours : l'ultime série d'Apôtres laissée par El Greco, véritable testament pictural du maître. Une série complète d'une étonnante modernité, aux formes totalement libérées, aux éclats de couleurs extraordinaires, qui après le Palais des Beaux-Arts retrouvera le «Museo de El Greco» de Tolède pour ne plus jamais en sortir...
BRUSSELS.- Regarded today as one of the founders of the Spanish School of painting, El Greco has not, however, always enjoyed that lofty status. At the time of his death in Toledo in 1614, Europe was wildly enthusiastic about the then fashionable naturalism of the Caravaggesque style, poles apart from his own brilliant Mannerism. El Greco's work soon went out of fashion and remained relatively neglected down the centuries – until 1908, when the art historian Manuel Bartolomé Cossío devoted a key monograph to him.

The El Greco craze took off immediately. In 1910 a discerning art collector, the Marqués de la Vega-Inclán, even established a museum in his honor in Toledo. The painter's fame, accordingly, flourished anew, as rapidly as it had been extinguished. In addition to outlining the key role played by those responsible for this spectacular rediscovery, the exhibition presents a fascinating overview of the painter's artistic development via a unique selection of outstanding works, including the stunning "The Disrobing of Christ" and the striking "St. Peter in Tears", The highlight of the exhibition is El Greco's final series of "Apostles", his artistic testament: a complete, astonishingly modern series, remarkable for its totally free forms and its extraordinarily bright colors. After this visit to the Center for Fine Arts the series will return to the Museo de El Greco in Toledo, which it will never leave again.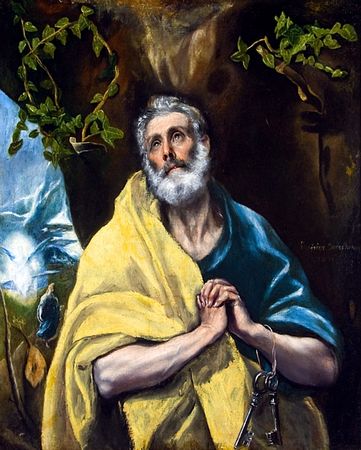 El Greco, Les larmes de saint Pierre - "San Pedro en lágrimas", (St. Peter in Tears), Ca.1587-1620. Oil on canvas. Toledo, Museo del Greco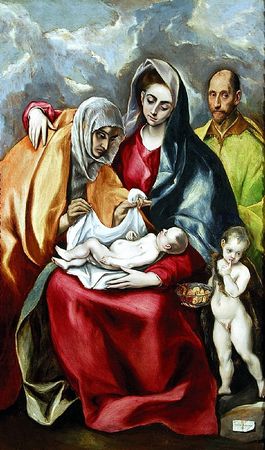 El Greco- La sainte Famille avec Sainte Anne - The Holy Family with Saint Anne- Ca. 1585- oil on canvas- Toledo, Museo de Santa Cruz depósito de la Parroquia de San Nicóla de Bari)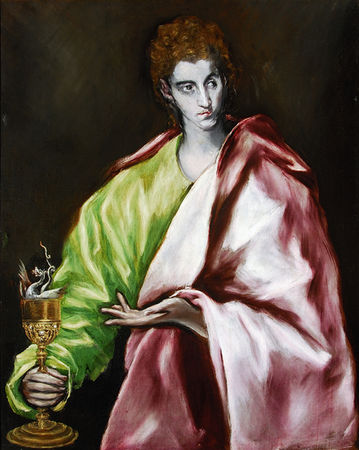 El Greco, San Juan Evangelista © Toledo, Museo del Greco

El Greco - San Agustín - De heilige Augustinus / Saint Augustin / Saint Augustine - Ca. 159-1607 - Olie op doek / huile sur toile / oil on canvas Toledo, Museo de Santa Cruz, (deposito de la Parroquia de Saint Nicola de Bari)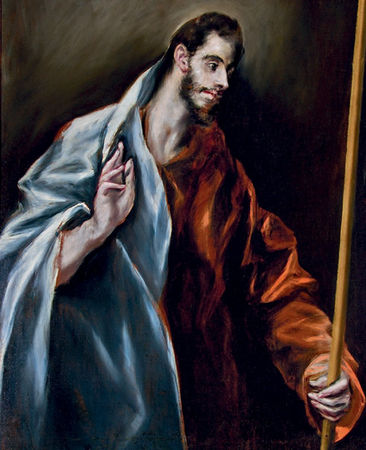 El Greco - Saint Thomas - Ca. 1610-1614 - oil on canvas - Toledo, Museo del Greco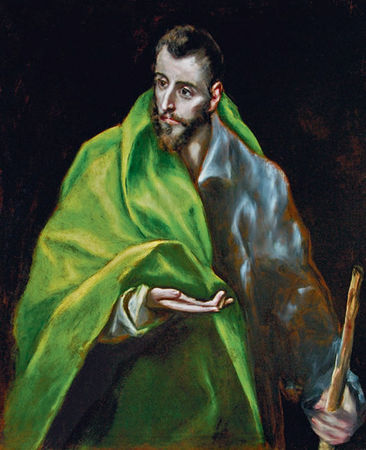 El Greco - Saint Jacques le Majeur - Saint James the Mayor - Ca. 1610-1614 - oil on canvas Toledo, Museo del Greco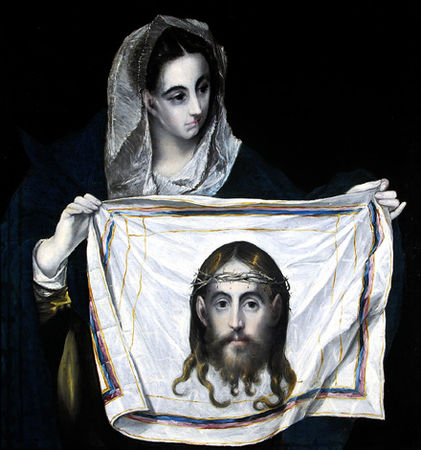 El Greco - Le voile de Véronique - Saint Veronica holding the Veil (traduction of the National gallery ) ou Veronica's Veil - Ca. 1580 - oil on canvas - Toledo, Museo de Santa Cruz (depsito del la JCCM)