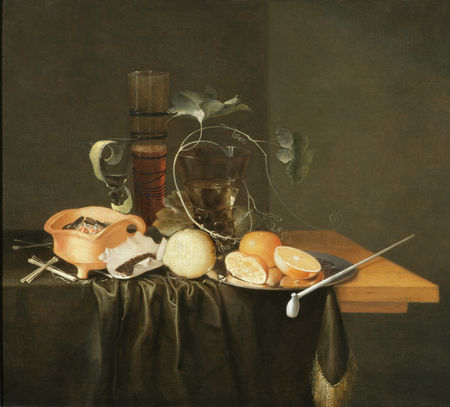 Roelof Koets (Haarlem c. 1592/93 - Haarlem 1654). A still life on a table covered with a dark cloth and white napkins.
On the table are a silver platter with a pointed edge on which stand three rummers with conical cuppa's, a fourth lying on its side over the edge of the platter. In the centre are a pewter platter holding a large crab and a spouted 'Jan Steen' jug, to their right is another pewter platter holding an overturned silver beaker and a half-peeled lemon. Behind it stands a tall 'flute' wine glass. In the front centre is a bread roll from which some slice appear to have been cut with the ebony-handled knife that lies in front of it. Behind the bread, some olives have been strewn onto the table. The back of the table to the right is filled with bunches of black grapes and their foliage.
oil on panel. Height : 74.30 cm - Width : 103.30 cm. Price: 125,000 €

PROVENANCE: with A. van der Meer, Amsterdam, 1963 (as by P. Claesz. and Roelof Koets
H. Shickman Gallery, New York, where purchased by a
Private Collector, Johnstown, New York, 1968, thence by descent in the family

EXHIBITED: New York, New York, H. Shickman Gallery, Exhibition of Dutch and Flemish Paintings, November 1968, no. 5 as by Pieter Claesz., illustrated in color
Albany, Albany Institute of Art, Matters of Taste Food and Drink in Seventeenth-Century Dutch Art and Life, 2002, cat. no. 31, colour ill., as by R. Koets and P. Claesz.
Lawrence Steigrad Fine Arts 23 East 69th Street NY 10021 New York - USA. Tel : +1 212 517 3643 - Fax number : +1 212 517 3914 - gallery@steigrad.com - http://www.steigrad.com