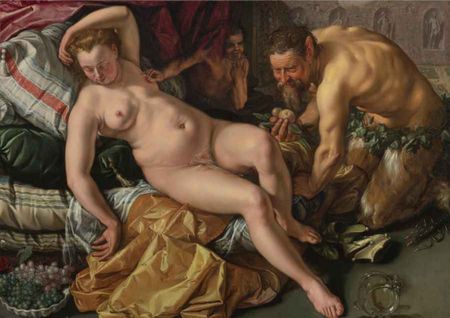 Hendrick Goltzius (Mülbracht (Bracht-am-Niederrhein) 1558 - 1617 Haarlem) Jupiter and Antiope, signed and dated lower center: HG./ Ao. 1612 and inscribed on the cloth near Antiope's knee: ANTIOPA. oil on canvas, 48 by 70 in.; 122 by 178 cm. Est. 8,000,000 - 12,000,000 USD. photo courtesy Sotheby's
Sotheby's January sale of Important Old Master Paintings has always been one of the highlights of the auction season. This year, we are pleased to have exceptionally strong and varied offerings, including an incredibly rare, large-scale oil of Jupiter and Antiope by the Dutch master Hendrick Goltzius (lot 167). Recently restituted to the heirs of Abraham Adelsberger, this sensuous and seductive canvas demonstrates Goltzius's mastery over the medium of oil paint, which he had only seriously begun to explore in 1600 after working for years as an accomplished printmaker. Also of importance is the early oil study by Sir Anthony Van Dyck, Two Studies of a Bearded Man (lot 176). Completed when the young Van Dyck was still working in the studio of Peter Paul Rubens, this evocative work was the only true Old Master in the collection of Montgomery H.W. Ritchie, a prominent United States rancher, whose impressive collection of Impressionist and Modern works can still be seen at the Dixon Gallery and Gardens in Memphis, Tennessee. Other highlights include Rembrandt's Portrait of a Woman in a Black Cap (lot 194); a reliquary featuring the Madonna and Child by Francesco di Vannuccio (lot 146); and Spanish master Francisco de Zurbarán's exquisite image of Saint Dorothy (lot 204), which comes from the private collection of Mrs. Wendell Cherry.
Sir Anthony Van Dyck (Antwerp 1599 - 1641 London), Two Studies of a Bearded Man. oil on canvas, 18 1/4 by 25 1/2 in.; 45 by 67 cm. Est. 5,000,000 - 7,000,000 USD. photo courtesy Sotheby's
Rembrandt (Leiden 1606 - 1669 Amsterdam), Portrait of a Woman in a Black Cap, signed and dated lower right RHL (in ligature) . van R... / 163 (2), oval (probably cut down to this shape, possibly in the 18th century), oil on canvas on a wood support, 27 by 21 in.; 68.7 by 53.5 cm. Est. 8,000,000 - 12,000,000 USD. photo courtesy Sotheby's
Francesco di Vannuccio (documented Siena 1356 - 1389; died before 1391) The Madonna and Child with the Christ between the Virgin and Saint John the Evangelist: a reliquary gold ground, tempera on panel. 21 1/4 by 14 3/4 in.; 54 by 37.5 cm. Est. 300,000 - 500,000 USD. photo courtesy Sotheby's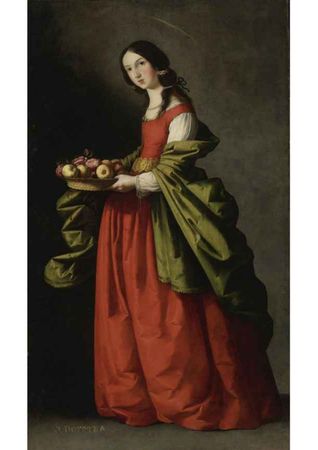 Francisco de Zurbarán (Fuente de Cantos, Badajoz 1598 - 1664 Madrid) Saint Dorothy, full-length, holding a basket of apples and roses, inscribed lower left: S. DOrOTEA, oil on canvas, 71 by 40 in.; 180.2 by 101.5 cm. Est. 3,000,000 - 4,000,000 USD. photo courtesy Sotheby's
Additionally, this sale features wonderful works from several prominent collections, including a group of property from the Los Angeles County Museum of Art (lots 154-163; 244-250). Sold to benefit future acquisitions, this selection includes Christoph Amberger's Portrait of Hans Jakob Fugger, a masterpiece of the German Renaissance, and Jan Asselijn's picturesque Rome, A View of the Ponte Rotto. A group of Venetian vedute by Canaletto (lot 229) and Guardi (lot 228) from the collection of Gordon Getty and beautiful works by Oudry (lot 212), Robert (211) and Brunias (lot 221) from the London Residence of Mrs. Charles Wrightsman round out the sale.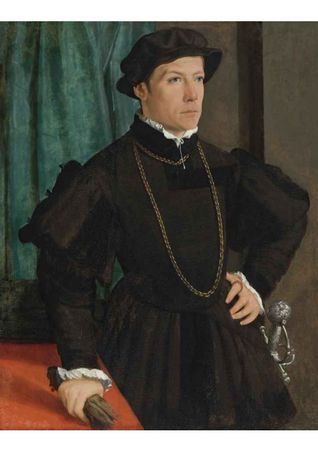 Christoph Amberger (Place Unknown circa 1505 - 1561/2 Augsburg) Portrait of Hans Jakob Fugger, dated upper right: MDXLI (1541), oil on panel, 37 3/4 by 31 1/4 in.; 95.9 by 79.4 cm. Est. 200,000 - 300,000 USD. photo courtesy Sotheby's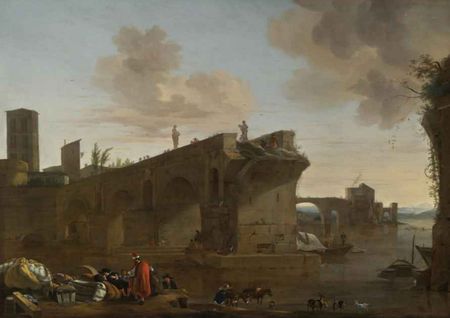 Jan Asselijn (Dieppe after 1610 - 1652 Amsterdam) Rome, A View of the Ponte Rotto, signed with monogram and dated lower left, on the crate: 1652 / JA, oil on canvas, 53 3/4 by 67 1/2 in.; 136.5 by 171.5 cm. Est. 80,000 - 120,000 USD. photo courtesy Sotheby's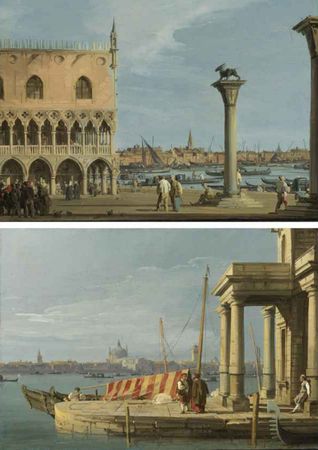 Giovanni Antonio Canal, called Canaletto (Venice 1697 – 1768) The Piazzetta, Venice, with the southwest corner of the Doge's Palace; the Quay of the Dogana, Venice, a pair, both oil on canvas, laid on panel. the former: 11 by 14 5/8 in.; 27.9 by 37.3 cm; the latter: 10 7/8 by 14 5/8 in.; 27.6 by 37.3 cm. Est. 1,500,000 - 2,000,000 USD. photo courtesy Sotheby's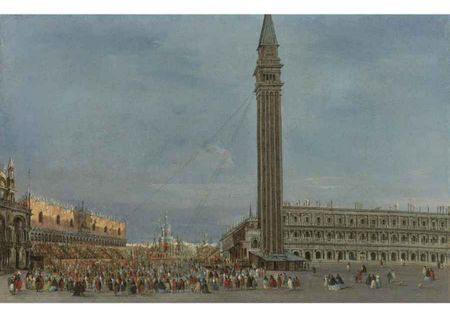 Francesco Guardi (Venice 1712 – 1793) The festival of Giovedì Grasso in the Piazzetta, Venice, signed with initials at right, on the yellow banner in one of the arches of the Procuratie Nuove F.G., oil on canvas, 12 5/8 by 21 1/4 in.; 32 by 54 cm. Est. 1,000,000 - 1,500,000 USD. photo courtesy Sotheby's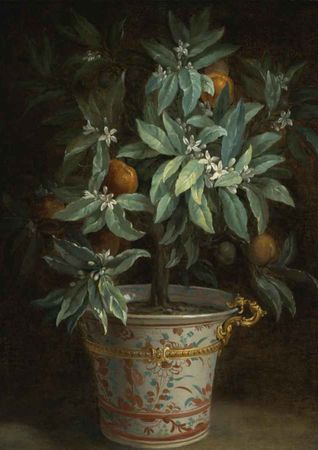 Jean-Baptiste Oudry (Paris 1686 - 1755 Beauvais) L'Oranger, signed and dated on the jardinière J B. Oudry 1740, oil on canvas in a gilt oak frame, 33 3/4 by 26 3/4 in.; 85.7 by 67.9 cm. Est. 250,000 - 350,000 USD. photo courtesy Sotheby's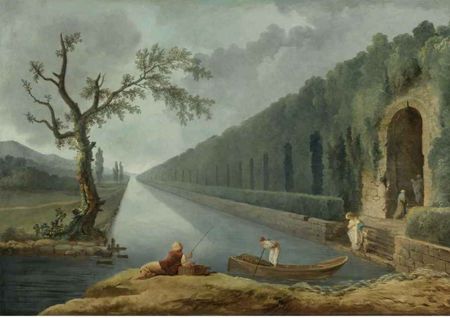 Hubert Robert (Paris 1733 - 1801), Garden scene with a canal, oil on canvas, 39 by 57 in.; 99.1 by 144.8 cm. Est. 150,000 - 250,000 USD. photo courtesy Sotheby's