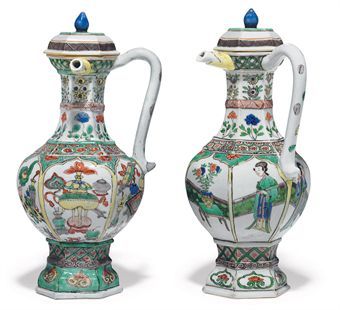 Two famille verte puzzle jugs and covers. Kangxi period
The spouts issuing from monster masks, the necks pierced, one with panels of court ladies and potted plants, the other with antiques and auspicious objects, including a rabbit on a table. 10 in. (25.4 cm.) high (4) - Est. $10,000 - $15,000
A large pair of famille verte tea canisters and covers. Kangxi period, one cover 19th century
Each of hexagonal form, the sides painted with alternating panels of court ladies, scholar's rocks and antiques among precious objects, the shoulder and cover with bands of flowering vine. 11 3/8 in. (28.8 cm.) high (4) - Est. $8,000 - $12,000
Notes: For smaller tea-caddies of this form with similar decoration, see the Dr. Anton C.R. Dreesmann Collection, Christie's, London, 10 April 2002, lot 361 and Christie's, Paris, 14 June 2006, lot 216.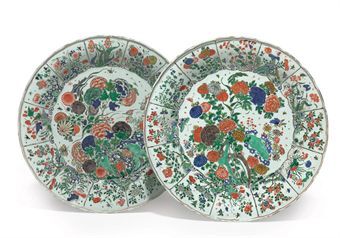 A large pair of famille verte dishes. Kangxi period
Enameled with a profusion of chrysanthemum and peony flowers growing from rocks, butterflies and bugs nearby, the lobed rim with panels of variant flowering plants, small insects hovering above, the reverse with four boughs of iron-red peony bearing green leaves and in the center a double circle and character seal mark possibly reading zhi (made). 14¼ in. (36.2 cm.) diameter (2) - Est. $7,000 - $10,000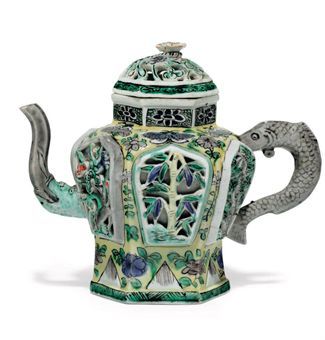 A famille verte teapot and cover. Kangxi period
Hexagonal with pierced panels of the 'Three Friends', the handle as a scaly fish, the spout with mythical beast terminal, the pierced cover with floral knop
5½ in. (13.9 cm.) high (2) - Est. $5,000 - $8,000
Provenance: With Ralph M. Chait Galleries, New York.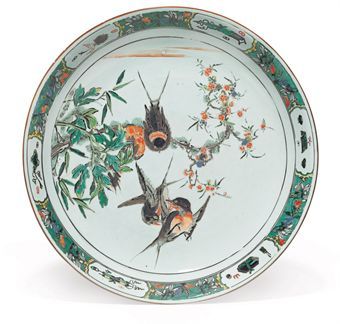 A famille verte charger. Kangxi period
Enameled in the center with two birds fighting, another bird sitting on a prunus branch looking on, a hazy moon above, the seeded green border reserved with six cartouches of ribbon-tied precious objects. 14 in. (35.6 cm.) diameter - Est. $4,000 - $6,000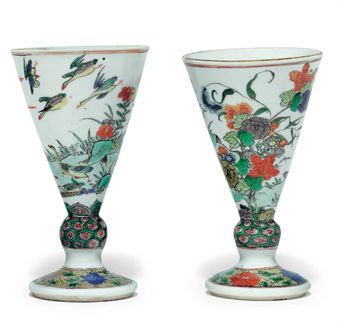 A pair of famille verte goblets. Kangxi period
Each of conical shape with knopped stem on a spreading base, the exterior unusually enameled with flying and walking geese among peonies and chrysanthemums. 5 3/8 in. (13.5 cm.) high (2) - Est. $4,000 - $6,000
Provenance: Anonymous sale; Christie's, London, 17 June 2003, lot 143.
The Honorable Mrs. Nellie Ionides Collection, no. 43.
Exhibited: A Tale of Three Cities: Canton, Shanghai & Hong Kong, Sotheby's, London, 1997, no. 107 (and illustrated in catalogue, p. 93), where D.Howard notes that this "...form copies exactly a European glass wine flute of this date".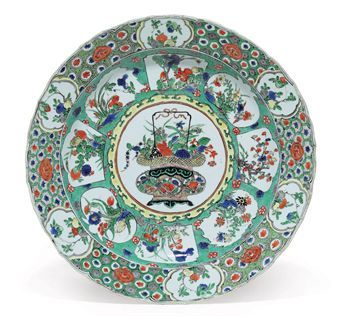 A large famille verte dish. Kangxi period
Brightly enameled with a central basket of flowers encircled by a band of variantly shaped floral cartouches, the shaped rim with a trellis and cell pattern border with cloud-shaped cartouches of fruit, the underside with floral sprigs and an underglaze blue leaf mark within a double circle. 15 in. (38.1 cm.) diameter - Est. $3,000 - $5,000
A famille verte vase. Kangxi period
Enameled with a warrior wielding his sword in a garden as his servant hurries with a bottle vase, the neck with bamboo and sacred fungus, the shoulder with a foliate trellis band. 10¼ in. (26 cm.) high - Est. $2,000 - $3,000
Exhibited : With a sticker for the Min Chiu Society, 7th Annual Exhibition, no. K8, Hong Kong.
A famille verte stand. Kangxi period
Of rectangular form with chamfered corners, enameled front and back with bird and flower panels, the sides with antiques and precious objects, all on a seeded floral ground. 14 in. (35.5 cm.) wide - Est. $1,500 - $2,500
Christie's. Important American Furniture, Folk Art, Silver & Chinese Export. 21 - 25 January 2010. New York, Rockefeller Plaza www.christies.com