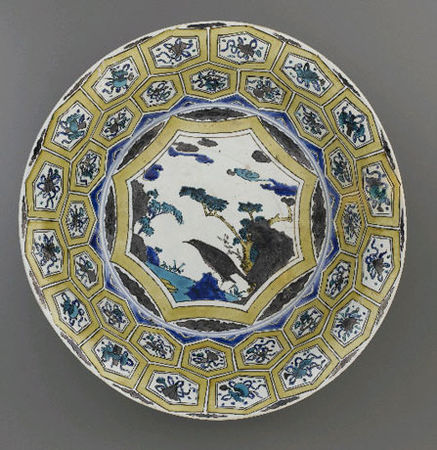 'Dish, Arita ware', Kutani style, Edo period, Japan, 1645-1650. Porcelain with cobalt pigment under colorless, glaze, enamels over glaze, 11.5 x 45.7 x 45.7 cm. Photo: Freer Gallery of Art.
WASHINGTON, DC.- The exhibition "Cornucopia: Ceramics from Southern Japan" includes more than 100 porcelain and stoneware vessels that vividly represent an era of highly diverse and accomplished ceramic production in southern Japan. A wide array of ceramic forms, including tea caddies, tea bowls, vases, rice bowls and incense burners, is on display in the Smithsonian's Freer Gallery of Art through Jan. 9, 2011.

The exhibition spans from the late 16th to the late 19th century, an era that marks the most diverse production of ceramics in Japanese history, encompassing hundreds of kilns that produced vessels for the Japanese market and for export to Europe and Southeast Asia. The cornucopia of Kyushu ceramics overflowed into markets throughout Japan and around the world.

A heightened level of fascination with the design and use of ceramics coincided with new access to advanced technology around the year 1600 on the southern island of Kyushu in Japan and launched the era of flourishing production. Following Japanese military campaigns on the Korean peninsula, Korean potters with skills for making glazed ceramics were resettled in southern Japan. Their kilns produced stoneware coated in muted glazes and porcelain ornamented with cobalt blue and multicolored enamels.

This sudden efflorescence of ceramic production introduced a far wider variety of options for Japanese connoisseurs of chanoyu, the tea ceremony. No longer limited to imports from China, Korea and Southeast Asia, they could specify their stylistic tastes to potters at regional kilns. Urban merchants played key roles in communicating the orders and marketing the new varieties of ceramics.

Only stoneware was made during the earliest phase of ceramic production on Kyushu, from the 1590s to around 1615. Many of the kilns created wares with a strong Korean flavor. Signature styles used a white glaze made with rice-straw ash and employed Korean-inspired decorations. Many kilns made both utilitarian ware and tea ware. Tea was not simply an aesthetic pursuit but played a pivotal role for regional rulers to socialize strategically with officials of the newly established Tokugawa government. Ceramics from the new kilns played a key role in the obligatory gift exchanges between regional rulers and the central government.

The discovery of raw materials necessary for making porcelain near the town of Arita in the 1610s dramatically transformed ceramic production in Kyushu. At new porcelain-making workshops potters introduced Chinese-inspired techniques, such as decorating with cobalt-blue pigment and bright enamels. Toward the end of the era, in the mid-19th century, the Satsuma kilns introduced light-bodied wares decorated with gold and pastel enamels, opening another chapter for Kyushu ceramics through their success at international expositions in Europe and the United States.

"Cornucopia: Ceramics from Southern Japan," fills three galleries of the Freer with Japanese ceramics, and all the works were the focus of a recent review by Japanese scholar and Kyushu ceramics specialist Ohashi Koji, as part of a 10-year project to review the dating of ceramics in the museum's Japanese and Korean collections. This exhibition will introduce the objects to the public for the first time with their recently revised attributions and dating. Potters, collectors and the public will delight in the variety of objects in this exhibition: ornately to modestly decorated stoneware, sake bottles, jars for pickled plums and boat-shaped dishes are just a few examples of the variety in "Cornucopia: Ceramics from Southern Japan."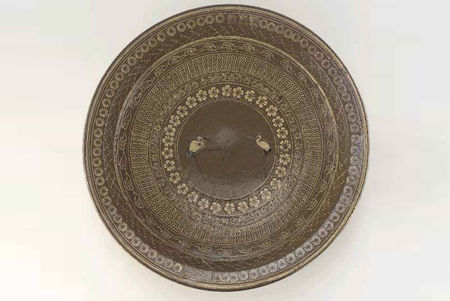 Dish, Karatsu ware, Takeo kilns, Edo period, Japan, 1620-1650. Stoneware with iron pigment and white slip painted and inlaid under clear glaze, 10 x 40.5 x 40.5 cm. Photo: Freer Gallery of Art.