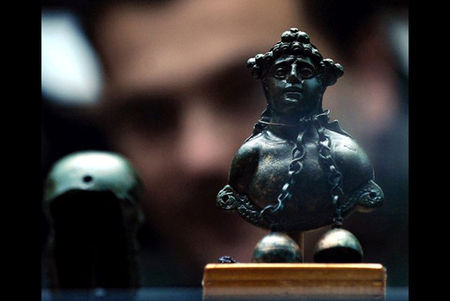 Bronze figurine, Roman period, as displayed in archaeological exhibition in Skopje, Macedonia, Sunday, December 27, 2009. Photo: Boris Grdanosk/AP.
SKOPJE, MACEDONIA - The Macedonian Information Agency reported that Elizabeta Kanceska-Milevska, Minster of Culture, opened Sunday the annual exhibition of artifacts excavated at archaeological sites throughout Macedonia in 2009. Prime Minister, Nikola Gruevski, also attended the opening of the exhibition which took place at the Museum of Macedonia. A total of 9,800 artifacts excavated at 18 archaeological sites throughout Macedonia are displayed in the Museum of Macedonia, in the framework of the third archaeology exhibition.

The display includes artifact items from Ohrid's Gorna Porta, Isar Marvinci, Stobi, Carevi Kuli, Heraklea etc.

Museum director Meri Anicin-Pejoska and director of the Cultural Heritage Protection Office Pasko Kuzman attended the exhibition opening.

"Traces left by past civilisations are the only witness of our past and an inseparable part of our existence. Therefore, it gives me great pleasure to attend the third annual exhibit of most valuable artifacts excavated in 2009, said Gruevski to the Macedonian Information Agency in his welcoming speech.

The amount that was excavated this year is small. There is a lot more to be done. The Government will continue to support nation-wide excavations, because artefacts are national and cultural treasure. In 2010 we plan to continue our support in this field, stated PM Gruevski after the opening at the Museum of Macedonia.

Asked whether some of the artefacts could help in strengthening country's position in the name dispute with Greece, Gruevski said it could be the case only if the argument of facts prevailed in the name talks. "Unfortunately, Greece negotiates with the argument of power," the PM stressed.

"Future generations will laugh at the fact that someone today is trying to divide people into ancient and Slavic Macedonians," noted the PM when asked whether Sunday's exhibition was an attempt to resume the process of antiquisation.

"Future generations will be stunned as to why someone in this period tried so hard to divide people into ancient and Slavic. It is ridiculous because both were part of past civilisations," he said adding that Macedonia was lying on a territory that was the home of many prominent or less prominent civilisations, which needed to be equally acknowledged by modern Macedonians.

Editors notes : The Museum of Macedonia (MM) is a key organisation in the preservation and promotion of Macedonian culture. Founded in 1924, the present museum is an amalgamation of 3 formerly separate museums of archaeology, ethnology and history, with a more-recently established history of art department. The MM is housed in a purpose-built, award-winning building of the late 1970's which has not been adequately maintained and was not designed to be fit for the purpose of a 21st Century museum. For example, there are vast and grand public exhibition areas but storage conditions are poor and no proper provision was made for conservation laboratories.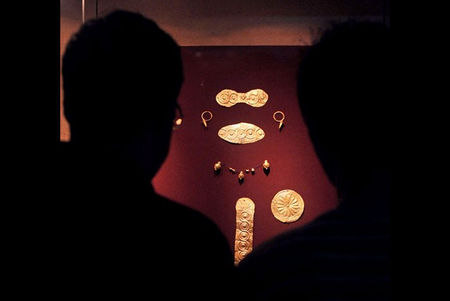 'Golden ornaments', 5th century BC, Macedonia as displayed in archaeological exhibition in Skopje, Macedonia, Sunday, December 27, 2009. Photo: Boris Grdanosk/AP
Terracotta figurines', 1st century BC, Macedonia as displayed in archaeological exhibition in Skopje, Macedonia, Sunday, December 27, 2009. Photo: Boris Grdanosk/AP
Sculptures and pottery', Roman period as displayed in archaeological exhibition in Skopje, Macedonia, Sunday, December 27, 2009. Photo: Boris Grdanosk/AP
Painted ceramic pots', 6th and 4th century BC, Macedonia as displayed in archaeological exhibition in Skopje, Macedonia, Sunday, December 27, 2009. Photo: Boris Grdanosk/AP