Edouard Manet (1832-1883), Le fifre, 1866. Huile sur toile. H. 160 ; L. 97 cm. Paris, musée d'Orsay, legs du comte Isaac de Camondo, 1911 © photo RMN, Hervé Lewandowski
MADRID.- Fundación MAPFRE and the Musée d'Orsay jointly present the exhibition, Birth of Impressionism: Masterpieces from the Musée d'Orsay which will be on view through April 22. The exhibition includes approximately 100 paintings from the Musée d'Orsay's permanent collection and highlights the work of nearly 40 artists including Cézanne, Degas, Gauguin, Manet, Monet, Pissarro, Renoir, Rousseau, Seurat, Sisley, Toulouse-Lautrec, van Gogh and Vuillard. The Musée d'Orsay will loan the exhibition while it undergoes a partial closure for refurbishment and reinstallation in anticipation of the Musée's 25th anniversary in 2011.

Birth of Impressionism: Masterpieces from the Musée d'Orsay opens January 15, 2010 and runs through April 22, 2010. This exhibition puts forth nearly 100 works by the famous masters who called France their home during the mid-19th century and from whose midst arose one of the most original and recognizable of all artistic styles, Impressionism. This exhibition begins with paintings by naturalist artists such as Bougereau and Courbet and presents American expatriate James McNeil Whistler's Arrangement in Gray and Black, known to many as "Whistler's Mother." Early work by Manet, Monet, Renoir and Sisley are on view as well as a selection of Degas' paintings that depict images of the ballet, the racetrack and life in "la Belle Époque." Notable works in this exhibition include:

• The Fife Player by Edouard Manet (1866)
• Family Reunion by Frédéric Bazille (1867)
• Arrangement in Gray and Black No. 1 or Portrait of the Artist's Mother by James McNeil Whistler (1871)
• The Birth of Venus by William Adolphe Bouguereau (1879)
• The Cradle by Berthe Morisot (1872)
• Saint-Lazare Station by Claude Monet (1877)
• The Swing by Pierre-Auguste Renoir (1876)
• Rue Montorgueil, Paris. Festival of June 30, 1878 by Claude Monet
• Racehorses Before the Stands by Edgar Degas (1866-1868)
• The Dancing Lesson by Edgar Degas (1873-1876)
• Portraits at the Stock Exchange by Edgar Degas (1878-1879)

Musée d'Orsay
The Musée d'Orsay, a train station created for the Paris International Exposition of 1900 and transformed into a museum by renowned architect Gae Aulenti, opened to the public on December 9, 1986 with its goal to highlight the art of the western world from the period 1848 through 1914. Its collection, one of the world's finest, is comprised of paintings, sculpture, drawings, decorative arts, furniture, photography, and architectural work from this period consolidated from collections of the Louvre, Jeu de Paume and Modern Art Museum in Paris as well as major gifts from private collectors, artists and their heirs. The Musée d'Orsay's collection of Impressionist and Post-Impressionist paintings represent the finest survey of its kind in the world.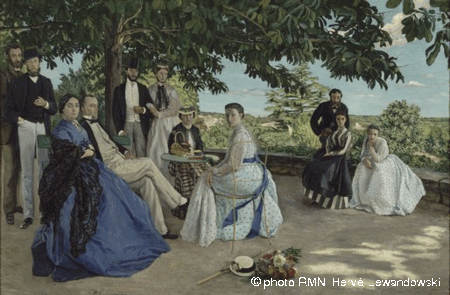 Frédéric Bazille (1841-1870), Réunion de famille dit aussi Portraits de famille, 1867. Huile sur toile. H. 152 ; L. 230 cm. Paris, musée d'Orsay, acquis avec la participation de Marc Bazille, frère de l'artiste, 1905 © photo RMN, Hervé Lewandowski
Agence France-Presse. Madrid - Une exposition consacrée à la naissance de l'impressionnisme et montrant quelque 90 toiles du Musée d'Orsay à Paris est organisée par la Fondation Mapfre à Madrid du 14 janvier au 22 avril.
Il s'agit de la première étape, avant San Francisco et Nashville aux États-Unis, d'une des deux expositions itinérantes organisées par le Musée d'Orsay, en raison de ses travaux de rénovation programmés pour 2010.
L'autre exposition, consacrée au postimpressionnisme, a débuté récemment à Canberra, en Australie, avant d'aller au Japon et aux États-Unis.
Les oeuvres présentées à Madrid sous le titre Impressionnisme, une Renaissance Moderne, ont Édouard Manet comme fil conducteur et sont des tableaux académiques, réalistes et impressionnistes allant de la fin des années 1860 au début des années 1880.
Parmi elles, le Fifre d'Édouard Manet, La Gare Saint-Lazare de Monet, la Balançoire de Renoir ou encore la Maison du Pendu de Cézanne.
Ces tableaux «sont tous des chefs-d'oeuvre», a affirmé mercredi à Madrid le directeur du Musée d'Orsay, Guy Cogeval, soulignant la volonté de son établissement de s'ouvrir davantage au monde «hispano-latin».
Les deux expositions itinérantes, a-t-il précisé, vont permettre de financer entièrement les travaux du musée, dont le coût est évalué à 11,4 millions d'euros.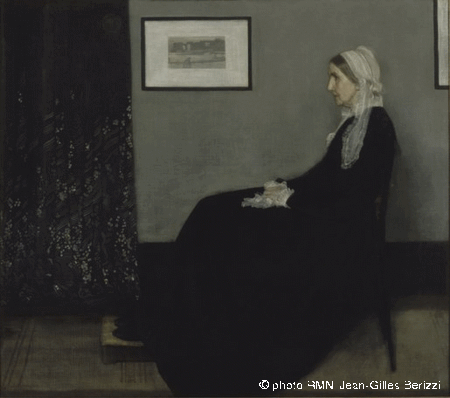 James Abbott McNeill Whistler (1834-1903), Arrangement en gris et noir n°1, dit aussi Portrait de la mère de l'artiste, 1871. Huile sur toile. H. 144,3 ; L. 162,5 cm. Paris, musée d'Orsay © photo RMN, Jean-Gilles Berizzi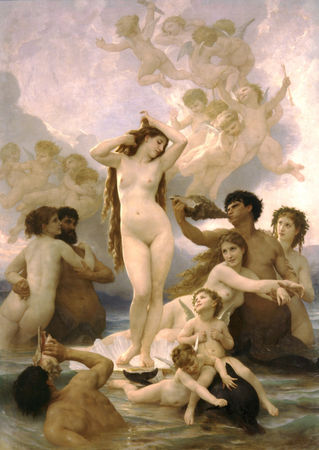 William-Adolphe Bouguereau (1825–1905), La naissance de Vénus, 1879. Paris, musée d'Orsay
Berthe Morisot (1841-1895), Le berceau, 1872. Huile sur toile. H. 56 ; L. 46 cm. Paris, musée d'Orsay © photo RMN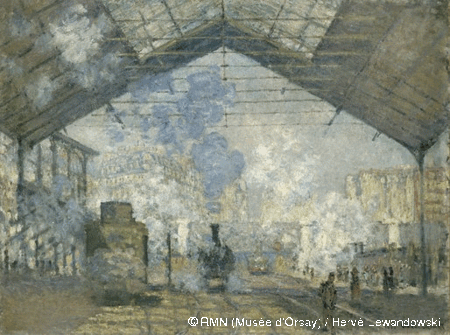 Claude Monet (1840-1926) La Gare Saint-Lazare, 1877. Huile sur toile. H. 75 ; L. 104 cm. Paris, musée d'Orsay, legs Gustave Caillebotte, 1894 © RMN (Musée d'Orsay) / Hervé Lewandowski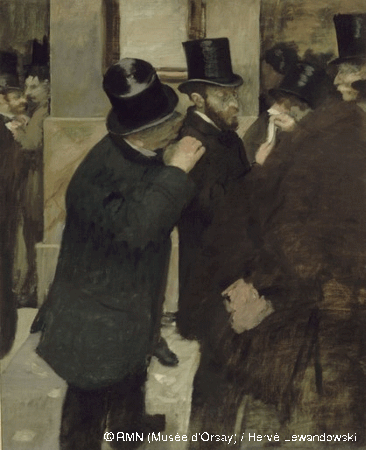 Edgar Degas (1834-1917), Portraits à la Bourse, Entre 1878 et 1879. Huile sur toile. H. 100 ; L. 82 cm. Paris, musée d'Orsay, donation d'Ernest May sous réserve d'usufruit, 1923 © RMN (Musée d'Orsay) / Hervé Lewandowski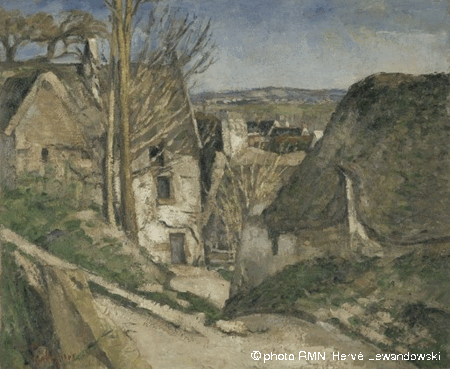 Paul Cézanne, La maison du pendu, Auvers- sur-Oise, 1873. Huile sur toile. H. 55 ; L. 66cm. Paris, musée d'Orsay, legs du comte Isaac de Camondo, 1911 © photo RMN, Hervé Lewandowski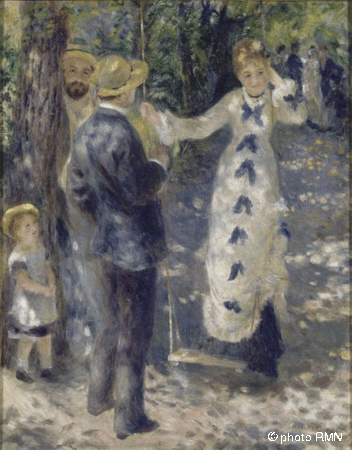 Pierre-Auguste Renoir (1841-1919), La balançoire, 1876. Huile sur toile. H. 92 ; L. 73 cm. Paris, musée d'Orsay, legs de Gustave Caillebotte, 1893 © photo RMN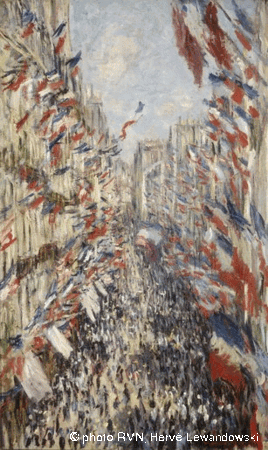 Claude Monet (1840-1926), The Rue Montorgueil in Paris. Celebration of 30 June 1878, 1878. Oil on canvas. H. 81; W. 50 cm. Paris, Musée d'Orsay © photo RMN, Hervé Lewandowski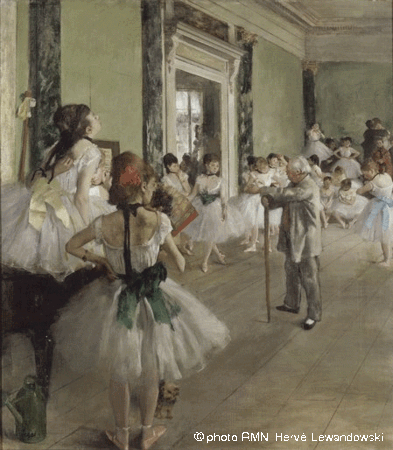 Edgar Degas (1834-1917) La classe de danse, Entre 1871 et 1874 Huile sur toile H. 85 ; L. 75 cm Paris, musée d'Orsay, legs du Comte Isaac de Camondo, 1911 © photo RMN, Hervé Lewandowski