Passionnée par la Chine et son histoire millénaire, Corinne Van der Kindere, licenciée en sciences politiques et diplomatiques, en expose dans sa galerie au Sablon, depuis 1989, des objets d'art de Haute Epoque notamment des terres-cuites, bronzes, sculptures, céramiques Song et de l'orfèvrerie. Elle présente aussi des ivoires et estampes du Japon. BRAFA 2010 sera sa 19e participation à la Foire des Antiquaires de Belgique. La galerie est également présente à des foires internationales e.a, à Paris au Salon du Collectionneur et aux salons d'art asiatiques des années précédentes, à la 'Kunstmesse de Münich', à Palm-Beach (USA). Elle est membre du Syndicat National des Antiquaires (France).
Haute époque de la Chine et dessins et peintures japonais des XVIIIe et XIXe siècles
Corinne Van der Kindere. Rue Ernest Allard 27, B-1000 Bruxelles, Belgique. T +32 (0)2 375 38 41 - M +32 (0)475 43 51 19 - F +32 (0)2 375 98 64 - Tuesday-Thursday-Saturday from 2.30pm to 6pm and by appointment - www.artcadegallery.com - mail@artcadegallery.com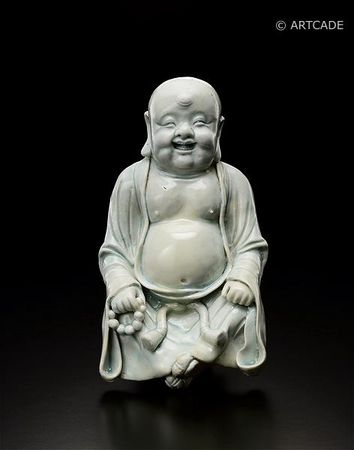 Yingqing figure of Budaï, the 'Happy Buddha', popular in China and Japan. China, Southern Song (1127-1279),Yuan, 13th century Jingdezhen, Jiangxi province.
Qinbaï porcelain. H. 23,5 cm. TL test Oxford Authentication Ltd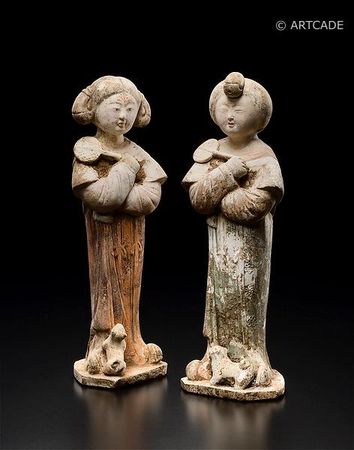 Two young ladies, each with a puppy at her feet and holding a fan in her right hand. China, Tang Dynasty (618-907)
Painted white pottery figures. H. 30,5 cm. TL test Oxford Authentication Ltd