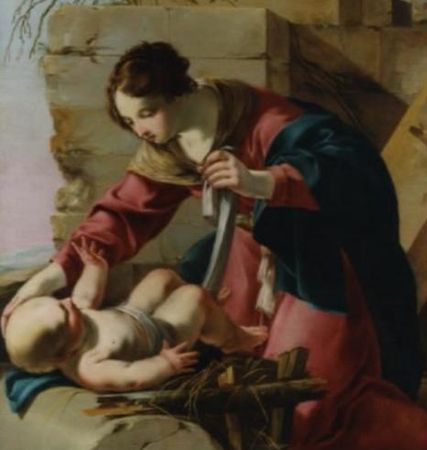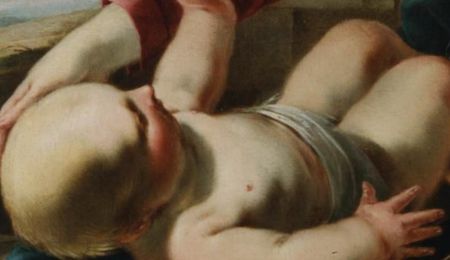 Laurent de la Hyre (Paris, 1606-1656). Vierge et l'Enfant (Madonna and Child)
Huile sur toile, dans un cadre en bois sculpté de la période de Louis XIV. Hauteur : 90,50 cm - Largeur : 71,00 cm. Prix sur demande.
Laurent de la Hyre.Il devint l'élève de Georges Lallemand et étudié les œuvres de Primatice à Fontainebleau, mais n'alla jamais en Italie. La Hyre est associé à la période transitoire avant l'introduction de la musique baroque française de Simon Vouet. Son portrait du pape Nicolas V l'ouverture de la crypte où il découvre le cadavre de saint François d'Assise permanent (qui se trouve au Louvre) a été exécuté en 1630 pour les frères capucins du Marais, sa gravité et de la sobriété semble avoir beaucoup contribué à la prochaine génération de peintres français, en particulier Eustache Le Sueur. Le musée du Louvre comporte huit autres ouvrages, et des peintures de La Hyre se trouvent dans les musées de Strasbourg, Rouen et Le Mans. Richelieu appelé La Hyre au Palais-Royal, Pierre Séguier, Gédéon Tallemant des Réaux et beaucoup d'autres lui a confié d'importants travaux de décoration, car les Gobelins, il a conçu une série de grandes compositions. La Hyre peint aussi un grand nombre de portraits, et en 1654 réunis en un seul travail pour la mairie de Paris, ceux des principaux dignitaires de la municipalité. Parmi ses étudiants: François Chauveau
Oil on canvas, in a sculpted wooden frame Louis the XIVth period. Height : 90.50 cm - Width : 71.00 cm. Price on application
Laurent de la Hyre. He became a pupil of Georges Lallemand and studied the works of Primaticcio at Fontainebleau, but never visited Italy. La Hyre is associated with the transitional period before the introduction of the French Baroque by Simon Vouet. His picture of Pope Nicholas V opening the crypt in which he discovers the corpse of St. Francis of Assisi standing (located at the Louvre) was executed in 1630 for the Capuchin friars of the Marais; its gravity and sobriety seems to have been influential for the next generation of French painters, particularly Eustache Le Sueur. The Louvre contains eight other works, and paintings by La Hyre are in the museums of Strasburg, Rouen and Le Mans. Richelieu called La Hyre to the Palais Royal; Pierre Séguier, Gédéon Tallemant des Réaux and many others entrusted him with important works of decoration; for the Gobelins he designed a series of large compositions. La Hyre painted also a great number of portraits, and in 1654 united in one work for the town-hall of Paris those of the principal dignitaries of the municipality. His students included François Chauveau.
Galerie Adriano Ribolzi 3, avenue de l'Hermitage 98000 Monaco - France. Tel : 00377 97 97 03 77 - Fax : 00377 97 97 03 78 - ribolzi@libello.com - http://www.adrianoribolzi.com