24 janvier 2010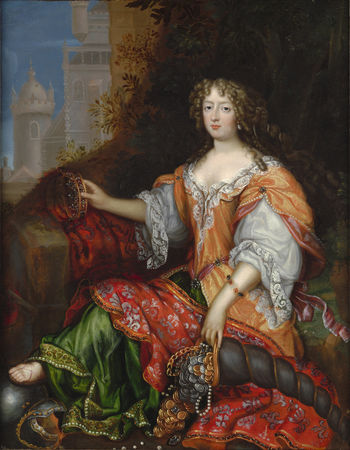 Fortuna, by Henri Gascar (1635-1701). Circa 1670.
Oil on canvas. Height : 90.00 cm - Width : 69.50 cm - Price on application
Notes: Gascar, born in France, is thought to have studied mainly in Italy. He is recorded in Rome in 1659, but evidently moved back to Northern Europe to seek patronage, as evidenced by a portrait of the diarist Nicolas Delafond painted in Amsterdam in 1667 (Hermitage, St Petersburg). Having failed to establish a successful practice in France, he left for England, probably at the behest of Louise de Keroualle, Duchess of Portsmouth, Charles II's favourite French mistress, in about 1672. His style proved immediately popular, contrasting as it did with the more sombre formality of the mainly Dutch court painters. The showy, flamboyant and mannered composition seen here was the perfect expression of the French taste in opposition to English stolidity, and suited the frivolous mood of the times. Even Sir Peter Lely, whose genius had dominated English painting since the Restoration, felt threatened by Gascar's success, which was heightened by the popularity of his novel mezzotint reproductions. The Frenchman painted almost all the leading women of the court, including Barbara Villiers [formerly with Philip Mould Ltd] and Nell Gwyn [lost, known only through an engraving].

Gascar's paintings are immediately noticeable for their vivid colouring and attention to detail, and a tendency to focus on decorative aspects of his subject's dress or setting occasionally at the expense of accurate drawing or likeness. If this picture is one of Gascar's English works, it would reflect perfectly the mood of the Restoration court, for it is hard to perceive how a picture celebrating the role of luck in life, as opposed to the pre-determined rule of Divine will, would have been tolerated in the more Puritanical years of the Protectorate.

The picture may also have a deeper iconographic significance. Unusually, Fortuna's cornucopia, or horn of plenty, is shown here filled with money, rather than the more usual fruit or jewels.

Philip Mould Ltd 29 Dover Street W1S 4NA London - United Kingdom - Tel : +44 ( 0 ) 20 7499 6818 - Fax number : +44 ( 0 ) 20 7495 0802 - art@philipmould.com - http://www.philipmould.com
Commentaires sur Fortuna, by Henri Gascar (1635-1701). Circa 1670.