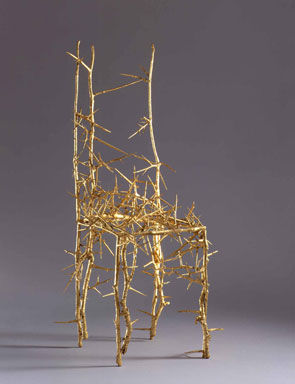 Michele Oka Doner, 'Terrible Chair', ca. 1990. Bronze with gold leaf, 27.5 x 13.5 x 10.5 inches. Photo; Courtesy: Doner Studio
GRAND RAPIDS, MI.- Frederik Meijer Gardens & Sculpture Park, one of the nation's most significant sculpture and botanic experiences, is hosting an exclusive exhibition by American artist Michele Oka Doner. Among the most versatile artists working today, Oka Doner is widely celebrated for her exquisitely beautiful public commissions as well as sculpture, prints, jewelry and functional objects that are now found in public and private collections throughout the world. Spirit and Form: Michele Oka Doner and the Natural World will be on display January 29 through May 9, 2010.

The source of Oka Doner's governing passion emanates from the spiritual nature that forms around us. Drawing inspiration from objects found both on and within land and water, she renders raw materials into strange and secret forms. She considers herself as a hunter/gatherer, seeking the inventiveness of nature and repurposing it into a one-of-a-kind sculpture.

"Religion and spirituality exist all around us, binding humankind and nature together in dialogue; art and design becomes the language for our conversation," said Oka Doner.

In her largest exhibition to date, Spirit and Form presents a rare opportunity to experience Oka Doner's versatility and the breadth of her endeavors from recent figurative projects in bronze and on paper to decorative objects in bronze and silver. The exhibition shows nature as the underlying theme of her work, applied in a variety of usage, scale, materials and media.

"Oka Doner's work suggests the interconnectedness of all things," said Joseph Becherer, Chief Curator and Vice President. "With her openness to the spirit of nature, Oka Doner's work presents a profoundly mystical dimension that is not accidental but rather a combination of her experiences in a variety of settings."

After growing up in Miami Beach, Oka Doner moved to Michigan to begin her career. As a graduate of the University of Michigan with a B.S. in Science and Design and a Master of Fine Arts, Oka Doner took part in her first major solo museum exhibition at the Detroit Institute of Arts in 1978. She continued her work living in Michigan for 12 years before moving to New York City.

Spirit and Form showcases eight large scale relief prints of human forms from organic material; several functional items including serving pieces in bronze and sterling silver, and magnifiers; and Root System a 55 square foot candelabra made of roots cast in bronze. Central to the exhibition is a large installation of 1,500 Soul Catchers.

Oka Doner's work is represented in Meijer Garden's permanent collection. Her work Colossus can be viewed within the 32-acre Sculpture Park and Gnomon is on display indoors. In 2008, the artist installed Beneath the Leafy Crown, a 13,607 foot floor sculpture consisting of more than 1,650 bronze leaf and botanical-inspired elements suspended in deep green terrazzo.

"Michele's work has helped transform Frederik Meijer Gardens & Sculpture Park aesthetically and philosophically," said David Hooker, President and CEO of Meijer Gardens. "This exhibition is an undeniable tribute to her transformational powers as a creator and thinker."

Michele Oka Doner
Michele Oka Doner was born in Miami Beach in 1945. As a child, Oka Doner wanted to be a biologist. Instead, she merged what the came to see as the "art of biology with the science of art." The artist lived in Michigan from 1963-1981 and new resides in New York City. She is a graduate of the University of Michigan with a B.S. in Science and Design and a Master of Fine Arts. Her post-graduate work was done at Wayne State University in Detroit. Oka Doner is the recipient of many awards and grants. Among them are the Distinguished Alumnus Award from the School of Art at the University of Michigan; Legends Award from the Pratt Institute in 2006, Award of Excellence in 2004 from the United Nations Society of Writers & Artists, first place in the Herald Square Subway Competition resulting in a 200-foot long wall, Radiant Site installed in 1990; New York State Council for the Arts and American Institute of Architects Certificate of Excellence for Celestial Plaza installed at the entrance to the Hayden Planetarium; and selection by Metro-Dade's Art in Public Places program for the central pedestrian walkway of the Miami International Airport. Her first public art piece, Fallen Leaf is in the Franking Historic Cemetery in Michigan. She is represented in the public collections of the Art Institute of Chicago, The Detroit Institute of Arts, American Museum of Natural History, Children's Museum of Manhattan, Metropolitan Museum of Art, Whitney Museum, St. Lois Museum of Art, Virginia Museum of Art, Miami Art Museum and Musée des Arts Décoratifs.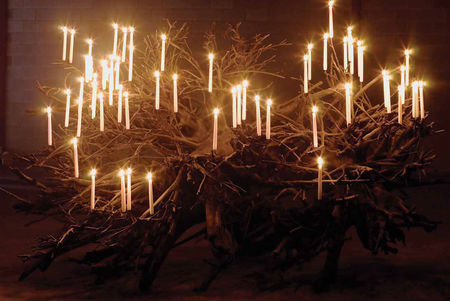 Michele Oka Doner, 'Root System', 2002–2003. Bronze, 69 x 116 x 77 inches. Photo; Courtesy: Doner Studio