Johannes (Jan) Vermeer, 'The Procuress',1656. Canvas, 143 X 130 cm. Dresden, Staatliche Kunstsammlungen, Gemäldegalerie Alte Meister
EDINBURGH.- Three paintings from Johannes Vermeer's early career will be reunited for the very first time at in a display at the National Galleries of Scotland in December 2010. The Young Vermeer will present a unique opportunity to compare directly these three works and discover more about the development of this celebrated artist.

Johannes Vermeer (1632-75) is world-renowned for his meticulous paintings of Dutch interiors, which reflect his fascination with optical effects and serenely balanced compositions. He produced few works – of which less than forty survive – during his career in Delft. The National Gallery of Scotland is one of only 17 galleries worldwide that holds a work by Vermeer in its collection. Whilst his later work concentrates on domestic interiors, his early paintings seem to have focused primarily on traditional subjects derived from the Bible and classical mythology.

The Young Vermeer will show three paintings created between 1653 and 1656: The National Galleries of Scotland's Christ in the House of Mary and Martha, (c.1654-55); The Procuress (1656) from Staatliche Kunstsammlungen Dresden; and Diana and her Companions (c.1653-54) from Mauritshuis, the Royal Picture Gallery in The Hague. While these early works differ greatly from his later paintings in terms of subject-matter, size, and style they already show Vermeer's interest in the depiction of colour, light, and texture.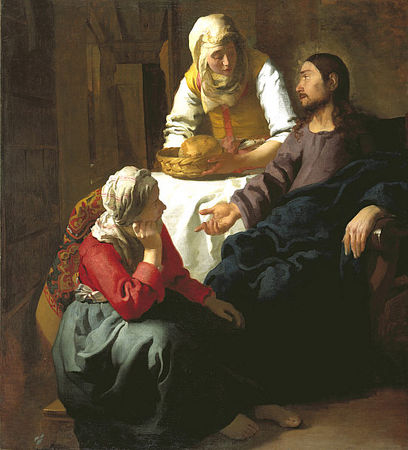 Johannes (Jan) Vermeer, Christ in the House of Mary and Martha, c.1654-55. Canvas, 158.5 x 141.5 cm. National Gallery of Scotland
Johannes (Jan) Vermeer, Diana and her Companions, c. 1653-1656, oil on canvas, 38 3/4 x 41 3/8 in. (98.5 x 105 cm.). Koninklijk Kabinet van Schilderijen Mauritshuis Mauritshuis, The Hague