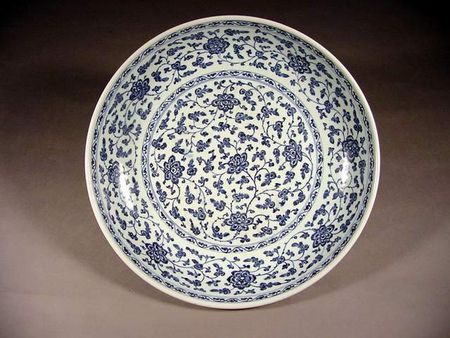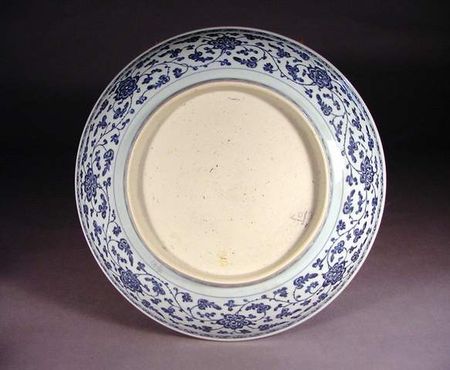 Ming style Blue & White Charger. 清代 Qing Dynasty, 乾隆 Qianlong Period (1736-1795) © 2000-2010 teadust.com
A large blue and white Ming style dish (charger) with rounded sides rising in a gentle flare to a out-turned rolled rim supported on a ring foot decorated on the exterior with a meandering lotus blossom and tendril scroll between line borders framed by a single leafy tendril scroll border. The interior cavetto repeating this pattern with the well of the dish also covered in a blossoming lotus tendril design. The bottom of the dish is unglazed showing the burnt biscuit. The stippling application of the cobalt blue pigment was to simulate the "heap and piling" effect seen on early Ming blue and white wares caused by iron rising to the surface during the firing process. Diameter: 14 3/4" (37.5 cm) Height: 3 1/8" (7.95 cm). Condition: Excellent, two collector's marks etched into the surface, one on the base and another on the exterior above the foot, slight surface wear.
Price on appliation (Please refer to item #BW-228 when inquiring.)
Note : A very similar Ming style dish is illustrated in, A Descriptive and Illustrated Catalogue of the MALCOLM MACDONALD COLLECTION OF CHINESE CERAMICS in the Gulbenkian Museum of Oriental Art and Archaeology School of Oriental Studies University of Durham, Ireneus László Legeza, Plate LXXV, No. 212.
Vermeer & Griggs Asian Art 3705 New Macland Road, Suite 200-312, Powder Springs, Georgia 30127-1966. Tel: (770) 222-8529 - info@teadust.com or info@vermeer-griggs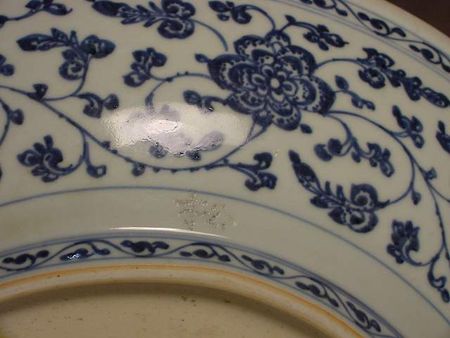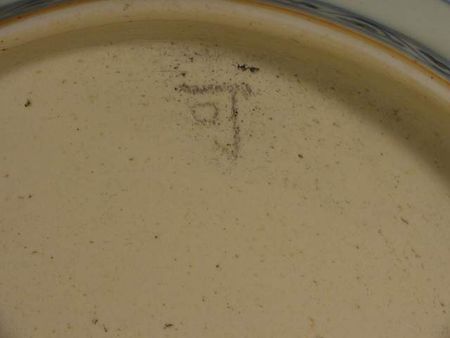 Two collector's marks.