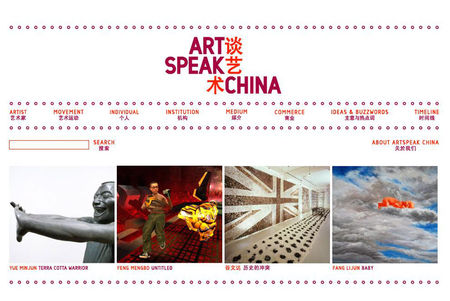 ArtSpeakChina now contains well over 300 articles and a multi-media timeline of historical and arts events since 1949, and is growing by the day
NEW YORK, NY.- ArtSpeakChina (ASC), the first online, collaboratively authored bilingual encyclopedia of Chinese contemporary art officially launched today. Now online at both www.artspeakchina.org and www.tanyishu.cn, the Wikipedia-style reference guide provides both English and Mandarin speakers with hundreds of in-depth articles on Chinese artists and the world of Chinese contemporary art. ASC's bilingual, collaborative character helps overcome the language barrier and is already improving the global availability, exchange and quality of information about Chinese contemporary art.

ArtSpeakChina now contains well over 300 articles and a multi-media timeline of historical and arts events since 1949, and is growing by the day. Articles can be explored by category (artists, curators, critics, museums, galleries, collectors, etc.); by searching on a specific name, topic or text; or by following articles' internal links.

ASC operates not only as a direct reference source, but throughout its articles provides context-specific links to other definitive sources, including Asia Art Archive, the San Francisco Art Institute, AW Asia, Artzine China, and the Asia Society Museum. ASC also provides previously unavailable information, including a real-time view of the most accessed artists' entries by number of page views and location, revealing for the first time such shifts in community interest and involvement. With more than 10,000 page views a day prior to its official launch this week, such rankings and other statistics constitute a meaningful indicator of developments and trends in contemporary Chinese art.

ASC users are encouraged to create and edit content in either language, to assure that ASC grows to cover the full depth and breadth of today's dynamic Chinese contemporary art community. Content can be added or edited by anyone with an Internet connection and is promptly reviewed by ASC editors for accuracy, notability and readability before publication. A rotating, pro bono advisory committee is assisting ASC's editors in the development process and is this year comprised of artist Yue Minjun, Mainland historian/curator Lv Peng and New York based critic Barbara Pollack, author of forthcoming book "Wild, Wild East: An American Art Critic's Adventures in China."

As an encyclopedia, ArtSpeakChina does not contain opinion or original research. All information presented in articles must be sourced to previously published books, periodicals, websites or press releases.

A complementary site for previously unpublished material, ASCArchive.org, will launch later this year to allow persons who are the subject of an article on ArtSpeakChina to provide primary source materials including old photographs, diaries, articles, and other artifacts from the early days of contemporary Chinese art. Archive information will be presented on ASCArchive.org in its raw form, unedited and un-translated, for the use of researchers, students and Chinese art aficionados.