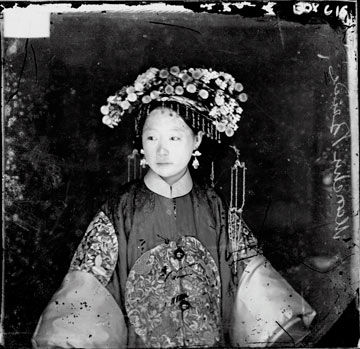 A Manchu bride, Beijing 1871-2. © The Wellcome Library, London
This is the first exhibition in England of photographs of 19th century China taken by the legendary Scottish photographer and travel writer John Thomson (1837-1921).
Unlike most photographers working in the Far East at that time, Thomson was not a government official, nor a missionary. He was a professional photographer who was fascinated by China. Thomson possessed an open mind and was sensitive to the lives and surroundings of his subjects. He was able to capture people and street life in a most natural way. His photographs therefore form a unique archive documenting 19th century China's landscapes, architecture, people and customs.
Thomson (1837-1921) was a pioneer in photo-journalism and one of the most influential photographers of his generation.
In 1862 he travelled to Asia and became interested in its culture and people. He returned to the Far East in 1868 and based himself in Hong Kong, and then in 1870 he began his two-year exploration of China. He travelled from Guangdong to Fujian, and then to eastern and northern China, before heading down to the Yangtze River, altogether covering nearly 5000 miles.
The photographs in this exhibition document his journeys through China from 1868 to 1872.
During his travels Thomson combined his talents as a portrait and landscape photographer to capture the unfamiliar scenes he encountered. He was interested in the customs, occupations and appearance of the Chinese people - whether rich or poor. Most Chinese people were still unfamiliar with photography, but Thomson was able to communicate with his subjects effectively. As a result, and in contrast to his contemporaries, he portrayed China and its people both faithfully and with sensitivity.
Thomson's curiosity for Eastern culture and love of China brought us the first photographic social documentation of China and its people. He believed that;
"the camera should be a power in this age of instruction to instruct the age"
Thomson believed that through photography;
"the explorer may add not only to the interest, but to the permanent value of his work".
He was eager to promote public knowledge about China. He lectured, wrote books and became known as 'China' Thomson.
In 1920 Thomson decided to sell his 650 glass negatives, including those of China, to the Wellcome Historical Medical Museum, but he died before he could. Eventually Henry Solomon Wellcome bought them from Thomson's family for the Wellcome Library in London, where they remain today.
Thomson's collection of 650 glass plate negatives is now housed in the Wellcome Collection Library, London. This exhibition of almost 150 prints from the collection was shown in venues across China in 2009 before coming to Liverpool. Following the Merseyside Maritime Museum it will tour to Hartlepool in late 2010 and The Burrell Collection in early 2011.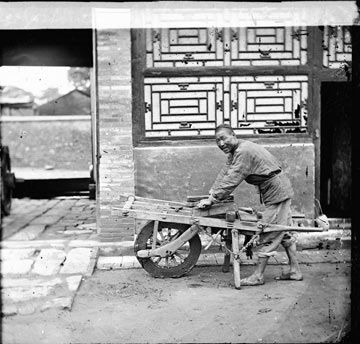 A knife grinder, Beijing 1871-2. © The Wellcome Library, London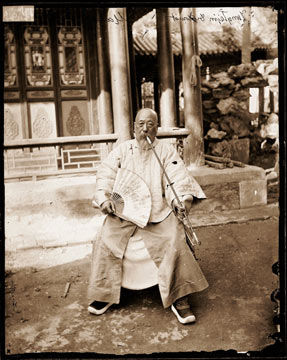 Dong Xun (1810 - 1892), minister of foreign affairs, Beijing 1871-2. © The Wellcome Library, London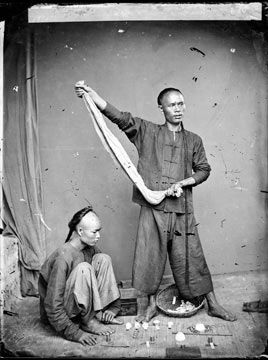 Street gamblers, Guangzhou, Guangdong 1868 - 1871.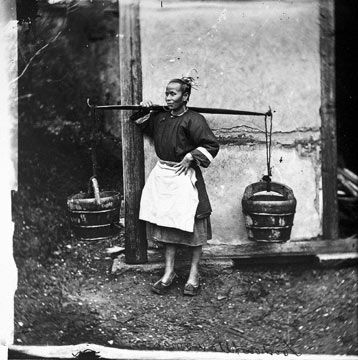 A native woman carrying buckets, Fuzhou, Fujian 1871.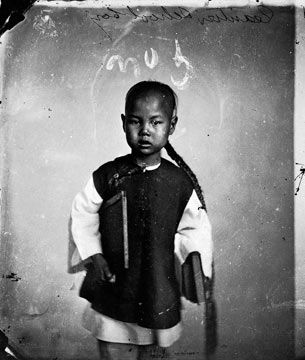 A Cantonese schoolboy, Guangzhou, Guangdong 1869 - 1870.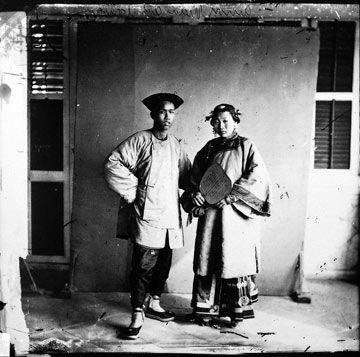 An Amoy couple, Xiamen, Fujian 1870 - 1871.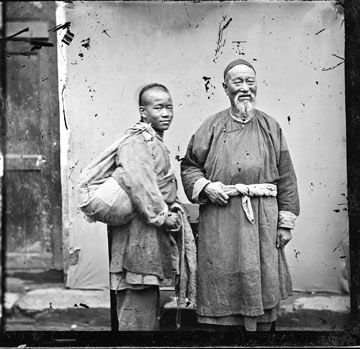 An old Muslim cook with his assistant, Beijing 1871-2. © The Wellcome Library, London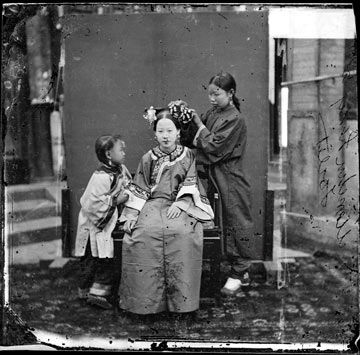 A Manchu lady after having her face painted, Beijing 1871-2. © The Wellcome Library, London
'China through the lens of John Thomson 1868 - 1872'. An exhibition at Merseyside Maritime Museum, 5 February to 6 June 2010. Free admission. www.liverpoolmuseums.org.uk