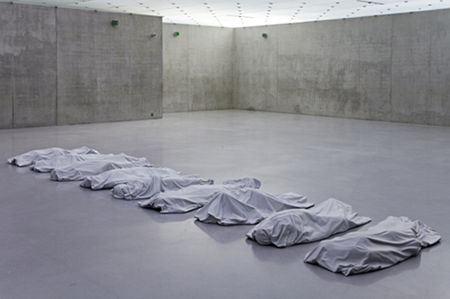 Maurizio Cattelan All, 2007 Marble. Installation view Kunsthaus Bregenz, 2nd floor Photo: Markus Tretter © Maurizio Cattelan, Kunsthaus Bregenz
Contemporary Italian artist Maurizio Cattelan (b. 1960) is known for his witty embrace of semantic shifts that result from imaginative plays with materials, objects, and actions. In his work, contradictions in the space between what the artist describes as softness and perversity wage a sarcastic critique on political power structures, from notions of nationalism or the authorities of organized religion to the conceit of the museum and art history. Like the traditions established by Dada and Surrealism, his uncanny juxtapositions uproot stable understandings of the world around us. For Cattelan even the banal is absurd. As he has said, "Comedians manipulate and make fun of reality. Whereas I actually think that reality is far more provocative than my art."

The exhibition at The Menil Collection, organized by Franklin Sirmans, curator of modern and contemporary art, will be the artist's first solo show in Texas. The exhibition will focus on recent large-scale works that premiered in Europe in 2007 and will feature sculptures that range in tone from the melancholic and politically contentious to the decidedly irreverent. It will include Ave Maria, 2007, a series of saluting arms that extend from the wall; the translated title "Hail Mary" remains intentionally ambiguous, much like the various cultural meanings conjured up by gestures of allegiance.

Cattelan will also realize additional works for the exhibition in response to site visits to The Menil Collection campus and the museum's world-famous collection of Surrealist works. Significantly, these pieces will also mark the artist's return to sculpture-based practice. For the last five years his work has largely centered on publishing and curating. Projects have included the founding of "The Wrong Gallery" in 2002 and its subsequent display within the collection of the Tate Modern from 2005 to 2007; collaborations on the publications Permanent Food, 1996– 2007, and Charley, 2002–present (the former an occasional journal comprising a pastiche of pages torn from other magazines, the latter a series on contemporary artists); and the curating of the Caribbean Biennial in 1999 and the Berlin Biennial in 2006.

Curated by Franklin Sirmans, Curator of Modern and Contemporary Art.
February 12 – August 15, 2010