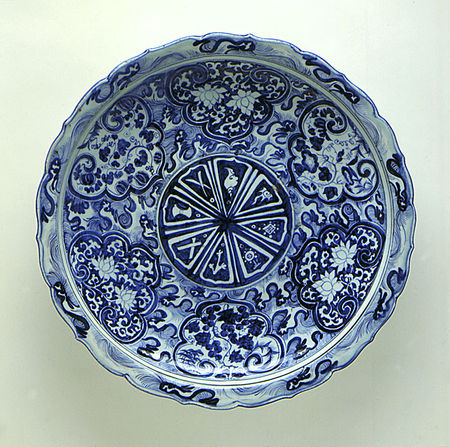 China, Jiangxi Province, Jingdezhen. Foliated Platter (Pan) with the Eight Buddhist Symbols (Bajixiang), Flowers, and Waves, late Yuan dynasty, circa 1340-1368. Los Angeles County Museum of Art
Molded porcelain with blue painted decoration under clear glaze. Height: 2 1/4 in. (5.9 cm); Diameter: 17 3/4 in. (45.1 cm). 55.40. Gift of the Francis E. Fowler, Jr., Foundation and the Los Angeles County Fund.
Flourishing in the Yuan dynasty, blue-and-white ceramic ware soon dominated the export market; demand for it spread rapidly. A plate of this design and size was probably made for the Near Eastern market and would have been used on formal or ritual occasions, given as a gift, or awarded for services. This example is typical of early blue-and-white Yuan ceramics, with its foliated rim, unglazed base, and freely drawn wave motif. The technique of blue underglaze with white reserved areas, all with a clear feldspathic overglaze, emerged from innovative Yuan ceramic experiments.
The feathery wave motif circles the plate's rim. Three additional concentric tiers of waves give the plate's surface a lively and unpredictable pattern. The two middle wave tiers are interrupted by six lobed cloud-collar patterns, which echo the rim shape. Designs in the cloud collars include lotuses, abstract foliage, melons, grapes, bamboo, and morning glories. Some scholars believe the cloud-collar shape derives from designs in Persian metalwork or Mongol and Tatar embroideries; others suggest that it derives from Buddhist designs representing the four cardinal directions.
While the overall program of the plate's design is Islamic in taste, its primary motifs are Chinese. For example, the center medallion's eight partitions contain auspicious Buddhist symbols and the medallion itself represents the Buddhist Wheel of Law. Underneath the rim is a Near Eastern scrolling floral design of lotus or aster blossoms alternating with pomegranates. http://collectionsonline.lacma.org