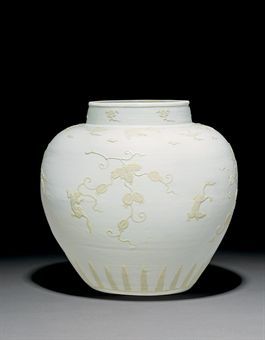 A very rare slip-decorated white-glazed jar. Ming dynasty, 16th century. Photo Christie's Image Ltd 2010
Unusually decorated around the sides with four melon vines and four squirrels seen biting a tendril of each vine, between a band of slender leaves below and dragons amidst clouds on the high shoulder, with further clouds on the slightly tapering neck, all in slip with incised details that has been left in the biscuit in contrast to the white glaze ground, the interior also glazed white and the base left unglazed - 12 in. (30.4 cm.) high - Estimate : $300,000 - $500,000
Provenance: Private Japanese collection.
Eskenazi, London.
Notes: This charmingly decorated jar is of a very rare type with white slip designs on a white-glazed ground. The use of contrasting unglazed areas has quite a long history in Chinese ceramics, and was employed with considerable success at the Longquan kilns in the Yuan period. At that time areas of ceramic vessels were reserved using wax, as on the well-known octagonal bottle with reserved molded panels illustrated by R. Scott, Imperial Taste - Chinese Ceramics from the Percival David Foundation, San Francisco, 1989, pp. 48-9, no. 21. Another method of achieving the contrast between glazed and unglazed areas was also seen at the Longquan kilns in the Yuan period. This technique involved sprig-molding elements and then placing them on top of the unfired glaze, so that during firing they floated on the glaze. This can be seen on a dragon and cloud-decorated dish seen on the front cover of Illustrated Catalogue of Celadon Ware in the Percival David Foundation of Chinese Art, London, rev. ed. 1997, no. 255. Because of small amounts of iron in the Longquan body and glaze material, the result of both of these techniques was to produce reddish-brown areas of matte body material against a background of glossy celadon green glaze.

The use of unglazed slip decoration against a glossy glazed ground can also be seen on a small number of late 15th century vessels, usually with the decoration appearing in white against a cobalt blue ground. These pieces are closer in style to the current jar, since the slip decoration is often rather painterly in its application. For a bowl with inverted rim in the collection of the Percival David Foundation, for example, decorated with a quite delicate bird on a blossoming branch see Illustrated Catalogue of Underglaze Blue and Copper Red Decorated Porcelains in the Percival David Foundation of Chinese Art, London, rev. ed. 2004, p. 40, no. A632. It is this type of decoration that is the precursor of that on the current vessel, which is also painterly in its design application. However, the current vessel is more subtle in that the matte white decoration is set against a glossy white ground. This style of decoration, which requires a more intimate examination of the piece, is reminiscent of the approach seen in the anhua (secret) decoration on fine 15th century white porcelains, which also require close examination for full appreciation of the designs.

A white Jiajing jar of similar form, and with decoration executed in similar slip to that on the current vessel, donated by Ernest Grandidier to the Musée Guimet, Paris, is illustrated by Xavier Besse and Anne-Marie Amon, La Chine des porcelains, Paris, 2004, pp.70-1, no. 17. (Fig.1) The Paris jar has a scene of plants and birds as its major band, while cranes flying amongst clouds decorate the shoulder. Unlike the current vessel, the iron in the slip on the Paris jar has oxidized to reddish brown. This may have been deliberate on the part of the potter, but in the mid-Ming period is more likely to have been a firing error. Like the current vessel, the base of the Paris jar is unglazed.
The combination of squirrels and melons provides an appropriately auspicious wish. Melons contain many seeds and thus symbolize many sons. The fact that the melons are on a long stem, which bears many fruit, each one of which would contain innumerable seeds, suggests never-ending generations of descendants. This view of melons is made very clear in the calligraphic inscription by Wang Ao (1450-1524) on Shen Zhou's (1427-1509) painting of pomegranate and melon vine, now in the Detroit Institute of Arts. This inscribed painting was produced around c. 1506-09 for a mutual friend, Wu Chunhong, who fervently longed for a son, and the subject of both painting and inscription carry the hope that Wu Chunhong would soon be granted his wish. Melons were a popular subjet for Chinese artists, not only as symbols of progeny, but because they were visually pleasing, and, as Qian Xuan (c. 1235-before 1307) explains in the inscription on his painting of melons, they could suggest cool relief from the heat of summer (see James Cahill, Hills Beyond a River: Chinese Painting of the Yuan Dynasty 1279-1368, New York, 1976, p. 29). Although squirrels are more often depicted with grapes, their combination with melons is equally auspicious. Squirrels are believed to be very successful in reproduction, and hence together with the melons they suggest an auspicious wish for a wealth of sons and grandsons. The dragons on the shoulders of the jar fly amongst clouds, as they are often depicted. However, these too provide an auspicious wish, since the Chinese word for cloud is pronounced yun, which sounds like one of the words for luck.

This lovely jar with its fluently applied slip decoration and delicately incised details thus combines, rarity, auspicious wishes, and aesthetic appeal.
Christie"s. Fine Chinese Ceramics and Works of Art Including Property from the Arthur M. Sackler Collections. 26 March 2010. New York, Rockefeller www.christies.com