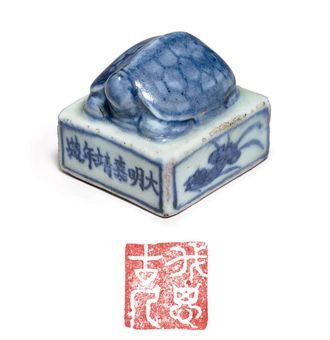 A rare blue and white porcelain seal Da Ming Jiajing Nian Zao six-character mark in underglaze blue in a line and of the period. Photo Christie's Image Ltd 2010
The top molded with a tortoise above lingzhi sprays on three sides and the reign mark on the fourth, the base with a four-character intaglio seal, Wo si guren - 1¾ in. (4.5 cm.) square - Estimate : $25,000 - $35,000
Provenance: Sydney L. Moss Ltd., London,
Literature! Paul Moss, Emperor, Scholar, Artisan, Monk: The Creative Personality in Chinese Works of Art, London, 1984, no. 69.
Notes: The seal, Wo si guren, may be translated as,' I am thinking of the ancients'.

Paul Moss in his entry for this rare seal in Emperor, Scholar, Artisan, Monk, London, 1984, no. 69, notes that "few blue and white porcelain seals are published or recorded". He goes on to quote the 16th century expert, Kan Yang, that because of the hardness of porcelain it is difficult to carve a seal, and consequently the characters are coarse. They usually have tortoise, roof-tile and 'nose-shaped' knops. A blue and white example with a roof-tile knop, bearing a Xuande mark and cyclically dated to 1433, was sold in our London rooms, 16 October 1969, lot 45, and was later sold at Doyle, New York, The F. Gordon Morrill Collection, 16 September 2003, lot 94. The inscription on that seal reads Zhe wei jin? wu ('kindness is the substance of compassion').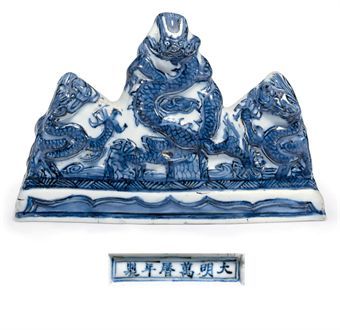 A rare blue and white 'dragon' brush rest. Wanli six-character mark in underglaze blue in a line and of the period (1573-1619). Photo Christie's Image Ltd 2010
Hollow-molded as three peaks formed by dragons leaping above rocks and waves, the mark within a recessed panel on the unglazed base - 6 3/8 in. (16.2 cm.) long - Estimate : $25,000 - $35,000
Provenance: C.T. Loo & Co., Paris, 1980s.
Notes: Porcelain brush rests of this type were made in two designs, with either three or five peaks; the three-peaked variety was perhaps the most fortuitous as the shape is fundamentally that of the Chinese character shan ('mountain'). A very similar example is illustrated in Chinese Ceramics in the Idemitsu Collection, Tokyo, 1987, pl. 734. See, also, the similar brush rest sold in these rooms, 3 June 1988, lot 258.
Christie's. For the Enjoyment of Scholars: Selections from the Robert H. Blumenfield Collection. 25 March 2010. New York, Rockefeller Plaza www.christies.com