A large blue and white charger. Wanli six-character mark in underglaze blue within a double circle and of the period (1573-1619) Photo Christie's Image Ltd 2010
Heavily potted, the center painted with boys at play as scholars, below water birds in a lotus pond in the well, the exterior with a band of conjoined lotus buds - 16¼ in. (41.2 cm.) diam. Estimate: $20,000 - $30,000
Notes: A similar dish of slightly smaller size (31.4 cm.) is illustrated by Rosemary Scott in Elegant Form and Harmonious Decoration, Percival David Foundation of Chinese Art, London, 1992, no. 91.
A large blue and white meiping. Wanli six-character mark in a line in underglaze blue and of the period (1573-1619). Photo Christie's Image Ltd 2010
Decorated in imitation of Xuande period (1426-1435) prototypes and boldly painted in inky underglaze blue around the sides with a four-clawed dragon trailing flames from its shoulders and grasping a stem of lingzhi in its jaws between petal lappet borders - 17¼ in. (43.8 cm.) high - Estimate : $10,000 - $15,000
Provenance: Acquired in Hong Kong in 1982.
Notes: Compare two other similar, but larger, Wanli-marked meiping: one (63.4 cm.) illustrated by Lu Minghua in Mingdai Guanyao Ciqi, Shanghai, 2007, p. 167, fig. 3-97; the other (58.5 cm.) illustrated in Mayuyama, Seventy Years, Tokyo, vol. 1, p. 318, no. 952. These and the present meiping were made in imitation of Xuande period (1426-35) prototypes, such as the one illustrated in Imperial Porcelain of the Yongle and Xuande Periods, Excavated from the Site of the Ming Imperial Factory at Jingdezhen, Hong Kong, 1989, pp. 258-9, no. 88.
A rare blue and white globular jar. Jiajing six-character mark in underglaze blue and of the period (1522-1566). Photo Christie's Image Ltd 2010
The compressed globular body painted with ascending and descending five-clawed dragons, phoenixes and cranes amidst small wispy clouds, between a double-line border at the rim and a series of ruyi head-form clouds above a double-line border on the shallow, spreading foot - 4 in. (10.2 cm.) high - Estimate: $8,000 - $12,000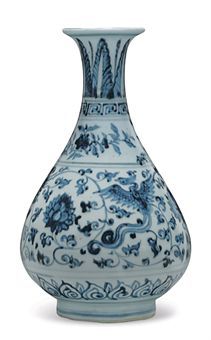 A blue and white bottle vase, yuhuchunping. Ming dynasty, 16th century. Photo Christie's Image Ltd 2010
Painted with a broad band of three phoenixes in flight amidst lotus scroll between borders of petals and flower sprays, with bands of key fret and upright leaf tips on the neck - 9 1/16 in. (23.1 cm.) high. Estimate : $5,000 - $7,000
Christie's. Fine Chinese Ceramics and Works of Art Including Property from the Arthur M. Sackler Collections. 26 March 2010. New York, Rockefeller www.christies.com