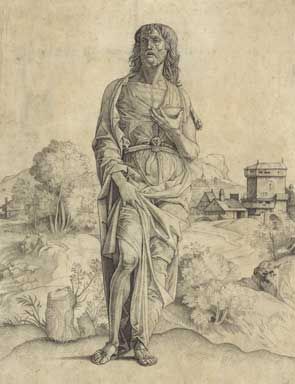 Giulio Campagnola (1482-1515) Saint John the Baptist (B. 3), engraving, circa 1505. P., S. 346 x 239 mm. Estimate: £30,000 - 50,000. Photo: Christie's Images Ltd 2010
LONDON.- This March Christie's presents the first of its bi-annual auctions of Old Master, Modern and Contemporary Prints. The sale offers a striking range of works spanning five hundred years of print making, including unique and extremely rare works by Campagnola, Dürer, Matisse, Picasso and Warhol amongst signature works by other masters of the medium. A selection of these great names are offered from the Pach Collection, the celebrated collector and co-founder of the legendary Armory Show, some of which were given to him by renowned artists including Matisse and Redon.

Old Masters Prints
The highlights of the Old Master section of the sale are two of Albrecht Dürer's so-called "Master Prints" in beautiful impressions, Knight, Death and the Devil (estimate: £100,000 - 150,000) and Saint Jerome in his Study (estimate: £70,000 - 100,000), as well as the rare and highly important Saint John the Baptist by Giulio Campagnola (estimate: £30,000 - 50,000). As the collection stamps on the reverse illustrates, this engraving has been in two prominent collections oneither side of the Atlantic: that of the great English collector and scholar Richard Fisher (1809-1890), and of one of the earliest American print collectors, Francis Bullard (1862-1913). Further research however, revealed that it was previously owned by the leading London dealer and connoisseur Samuel Woodburn (1786-1853), and sold at Christie's as part of his estate in 1854 for the substantial sum of £10 and 5 shillings.
What makes this engraving of Saint John the Baptist, of which only thirty impressions are known, particularly intriguing is the combination of two seemingly disparate styles: the outlines of the saint and the folds of his cloak are depicted with clear, hard lines forming a stark contrast with the shading and landscape, which were rendered in tiny dots of varying strength and density and created by little flecks with the burin or needle into the copper plate. The figure of John the Baptist is undoubtedly based on a composition by Mantegna yet the landscape was probably transferred from a drawing attributed to Giorgione in the Louvre - it even appears that Campagnola invented the 'stipple technique' for the shading, in order to translate Giorgione's invention of the sfumato-technique into the medium of engraving. Whilst this delicate effect is beautiful, the technique proved unpractical as very few good impressions could be taken before the plates wore out and couldn't be reworked, making Campagnola's print extremely rare.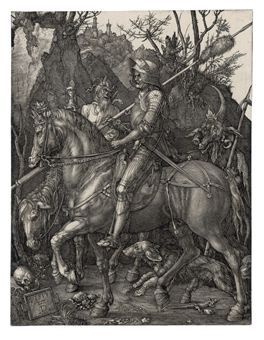 Albrecht Dürer, Knight, Death and the Devil (B. 98; M., Holl. 74; S.M.S. 69), engraving, P., S. 1513, 247 x 190 mm. Estimate: £100,000 - £150,000. Photo: Christie's Images Ltd 2010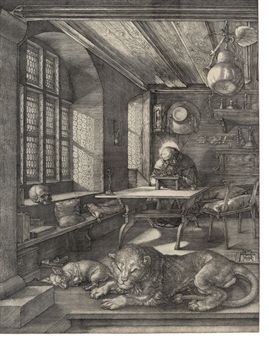 Albrecht Dürer, Saint Jerome in his Study (B. 60; M., Holl. 59; S.M.S. 70), engraving, 1514.P., S. 243 x 186 mm. Estimate: £70,000 - £100,000. Photo: Christie's Images Ltd 2010
Modern Prints
Within the modern section of the sale, Christie's is proud to present the Collection of Walter Pach (1883-1958); art historian, critic and one of the cofounders and organisers of the first Armory Show in New York in 1913. The Pach Collection has been unseen for over thirty years and its rediscovery brings works by the masters of modern printmaking to the market once again. Pach established his collection during the early 20th century, and a number of his prints were given to him by their creators. Odilon Redon and Henri Matisse are among the names featured in Pach's collection and both these artists exhibited at the first Armory Show - Redon first exhibited Perversité (estimate: £3,000 - £5,000), at this event so it must have been then that he presented it to Pach. Matisse's La Sieste (estimate: £4,000- 6,000), and Nu sur Chaise de Repos sur Fond moucharabieh (estimate: £8,000- 12,000) were also gifts to Pach, and alongside other fine examples by Picasso, Rodin and Villon they form part of this very personal collection.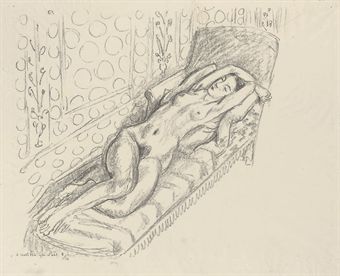 Henri Matisse, La Sieste (D.-M. 427), lithograph, 1922. L. 405 x 435 mm., S. 464 x 571 mm. Estimate: £4,000- 6,000. Photo: Christie's Images Ltd 2010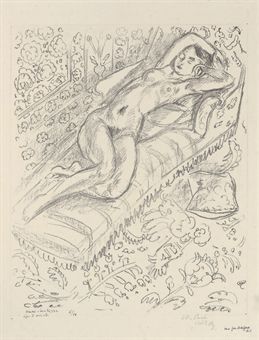 Henri Matisse, Nu sur Chaise de Repos sur Fond moucharabieh (D.-M. 426), lithograph, 1922. L. 492 x 400 mm., S. 610 x 475 mm. Estimate: £8,000- 12,000. Photo: Christie's Images Ltd 2010
Contemporary Prints
Highlights in this section of the sale include works by some of the crucial artistic personalities of the second half of the 20th century such as Andy Warhol, Cy Twombly, Bruce Nauman, Roy Lichtenstein, Tom Wesselmann and David Hockney, as well as a work by a more recent star of the contemporary art world, Turner-prize winner Grayson Perry.

Cy Twombly's Roman Notes (estimate: £100,000-150,000), is an iconic and large-scale example of Twombly's signature "scribbles", and is based on a series of paintings of the same name executed in 1971. The influence of Leonardo da Vinci is often cited as one of Twombly's key sources of inspiration, and Roman Notes clearly owe much to the great artist's Codices in which he famously recorded observations about the natural world, ideas and inventions in a coded mirror-script. Twombly's repeated cyclical motion of loose, undulating and non-figurative marks echo Leonardo's graphic approach to interpreting the mysteries of the world, but, unlike the Codices, which can ultimately be decoded, Twombly's 'notes' transcend any specific associations or content.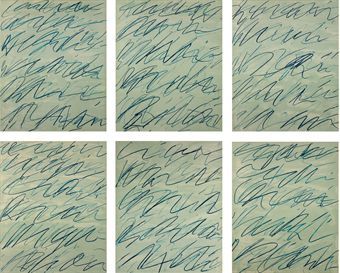 Cy Twombly (b. 1928), Roman Notes (Bastian 21-26), the complete set of six lithographs printed in colours, 1970. L., S. 868 x 700 mm. (6). Estimate : £100,000-150,000. Photo: Christie's Images Ltd 2010
Andy Warhol's unique screenprint, Moonwalk (estimate: £30,000-50,000), is a striking depiction of an iconic moment in human history. Combining a palette of neon colours, and fluorescent outlines, Warhol updates the original freeze-frame image of the astronaut Buzz Aldrin standing next to the American flag which was broadcast to millions of viewers around the world in 1969. Warhol's initials are visible across Aldrin's visor; a typically ironic touch by the artist who thereby adds his mark to the famous image, just as the American flag was added to the surface of another world.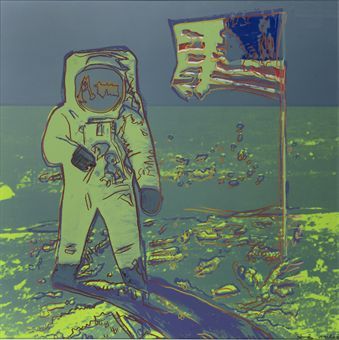 Andy Warhol, Moonwalk (cf. F. & S. IIB.404-405), unique screenprint in colours, 1987, I., S. 965 x 965 mm. Estimate : £30,000-50,000. Photo: Christie's Images Ltd 2010