Zeltgalerie: Das große Dreimastzelt (20 m lang, 8 m breit und 6 m hoch), osmanisch, 17. Jahrhundert. Rechte: Staatliche Kunstsammlungen Dresden, Rüstkammer/Hans-Peter Klut, Elke Estel
DRESDE.- À partir du 7 mars 2010 au château de la Résidence de Dresde La « Türckische Cammer » est l'une des expositions des trésors ottomans les plus remarquables et les plus importantes, et le dernier projet en date auquel participe l'Initiative Ernst Reuter. Plus de 600 pièces de grande valeur sont présentées sur une superficie de près de 750 mètres carrés dans le château de la Résidence de Dresde.
La « Türckische Cammer » est tout sauf petite : plus de 600 pièces de grande valeur sont présentées sur une superficie de près de 750 mètres carrés dans le château de la Résidence de Dresde. Les premières pièces de collection ont été réunies par le prince électeur Auguste de Saxe au XVIe siècle.
En accumulant les présents diplomatiques et les butins de leurs différentes batailles contre les Ottomans mais aussi en procédant à des acquisitions ciblées, les souverains saxons ont constitué durant plusieurs siècles une collection d'œuvres d'art exotiques qui est aujourd'hui sans équivalent en Allemagne. Cette collection fait découvrir aux visiteurs une époque particulièrement somptueuse de l'histoire ottomane. Elle témoigne également du grand intérêt que la cour saxonne portait à une autre culture et à un autre art de vivre, et elle révèle l'influence évidente de l'Orient sur l'art européen de l'époque. En effet, une partie des œuvres ont été réalisées en Europe dans des ateliers de renom qui intégraient les influences ottomanes en les combinant avec les styles européens.
La principale pièce de la « Türckische Cammer » est une tente ottomane officielle de 20 mètres de longueur, 8 mètres de largeur et six mètres de hauteur datant du XVIIe siècle. Cette précieuse toile est arrivée à Dresde en passant par la Pologne, en 1729, à l'époque des guerres contre les Turcs. En 1942, elle était encore exposée dans la cour vitrée du Johanneum à Dresde. Pour la préserver contre les dévastations de la guerre, elle fut mise à l'abri, et ce n'est qu'en 1994 qu'elle fut ressortie pour être restaurée.
Jusqu'à présent, les pièces de la « Türckische Cammer » ne pouvaient être admirées que séparément dans le cadre d'expositions temporaires. Avec la restauration du château de la Résidence de Dresde, la « Türckische Cammer » redevient à partir du mois de mars 2010, après plus de 60 ans, une exposition permanente qui présente sous un toit l'ensemble des trésors orientaux réunis par les princes électeurs.
The Director of the Gruenes Gewoelbe (Green Vault), Dirk Syndram posing for photographs at the 'Tuerckische Cammer' (Turkish Chamber). EPA/MATTHIAS HIEKEL
DRESDEN.- The word Cammer literally means "chamber" or "small room", but this collection is anything but small – it is one of the grandest of its kind. The opening of the Türckische Cammer (Turkish Chamber) is also the first step in returning the Rüstkammer (Armoury) to the Dresdner Residenzschloss (Dresden Royal Palace). In this sense, the Türckische Cammer is not a new addition to the Staatliche Kunstsammlungen Dresden (Dresden State Art Collections), but part of a historical collection that until now has lacked suitable exhibition space. The permanent exhibition will occupy 750m² on the second floor of the palace and will display some 600 Oriental and Oriental-style pieces. The wide-ranging historical collection offers visitors the opportunity to view exquisite works and gain insight into how outward-looking cultures during the Renaissance and Baroque periods interacted, influenced and fascinated one another.

Over several centuries, Saxon rulers amassed a collection of exotic works of art, consisting of diplomatic gifts, goods looted after battles against the Ottomans but also of well-planned acquisitions, that is unmatched in Germany today and reveals a particularly grand side of Ottoman history. It also traces the Saxon court's increasing desire to understand other cultures and its fascination with Oriental art, as some of the pieces were produced by major European workshops in an Ottoman style.

The exhibition design, planned by Holger Schuckelt and implemented by the architects Peter Kulka Architektur Dresden GmbH, is a genuine reinvention and is entirely unique in this form.

The main attractions will be the sumptuous Ottoman state tents and the extensive range of parade tack displayed on life-sized Arab stallions carved especially for the exhibition. In conjunction with chain mail, helmets, flags, weapons and robes, these textile treasures depict the fascination of the Saxon electors with Ottoman art and culture. Dresden's collection of Ottoman and Oriental-style art is one of the biggest in Germany. Its largest piece alone – a 20-metre-long, eight-metre-wide and six-metre-high Ottoman state tent with magnificent appliqués in silk and gold leather – was extensively restored at a cost of over €3.6 million. Since the early 1990s, the Kunstammlungen's restorers and a large team of freelance staff have been carrying out state-of-the-art restoration and renovation work on the objects in the collection.

History: When the large-scale museum exhibition in the Residenzschloss opens its doors in March 2010, it will be the first time in 70 years that so many of these treasures are on public display. A few of the works were on display in another form in Dresden's Johanneum until 1942. After the Second World War, most of the pieces were taken to Russia and were returned to Dresden from St. Petersburg in 1958 with other pieces from the Rüstkammer. Since 1959 a small selection of the Türkische Cammer collection has been integrated into the Rüstkammer's permanent exhibition in the East Hall of the Semperbau am Zwinger.

Exhibition architecture: As part of the reconstruction of the Residenzschloss, an entirely new design of the exhibition space resulted from the Rüstkammer exhibition concept developed in collaboration with the architects at Peter Kulka Architektur Dresden GmbH. To protect the textiles (tents, flags, clothing, pelmets and saddles), the lighting will be kept to an absolute minimum, casting a dusky atmosphere over the entire exhibition. The magnificent works will be displayed against dark-blue walls and illuminated with specially designed lighting. Selected objects will be singled out as focal points. The resulting transition from brightly lit sections glittering with precious stones and gold to mysterious, darkened areas will create a dramatic impact, while the nocturnal atmosphere itself dissolves all sense of spatial boundaries.

In addition to the Grünes Gewölbe (Green Vault), the other Rüstkammer exhibition areas and the banquet halls and parade rooms (which still have to be designed), the Türckische Cammer will present the typical courtly elegance of the Dresdner Residenzschloss in the Renaissance and Baroque periods.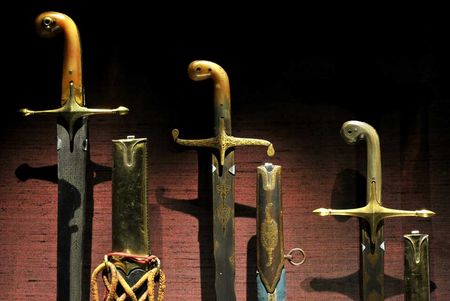 Some arms are displayed during 'Tuerckische Cammer' (Turkish Chamber) exhibition at the Dresdner Residenzschloss (Dresden Royal Palace) in Dresden, Germany. Between the 16th and the 19th centuries, the art-loving Electors of Saxony built up a treasure house of precious oriental items. The Electoral Saxon Collection of Oriental Art will re-open on 07 March 2010 with 600 pieces displayed on 750 square metres. EPA/RALF HIRSCHBERGER
Wandvitrine: osmanische Waffen des 16. Jahrhunderts. Rechte: Staatliche Kunstsammlungen Dresden, Rüstkammer/Hans-Peter Klut, Elke Estel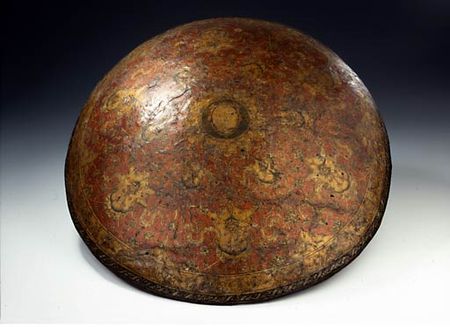 Schild, Venedig, 2. Hälfte des 16. Jahrhunderts, Holz mit Leder überzogen, geprägt und farbig bemalt, Durchmesser 58,8 cm x 56,3 cm, Gewicht 2210 g. Rechte: Staatliche Kunstsammlungen Dresden, Rüstkammer/Hans-Peter Klut, Elke Estel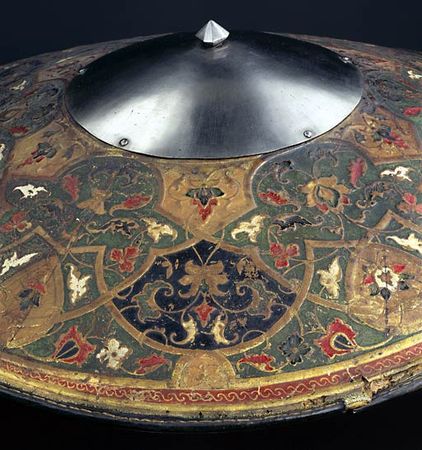 Schild: osmanisch, Mitte des 16. Jahrhunderts, Eisen poliert, Holz mit geprägtem und bemaltem Leder überzogen, Durchmesser 61,1 cm, Gewicht 1983 g. Rechte: Staatliche Kunstsammlungen Dresden, Rüstkammer/Hans-Peter Klut, Elke Estel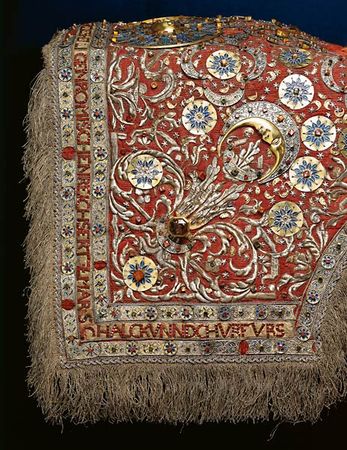 Schabracke, Johann Michael Prag, 1610-1612. Rechte: Staatliche Kunstsammlungen Dresden, Rüstkammer/Hans-Peter Klut, Elke Estel
Sattel, osmanisch, vor 1714. Rechte: Staatliche Kunstsammlungen Dresden, Rüstkammer/Hans-Peter Klut, Elke Estel
Säbelscheide, siebenbürgisch oder ungarisch, 2. Hälfte des 17. Jahrhunderts, Scheide Holz, mit grünem Seidensamt überzogen, Scheidenbeschläge, Griff und Parierstange Silber gegossen, graviert und vergoldet, Gesamtlänge 101,6 cm, Gewicht 1766 g. Rechte: Staatliche Kunstsammlungen Dresden, Rüstkammer/Hans-Peter Klut, Elke Estel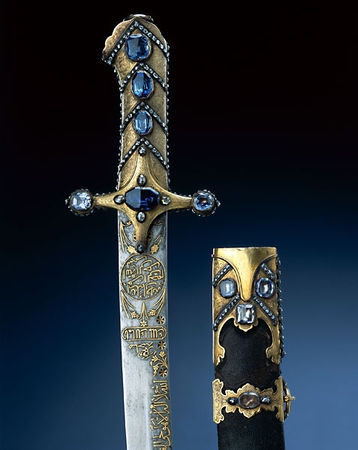 Säbel, osmanisch, 16. Jahrhundert, Gefäß und Scheide Ende des 17. Jahrhunderts, überarbeitet von G. Ch. Dinglinger, Dresden, 1721. Rechte: Staatliche Kunstsammlungen Dresden, Rüstkammer/Hans-Peter Klut, Elke Estel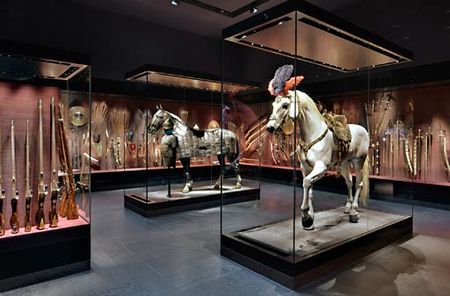 Bärengartenflügel: osmanische Waffen des 16. und 17. Jahrhunderts, rechts: Reitzeug Johann-Michael-Garnitur (Prag 1610-1612), links: Rossharnisch und Panzerhemd (spätes 15./Anfang 16. Jahrhundert). Rechte: Staatliche Kunstsammlungen Dresden, Rüstkammer/Hans-Peter Klut, Elke Estel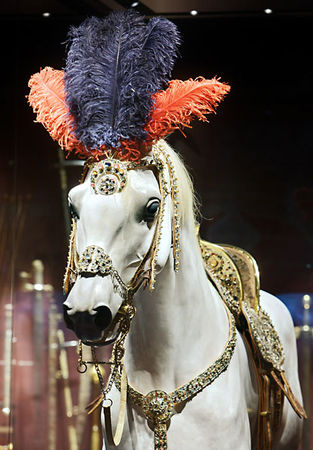 Bärengartenflügel: Reitzeug (Teil der Johann-Michael-Garnitur), Prag 1610-1612. Rechte: Staatliche Kunstsammlungen Dresden, Rüstkammer/Hans-Peter Klut, Elke Estel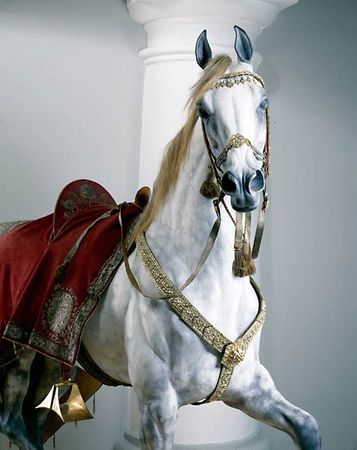 Pferd mit osmanischer Ausstattung aus der Zeit um 1700, bestehend aus Kopfgestell und Nasenband mit Führzügel und Brustriemen, Trense mit Stangenzügel, Sattel, Steigbügel und Schabracke. Rechte: Staatliche Kunstsammlungen Dresden, Rüstkammer/Hans-Peter Klut, Elke Estel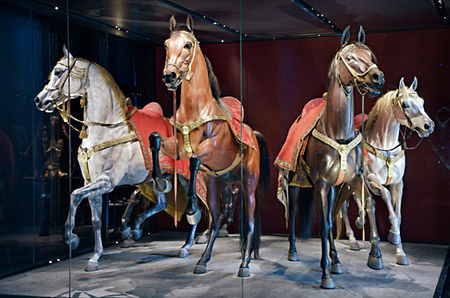 Pferdevitrine: Pferde mit osmanischen reitzeugen (Ende des 17./Anfang des 18. Jahrhunderts). Rechte: Staatliche Kunstsammlungen Dresden, Rüstkammer/Hans-Peter Klut, Elke Estel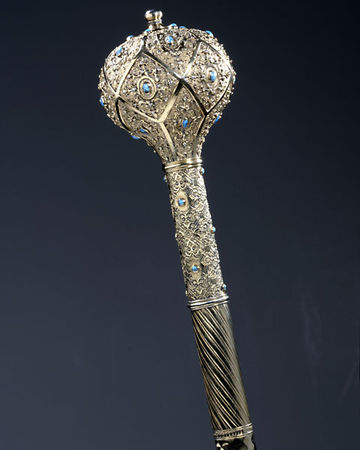 Pusikan, siebenbürgisch, 16. Jahrhundert. Rechte: Staatliche Kunstsammlungen Dresden, Rüstkammer/Hans-Peter Klut, Elke Estel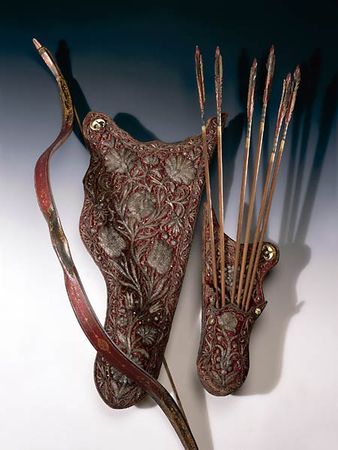 Köchergarnitur, osmanisch, Anfang des 17. Jahrhunderts. Rechte: Staatliche Kunstsammlungen Dresden, Rüstkammer/Hans-Peter Klut, Elke Estel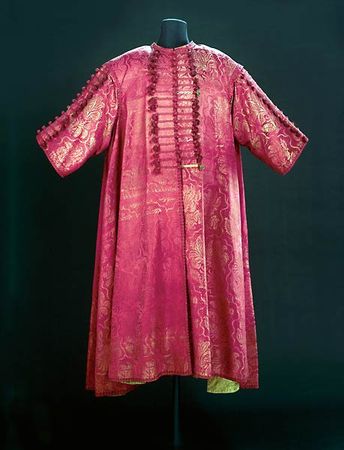 Kaftan, polnisch oder osmanisch, vor 1703. Rechte: Staatliche Kunstsammlungen Dresden, Rüstkammer/Hans-Peter Klut, Elke Estel
Foyer: Johann Georg Spiegels diplomatische Mission 1712-1714, Schnappschlossgewehr, Sättel, Steigbügel, Pusikan und Peitsche. Rechte: Staatliche Kunstsammlungen Dresden, Rüstkammer/Hans-Peter Klut, Elke Estel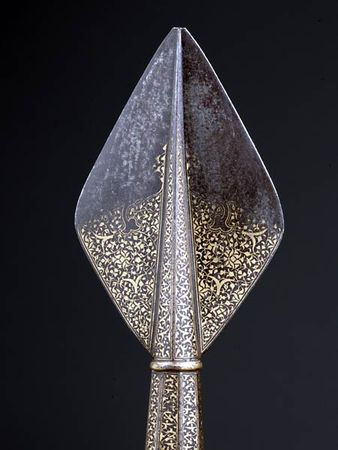 Spitze zur Fahne eines Janitscharenkorps, osmanisch, vor 1683. Rechte: Staatliche Kunstsammlungen Dresden, Rüstkammer/Hans-Peter Klut, Elke Estel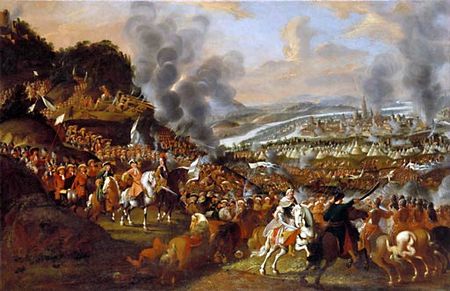 Entsatz von Wien, Unbekannter Maler, deutsch, spätes 17. Jahrhundert, Öl auf Leinwand 109 x 166 cm. Rechte: Staatliche Kunstsammlungen Dresden, Rüstkammer/Hans-Peter Klut, Elke Estel
Dolchgriffe, osmanisch, Mitte des 16. Jahrhunderts. Rechte: Staatliche Kunstsammlungen Dresden, Rüstkammer/Hans-Peter Klut, Elke Estel
Dolch mit Scheide, osmanisch, 2. Hälfte des 16. Jahrhunderts, 1617, Geschenk von Kaiser Matthias an Kurfürst Johann Georg I. von Sachsen. Rechte: Staatliche Kunstsammlungen Dresden, Rüstkammer/Hans-Peter Klut, Elke Estel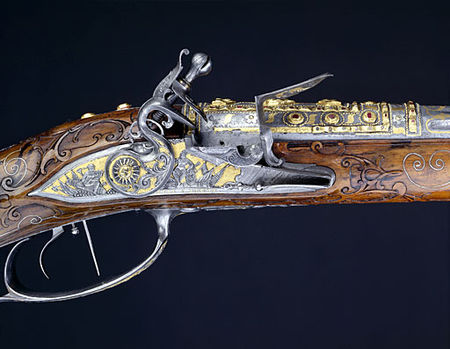 Steinschlossgewehr, Lauf osmanisch, Montur Georg Tobias Klette, Dresden 1740, Lauf Eisen, goldtauschiert mit Rubinen und Goldtropfen besetzt, Schaft Nussbaumholz mit Silbereinlagen, Maserung gemalt, Gesamtlänge 137,5 cm, Gewicht 5170 g. Rechte: Staatliche Kunstsammlungen Dresden, Rüstkammer/Hans-Peter Klut. Rechte: Staatliche Kunstsammlungen Dresden, Rüstkammer/Hans-Peter Klut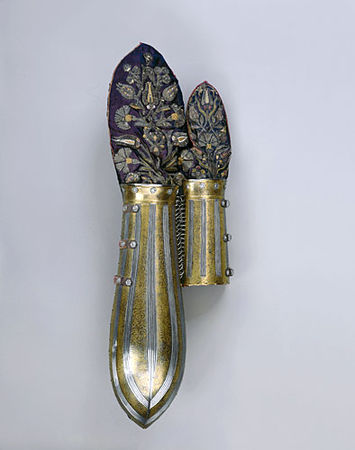 Armschiene, osmanisch oder italienisch unter osmanischem Einfluss, Mitte des 16. jahrhunderts, 1587 Geschenk des Herzogs Carlo Emmanuele I. von Savoyen an Kurfürst Christian I. von Sachsen, Eisen graviert und geätzt, teils vergoldet, Panzergeflecht mit bestickter Seide überzogen, Gesamtlänge 59,5 cm, Gewicht 924 g. Rechte: Staatliche Kunstsammlungen Dresden, Rüstkammer/Hans-Peter Klut