17 mars 2010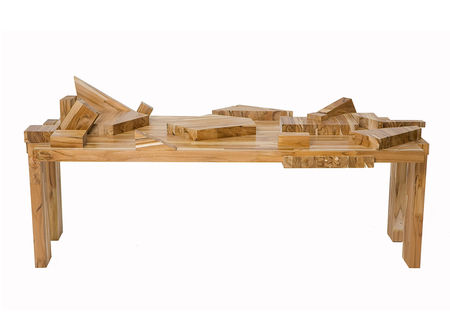 Rodrigo Almeida, Toquinho coffee table, 2009
«L'inspiration du métissage»
What inspired your series for Fat Galerie? "Miscegenation is one of the most important aspects of my work. The exhibition has the influence of the afro-brazilian culture, brazilian indigenous culture, and «paulistas», where everything is hybrid and not obvious. The Africa chair does not look like a traditional African chair, but the rhythm and the design of the object reminds us of the African cultural influence in Brazil.
I exercised the most present and influential aspects of my work in all these recent pieces. It is the product of an atavistic cultural revision, of language maturing."
Qu'est-ce qui a inspiré votre travail pour la Fat Galerie? « Le métissage est un des aspects les plus importants de mon travail. Les pieces présentées ont subi l'influence de la culture afro-brésilienne, celle de la culture indigène brésilienne, et de la culture « Paulista »(des habitants de Sao Paulo) où tout est hybride, rien n'est évident. L'Africa chair ne ressemble pas à une chaise africaine traditionnelle, mais le rythme et le design de l'objet nous rappellent l'influence de la culture africaine au Brésil.
Les pièces récentes ont été élaborées à partir des aspects les plus importants et les influences les plus profondes de mon travail. Elles sont le produit d'une révision culturelle atavique, d'un langage plus mûr.».
De par ses origines Rodrigo Almeida est un jeune brésilien typique (portuguais, brésilien, indien, et afro-brésilien). Par conséquent, son travail porte la marque d'une influence multiculturelle dans chaque aspect de sa conception. Son style est fait d'une multitude de fragments distincts de toutes ces influences culturelles qu'il assemble intuitivement ou émotionnellement. Couleurs hyper-saturées, structures visibles envahies par différentes couches de matières se superposant et s'entrelaçant, matières recyclées, textile...
Loin d'un design ultra lisse, son approche s'inscrit dans la réalité brésilienne contemporaine, riche de son métissage et de son artisanat. Il nous donne à voir et nous raconte un design latino-americain trop rarement représenté sur notre continent.
Précédemment exposé à la Design Week de Milan et à Design Miami/Basel, Rodrigo Almeida a égalemet collaboré avec la Contrasts Gallery de Pearl Lam à Shangai pour l'édition d'une de ses table.
3 AVRIL - 15 MAI 2010. FAT GALERIE Design - 1, RUE DUPETIT-THOUARS 75003 PARIS

Commentaires sur Rodrigo Almeida, «The poetics of miscegenation » @ FAT GALERIE Design